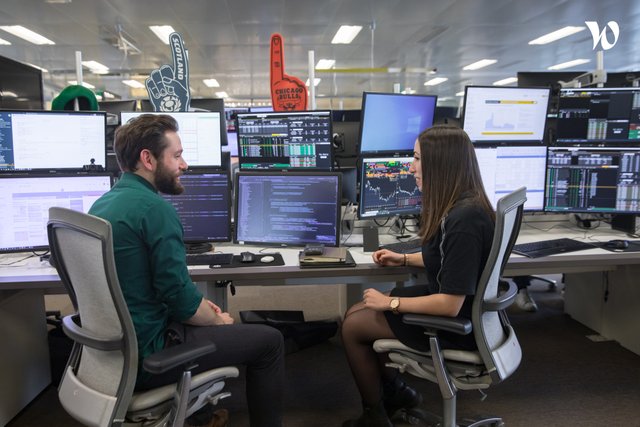 Windows Presentation Foundation
Technology at the core
La technologie et l'ingénierie sont au cœur de notre activité et font partie de notre ADN. L'ingénierie logicielle n'est pas une simple activité de support, elle est un de nos vecteurs d'innovation principaux. Avec plus de 70% d'ingénieurs, ce que nous faisons est hautement technique en tout point : finance, logiciel, système, réseau, etc. Des défis complexes et divers auxquels nous faisons face quotidiennement.
Zebus is a lightweight peer to peer Service Bus, built with CQRS principles in mind. It uses ZeroMQ and comes with distributed directory and persistence services which are based on Cassandra. See on GitHub
Hypodermic is a non-intrusive header only IoC container for C++. It manages the creation of your components and their dependencies in the right order sparing you the trouble of writing and maintaining boilerplate code. See on GitHub
ZeroLog is a zero-allocation .NET logging library written in C#. It provides basic logging capabilities to be used in latency sensitive applications, where garbage collection pauses are undesirable. See on GitHub
Fixpp is a modern C++ FIX Protocol parser and serializer. Fixpp enforce type-safety by representing every possible FIX component through a C++ type and is distributed as a header only library. Benchmarks show that it's pretty fast as well. See on GitHub
Disruptor.NET is a C# port of the famous Java high performance inter-thread messaging library. After having contributed a major update (2.10.0 to 3.3.4), ABC arbitrage team is now officially maintaining the project and regularly updates it to be on par with the Java version. See on GitHub
Disruptor-cpp is a fully functional port of the LMAX Disruptor into modern C++. We love disruptor pattern and being the official maintainer of the .NET version, we also ported the library to C++ to make use of its power in our latency sensitive C++ applications. See on GitHub
Infix is a command-line tool to update data of your InfluxDB database directly from your disk shard files. See on GitHub
Ils sont des passionnés de technologie, ils construisent des systèmes et des stratégies de trading innovants depuis 1995, qui traitent sur toutes les classes d'actifs et sur l'ensemble des places financières mondiales.
Le groupe (Paris, Dublin, Singapour) est coté sur Euronext Paris et cumule depuis sa création 100% de résultats positifs consécutifs dans des contextes de marchés changeants.
Leur succès repose directement sur le talent de leurs collaborateurs : 90 personnes, de 12 nationalités différentes, âgées en moyenne de 35 ans et issues principalement de formation supérieure scientifique.
Leur culture d'entreprise repose sur l'engagement, la collaboration, la responsabilité et l'innovation. Ils encouragent les nouvelles idées et donnent à tous les moyens de les développer dans un environnement agile et un cadre de travail agréable.
Chacun peut ainsi exprimer son talent ! Une entreprise à taille humaine et une hiérarchie peu marquée qui permettent à chacun de s'épanouir professionnellement.
Ils souhaitent rencontrer des collaborateurs passionnés, agiles dans un environnement technologique pointu et motivés par la découverte des marchés financiers.
Leur objectif principal est d'offrir une carrière épanouissante, ils ont aussi des avantages pour ça.
Au coeur de Paris
Accords d'entreprise favorisant le télétravail et la flexibilité
Accords d'intéressement et de participation aux résultats
Parrainage de leurs équipes sportives : football, basket-ball, squash, yoga, etc.
Forfait sport et loisirs
Fruits frais et fruits secs à disposition
Mutuelle santé pris en charge à 100%
Art dans les espaces ouverts à tous (œuvres in situ, expo photos)
Budget littérature
Afterworks
Week-end ski mémorables
Séminaires inoubliables (Islande, Ibiza, Venise, etc.)