Improving lives around the world through charity and sustainability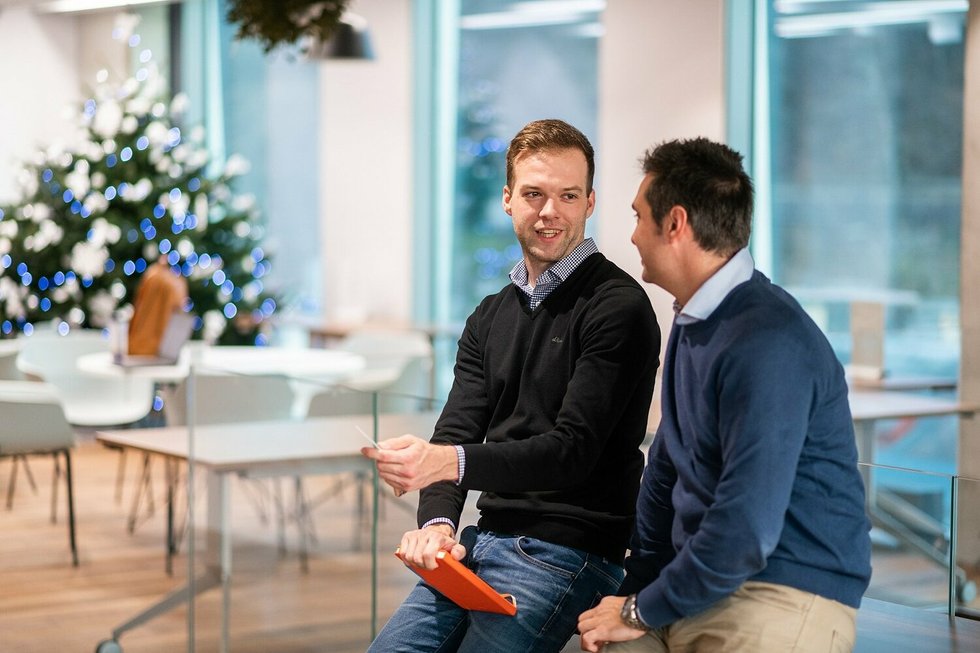 We're Edwards Lifesciences, the global leader of patient-focused innovations for structural heart disease and critical care monitoring, helping patients live longer and healthier lives. We're united by a commitment to help others and the work we do in our communities is one of the defining elements of our culture. In addition to giving back, we also focus on promoting sustainability efforts within our organization and local communities.
Empowering people to make a big impact
One of the ways that we support our employees in making a difference is through the Edwards Lifesciences Foundation, whose purpose is to provide financial support to employee selected organizations.
Michal has been a Learning Operations Specialist at Edwards for more than 6 years and was the first person in our Prague office to take advantage of this opportunity. He's a long-term supporter of the non-profit organization Pomocné tlapky o.p.s. (Helping Paws), which focuses on breeding, raising and partnering assistance dogs with health-impaired clients. To raise funds for Pomocné tlapky, Michal partnered with the Edwards Lifesciences Foundation through the Community Grant Program, one of their three different grant programs.
"I felt I wanted to give it a try. My wife and I are long term financial supporters of Pomocné tlapky; they do amazing work. The training of one dog equals the cost of a small car. We contacted the director of Pomocné tlapky and she loved the idea."
Working together with his wife, they created their plan and application, describing how much money was needed and where it would be spent. Michal was able to act as an intermediary, setting up this Czech-based, small non-profit with the tools of a large American foundation. After a few rounds of approval, Michal's application was approved.
The project became an ongoing success, building year after year. The first year, Michal and Edwards donated €4,200 ($5,000). It was doubled the following year and €10,500 ($12,500) was donated the third year. In total, they raised around €23,000 ($26,600) which funded the training of two and a half therapy dogs. "It's a really huge financial boost for this small organization. It gives me such joy that we were able to pull it off, it's an incredible result."
Aiming for a greener, smarter future
Our Prague office is located in one of the most ecological buildings in Europe - Praga Studios in Karlín. It uses a smart lighting system, collects rainwater for watering its community garden and much more. Thanks to its unique design, Praga Studios are certified with LEED (Leadership in Energy and Environmental Design) and WELL Building Standard, both of which have very strict requirements.
One of the ways that we keep momentum in creating a greener company is by holding ourselves accountable. In 2017, we implemented the Environmental Management System (EMS), with the overall goal of reducing our environmental impact as much as possible. Every year, we set three targets and have met every requirement to renew the certification.
We are strategic, proactive and creative in our approach to sustainability, using renewable/rechargeable batteries and even growing our own plants. Most recently, the Prague office adopted a new car policy where employees can choose from variety of hybrid and electric cars.
Policies for progress
To support employees' efforts to achieve and maintain a healthy, balanced lifestyle, we've created the Total Wellness Program. Six key pillars fall under this program: Prevention, Nutrition, Physical Activity, Education, Financial Fitness, and Community Service.
We believe that when you connect and enrich the lives of others, you enrich yourself. Under the Community Service pillar, we offer compensated volunteering days – so in addition you get a day off sponsored by the company to make a difference.
Building awareness is also one of our priorities. Environmental topics might not be top of mind for everyone, but we make sure that every employee understands the need and tries to implement something in their own life. It could be anything from reducing the amount of printed papers, encouraging people to shop locally or riding a bike to the office. Employees know that every little step adds up when it comes to reducing their CO2 footprint.
At Edwards, we have a culture that is built on investing and innovating to improve lives, and we understand how important it is to support individuals in their ambitions. That's why we are leading the way in sustainability and working together to achieve positive outcomes for patients, communities and society.