ExxonMobil had a breakout evolution year. What has changed in the company?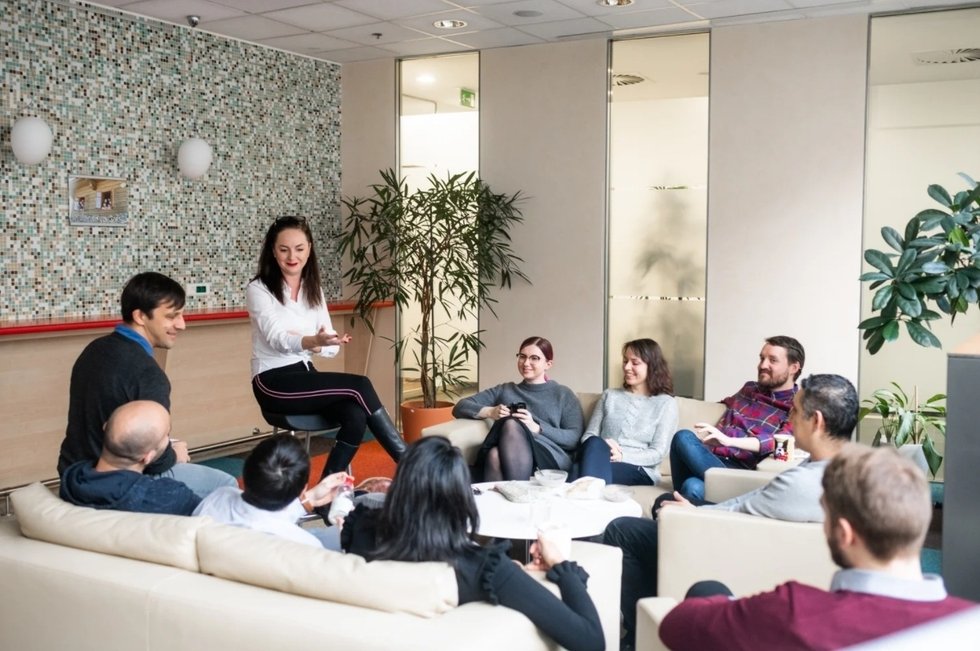 ExxonMobil is a world class organization that has been around for 135 years and here in Prague for over 17 years. The Prague organization has evolved over the years and 2021 was a standout year in this evolution. We asked Julia Barankova, the Chemicals Lead Functional Manager, to tell us more about this journey.
What kind of candidate profiles do you hope to attract? What can you offer them?
We are always looking for talented people. Key is to find talents with the right attitude and behaviors to be part of our "we are ExxonMobil" culture. We look for people with curiosity and relentless drive to move us forward. Analytical capability, digital skills, knowing how to build a strong relationship with clients, having accountability and ownership are some of the main qualities helping us to shape our organization. We provide extensive onboarding programs to support our new hires to get up-to-speed quickly on our business and processes.
In terms of what we can offer, we have a strong company culture focused on caring for our employees being one of the top priorities. We are part of a global organization working with a world class team. The Prague office uniquely offers a diverse workforce representing more than 85 nationalities that enrich our work experience. Here we learn from each other and team up to solve complex issues. The ability to shape your own career and move within and around different departments opens up many opportunities to learn new skills, challenge yourself in new areas and grow professionally and personally.
This is very interesting, out of curiosity can you tell us more about the Prague office's evolution from 2004 until today?
Our Global Business Center (GBC) was founded in Prague in 2004. Over the years, we have grown significantly in size building expertise in the Fuels & Lubricants and Chemicals businesses in addition to providing Procurement, Payables, Treasurers' services and others.
2021 was one of the most transformative years. As a knowledge hub, it was a natural evolution to start attracting more diverse and senior roles into the GBC. We have great talent here in the GBC that has proven over the course of time to successfully take-on new activities. We shifted from being seen as a support center into becoming a strategic site fundamental to the success of ExxonMobil's long-term business goals.
Julia Baranková, Chemicals Lead Functional Manager
Can you detail a few examples of this transformational growth?
To name a few examples, we have expanded the ability to grow commercial skills with incoming Sales roles supporting our business lines to drive high-value sales. In addition, we have brought in roles in Strategic Marketing, Brand and Offer Design and execution, project management and business improvement, strategic contract management and new technical engineering roles. We continue to grow our digital and analytical capabilities across all our functions.
Clearly the profile of the Prague GBC is growing what kind of impact does this have on the organization?
Well it has a huge impact! With the migration of new job roles into Prague office in 2021, we offered more than 200 employees exciting new roles. This gave them the ability to learn different angles about our businesses, grow their skills and bring their own new ideas and challenge the status quo of how these activities have been managed in the past.
One employee is a testament to that, Filip Rotgeri, the EAME OEM Advisor. He recently joined the
Europe Africa Middle East Lubricants Consumer Marketing team as the OEM (Original Equipment manufacturer) Marketing Advisor. This role is completely new to the Prague office. The job offer came as a surprise to him and, initially he was not sure if it was the right next step to take in his career. After 6 months in the role now, he is super happy ExxonMobil about the opportunity. He is working with great people from industry leading brands such as Porsche, Bentley and Red Bull Racing. In addition, he is collaborating with multiple marketing agencies and enjoying being part of a multinational team of marketing experts."
This has been an exciting journey, tell us about the vision, what's next?
Going forward, we strive to continuously strengthen our strategic position within the ExxonMobil network and to grow, reskill and upskill our talented workforce and provide them with long-term career opportunities.