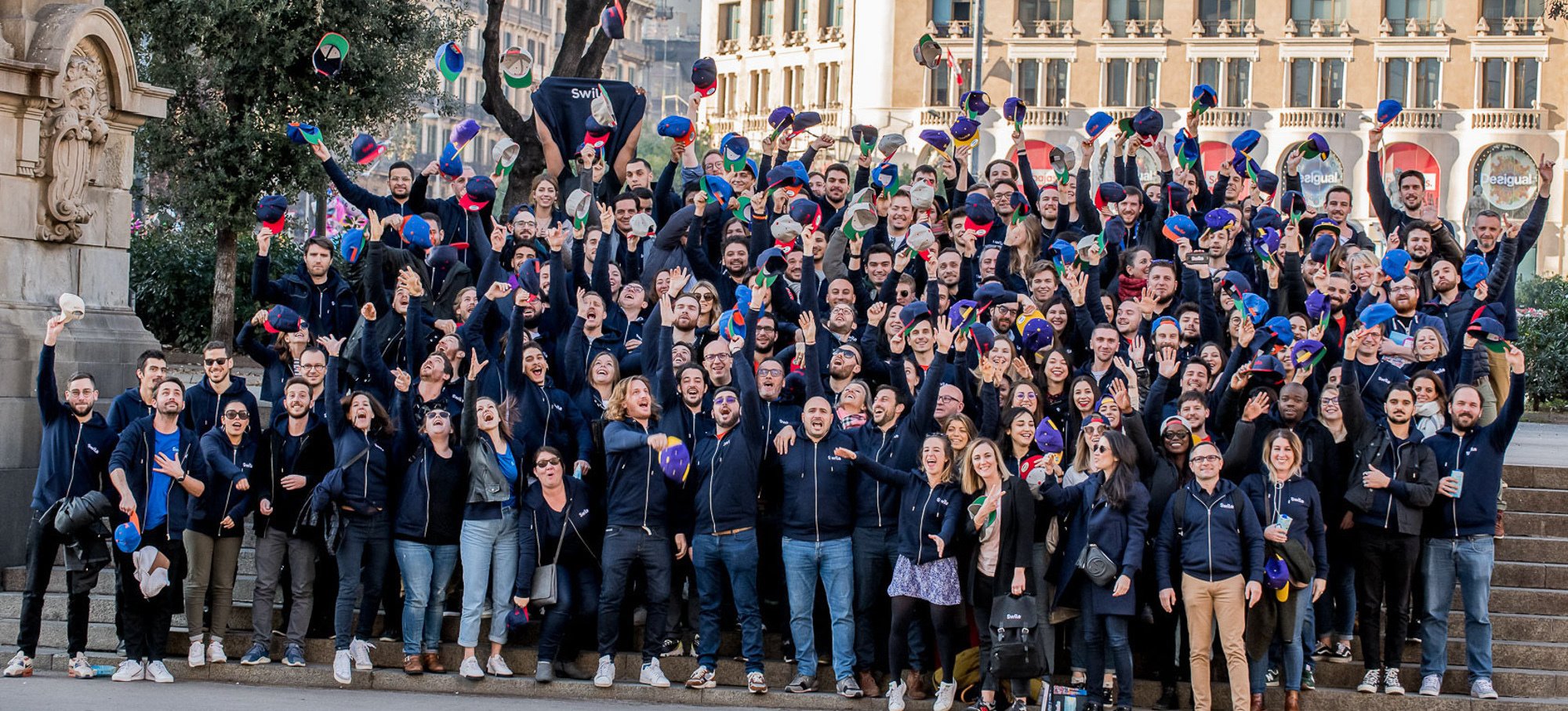 Swile
Demand Generation Manager
The company
Swile
Application mobile, FoodTech, Restauration
The job
Demand Generation Manager
À propos
Swile, c'est l'app qui place la cohésion d'équipe au coeur de l'entreprise du 21ème siècle !
Swile diffuse la culture du partage et réenchante les moments de vie entre collègues, du matin jusqu'au soir !
Vivez enfin une expérience employé mémorable : création de cagnottes pour l'anniversaire de vos collègues, remboursement facile et partage d'addition pour vos afterworks, organisation d'une session running en équipe, messagerie interne pour faciliter vos échanges et célébrer vos succès collectifs, paiement en titres-resto et carte cadeau grâce à leur smartcard… l'app Swile rassemble autour de la convivialité, pour créer un environnement de travail plus collaboratif et plus durable ! #techforgood
Ils existent depuis fin 2016, et comptent désormais 400 Swilers présents à Montpellier, leur fief, mais aussi à Paris et dans de nombreuses villes françaises en télétravail… Ce sont aujourd'hui plus de 400k heureux salariés qui utilisent leurs solutions en France et maintenant au Brésil, et ils comptent continuer à conquérir les coeurs à l'international . 🌎
Swile est soutenue à hauteur de 115 millions d'euros levés auprès d'investisseurs tels qu'Index Ventures, Idinvest, Bpifrance, Daphni, Kima… et fait partie du FrenchTech120 🦄
Descriptif du poste
A key driver of Swile's growth in France is the volume of high-quality leads generated by our marketing team for our sales team (collectively generated by the business team).
We're looking for a demand generation manager who has a track record of effectively nurturing leads through the customer journey.
In this role, you will be planning and executing demand generation campaigns for our French audience.
Reporting to the Head of Demand Generation, Ana, this is a high-impact role where you will contribute greatly to our continued growth.
Swile's aim is to build a multi-channel demand generation engine that drive net new business to help ensure that Swile sees growth year on year.
Profil recherché
Your Missions 🔥
The planning and execution of multi-channel online lead generation campaigns, with a strong focus on inbound and outbound acquisition (by leveraging B2B content team deliverables)
Conducting persona-targeted nurturing scalable campaigns based on the different stages of the customer buying journey
Participating in the planning and execution of campaigns to attract 'solo onboard' direct new clients in autonomy (direct sales)
Build and fine tune performant acquisition landing pages
Support sales teams to design automated cold sales nurture campaigns and various initiatives to boost new business, cross-sell and up-sell (copywriting, design, settings and tracking…)
Implementation and drive of partner referral acquisition program
Measure and track campaign performance, lead lifecycle, conversion and business results
Work closely with Marketing Ops and Sales Ops teams to enrich leads, optimize automation techniques, CRM Management, lead scoring and lead attribution
Our Ideal Candidate has/is 😍
Understanding of marketing automation principles
Hands on marketing automation tools 
Email copywriting skills (cold and Inbound)
Data analysis
B2B buying journey understanding
Lead scoring techniques 
Referral acquisition programs experience
French writting skills
Team collaboration
Problem-solving skills (specially serving marketing automation)
Critical-thinking skills to optimize processes and strategies
Organizational skills
Accuracy and exactitude
Openness to criticism
Curiosity and wiliness to learn
Découvrez l'équipe de Swile
Ce contenu est bloqué
Le cookie Youtube est obligatoire pour voir ce contenu
Questions et réponses sur l'offre
Add to favorites

Share on Twitter

Share on Facebook

Share on LinkedIn
We thought these articles might interest you
Get inspired with this selection of articles