10 days of WTR
At SweepBright you benefit from 10 days of WTR per year, in addition to your paid holidays 🤩
Work from wherever you want 😉
At SweepBright we are remote friendly! Work from where you want 🧑‍💻
A multicultural team
Working at SweepBright means working with people coming from all over the world 🌎
Luncheon voucher
As a Brighter, you are entitled to a super Swile black card with a 60% company support 🚀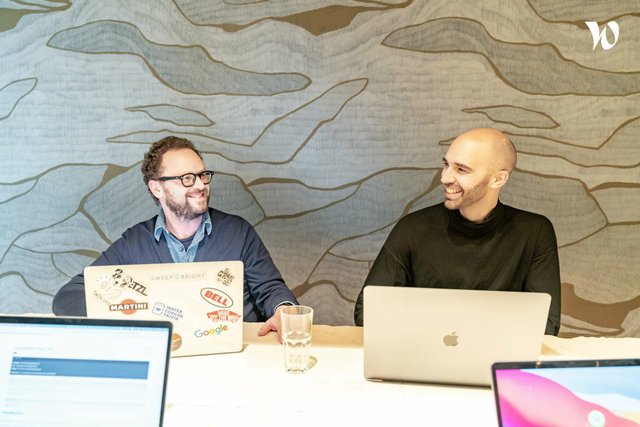 A great nap room 😴
As a Brighter, you have access to a nap room in our Lyon offices, for your best naps
Opportunity
Joining SweepBright is a real opportunity to make an impact. Your voice will really matter 💙
Offices at H7
SweepBright is located at H7, the heart of the start-up and tech ecosystem in Lyon 🔥
Since 2016, SweepBright has helped real estate agencies in the digitization process of their journey, thanks to a mobile-first app and an open architecture that allows them to easily integrate all the innovations on the market.
SweepBright already supports hundreds of customers, and thousands of users in France and Belgium. With its current acceleration, the ambition is strong: 150% growth / year over the next three years 💪
What they are looking for
SweepBright is looking for talented, caring, hands-on people, ready to meet all these challenges and who find themselves in their values: Excellence, Ambition, Data-driven, Team Play.
Their teams are multicultural, and based in several countries. You need to know how to work remotely and in English at SweepBright!
Growing fast is both exciting and shows real technical and organizational challenges. You have to gofast, structure while being agile, grow quickly, document, rethink your working methods every day, and think big. Ready to take the challenge with them?