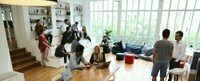 Kpler
Big Data

Paris, Brussels, Dubai, Houston, London, New York, Singapore
Audit / Finance / Insurance
Health / Medical / Social
Hospitality / Restaurant services
Marketing / Communications
Kpler is a fast-growing data and analytics company on a mission to facilitate sustainable and efficient trade, to meet the changing needs of our world. From numerous disparate and unstructured sources, Kpler creates data and analytics that bring transparency in dynamic markets characterised by opaque and incomplete information, such as commodity markets. Kpler delivers its unique offering through technology solutions built in an agile and inventive way, enabling market professionals to make informed and timely trading decisions.
Headquartered in Brussels, Kpler employs over 200 people across the world. In 2022, world-leading private equity firms Five Arrows and Insight Partners invested over $200 million in Kpler (minority stake). The company's recent acquisitions include ClipperData (2021) and JBC Energy (2022).
What they are looking for
Kpler is looking for passionate people who want to put their talents at the service of a growing international and multicultural company.
Do you enjoy working with people from all walks of life? Are you a fan of data, predictive models, and do you want to create powerful, innovative products with a global reach? Do you want to explore a career that encourages you to constantly push the boundaries? Join the adventure!
The international is part of Kpler's DNA. Individuals from 40 nationalities, across age groups and backgrounds, work from a dozen hubs (or remote) worldwide. Each of them is motivated by the company's mission, and shares a common set of values - Humility; Respect and Care for People; Taking Responsibility; Acting with Integrity, and Being Bold.
Kpler has been on a consistent and steady growth trajectory since it was founded in 2014, in Paris. Staying true to its culture of innovation, Kpler continues to pursue high ambitions and rapid growth in every aspect of the business. In 2022, world-leading private equity firms invested over $200 million and Kpler's recent acquisitions consolidate its leadership in key markets.