Kardinal insuffle une culture d'entreprise avec un fort esprit "Tech" où les équipes évoluent au sein d'un environnement technique et technologique stimulant et en amélioration continue.
Le rôle des équipes Tech & Produit est de concevoir des outils pour aider nos clients à optimiser leurs opérations transport :
L'équipe Front doit faciliter la prise en main des outils
L'équipe Back doit gérer le volume important de données et leur traçabilité
L'équipe R&D doit créer des algorithmes les plus souples et pratiques possibles
L'équipe QA doit recetter à la fois le Front, les APIs mais également la performance des algorithmes
L'équipe DevOps doit permettre aux équipes de réaliser les tests et la gestion de la production en toute autonomie
Les équipes cherchent continuellement les meilleures solutions aux problèmes actuels et à ceux de demain. Chez nous, la Tech est résolument tournée vers l'innovation et le challenge !
Répartition des collaborateurs
Recherche Opérationnelle

29%

Product Management & Design

20%
En Chiffres
6 docteurs

en mathématiques appliquées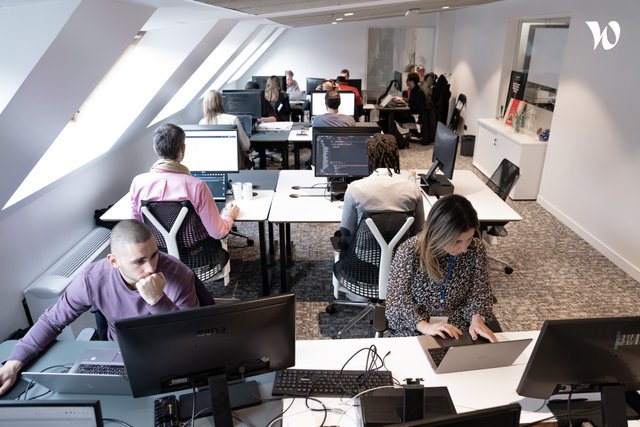 Cœur de notre organisation, contient la documentation produit (Discovery & Delivery), les roadmap, la vision, tous les éléments nécessaires au quotidien.
La clé de voute pour le suivi et la collaboration de la Delivery.
Notre usine à tout faire : documenter, reviewer, CI/CD…
Organisation et méthodologie

Aujourd'hui, l'équipe tech fonctionne en mode Agile avec :
2 squads produits en itérations de 3 semaines composées de Backs, Fronts, PM et Designer avec des rituels Daily, Weekly component, Refinements, Review/Retro.

3 squads enablers en Kanban composées de 7 Ingénieurs RO & Data, 1 DevOps et 2 Quality Analyst avec une vision/roadmap bi-monthly uniquement.
Nous utilisons la peer review systématique et le pair programming opportuniste pour favoriser l'entraide et l'apprentissage mutuel continu.
Processus de recrutement Tech
Chez Kardinal, le recrutement s'effectue en 4 étapes :
Premier contact en visio avec Hortense, notre Talent Manager
Un échange avec le futur manager
Un test technique
Un entretien avec un ou plusieurs co-fondateurs
Kardinal supports logistics companies in the digitalization and optimization of their transport operations. More than ever, logistics companies need tools to optimize their business to cope with the e-commerce explosion.
Our ambition? To revolutionize "last mile" delivery with an innovative, flexible and dynamic technological solution!
With our solution, transport companies can:
🏭 Optimize the activity and location of their warehouses to improve performance and reduce costs.
📈 Anticipate the number of drivers needed in case of business fluctuation to avoid being caught short.
🚚 Efficiently dispatch drivers according to parcel volumes and optimize their routes for more efficient delivery.
🌎 Reduce mileage and integrate green vehicles for a more eco-friendly delivery.
What they are looking for
Kardinal is growing day by day and is looking for curious and motivated talents to join us in this stimulating and challenging adventure!
Young graduates, experienced or self-taught, there is no typical profile at Kardinal. On the contrary, we encourage diversity of backgrounds and personalities.
Benevolence, team spirit and continuous learning are the values shared and encouraged within the teams.
Team organization and management are designed to promote transparency, mutual aid and initiative. Joining Kardinal also means being part of a passionate team, where every opinion counts and where success is shared!
🏙 Offices in Paris in a dynamic area
🍕 Swile card for delicious lunch meals
💻 Remote work possible (2 to 3 days / week)
🍻 Frequent afterworks and teambuildings to promote team cohesion