Cubyn
Head of Legal
Permanent contract

 

Possible full remote

Master's Degree

> 7 years
The company
Cubyn
Logistics, Mobility, SaaS / Cloud Services

From 50 to 250 employees
The job
Head of Legal
Permanent contract

 

Possible full remote

Master's Degree

> 7 years
This position was filled!
Who are they?
Cubyn has built the #1 e-commerce delivery network in Europe thanks to its full-stack approach. Leveraging its proprietary networks (European operational centers) and software, Cubyn's delivery network is a growth enabler for all e-commerce players, providing them with the best quality of service and reliability - a unique experience for both e-merchants and consumers.
Cubyn offers the first e-commerce delivery guarantee - Cubyn Trust.
Order is late? Consumers receive a €6 refund. Order is lost, incomplete or damaged? Cubyn refunds consumers up to €1000.
This unique experience leads to enhanced customer satisfaction which allows merchants to boost their business by increasing conversion rate (+30%) as well as repeat in sales (+20%).
E-commerce leaders, both digital brands and marketplace merchants such as Chef Club, Fittrack, BackMarket and Rakuten, rely on Cubyn to ship millions of parcels.
Key Figures
Last fundraising round of 35M€, for a total of 55M€ raised (Fulfilment startup Cubyn raises €35M to expand across Europe | TechCrunch)
8x revenue growth in 2020 up to 250M€ GMV
120+ employees working from all over the world and 300+ working in their warehouses
Unicorns on the Horizon: VivaTech's 2022 Top 100 Scale-ups
Visit the profile
Rencontrez Apolline Data Analyst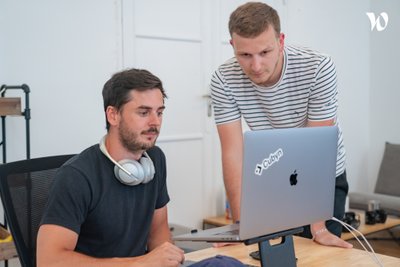 Rencontrez Charlene, Sales Squad Lead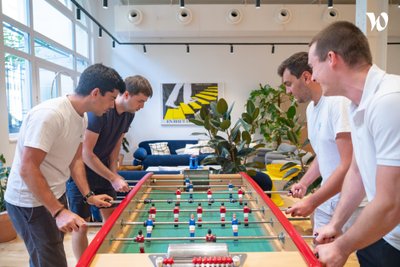 Job description
As a Head of Legal, you will be in charge of Cubyn's legal affairs.
You will work on a wide range of legal topics, with a focus on Business Affairs, Consumer Affairs and Corporate matters to support the company's high growth. Your primary focus will be France and you will also coordinate legal affairs in Spain and other European countries.
In this role, you will work transversally with various stakeholders within the company (Sales, Purchasing, Product, Finance teams) and externally, managing our external legal counsels. You will report to the Chief Operations Officer.
You fit for the role if you have a strong business focus, a solution-oriented mindset and you want to completely revolutionize e-commerce logistics.
Your missions:
You will be in charge of all the legal matters at Cubyn:
Business Affairs
Draft, negotiate and manage local and European contracts (GTC, NDA, Sales contracts, etc)
Support other teams in contract negotiation and advise them on legal risks to contribute to develop new products and services (new countries, new features, etc.)
Provide assistance for contract pre-litigations and negotiations
Corporate Affairs
Follow-up and management of the legal life of the Company (prep. of General Assemblies, statutory modifications, opening/closing of subsidiaries, formalities, etc.)
Manage the legal aspects of any future external growth operations (M&A) and financial operations (e.g. funding rounds, BSPCE distribution)
Consumer Affairs
Lead and manage the GDPR compliance program/DPO (incl Terms of Use) as well as support our products and tech teams to build GDPR compliant tools
Employment Law
Support the human resources department on individual and collective work relations
Analyze and follow-up individual cases (disciplinary procedures, dismissal, particular problems,…)
Other legal topics, e.g. IP, Corporate insurance, legal watch
Preferred experience
You have at least 7 years of experience in Contract Law or Corporate Law within a legal department (ideally in SaaS and BtoB) and/or a business law firm. Experience in Consumer law (including GDPR matters) would be a real plus.

You have a Master degree in Contract Law or Corporate Law, ideally with a Business degree

You want to have impact and you are able to develop creative legal solutions to complex business challenges

You have an entrepreneurial mindset. You appreciate challenges and you like to evolve in a high-growth company, with high pace and changing environment

You are fluent in French and English and know how to negotiate and write contracts in English - Spanish would be a plus.
Recruitment process
Our hiring process from "Logic Test" to "Job Offer" take less than 2 weeks (depending on your availabilities)
1. Logic Test
After sending in your application you will receive an online logic test. This is a mandatory step for everyone who applies to Cubyn. This test gives us an idea about your ability to analyze information, detect patterns and relationships, and solve problems on a complex, intangible level. After you submit your answers, we'll check your results and get in touch.
2. Pre-screen call
Once you've passed the logic test, one of our recruiters will reach out for the first interview. This is our chance to get to know you better and see which roles in the pipeline you might be best suited for. We'll ask questions in regards to your previous experience and your career interests.
3. First round interviews
When you are invited to your first round of interviews, you will be directly scheduled for a set of interviews. Depending on the team you want to join, you might be asked to perform a technical test.
As part of the first round of interviews, we will focus on the set of skills needed for the role you applied for
4. Second round interviews
This interviews aim to understand your view on several organizational topics and situations in the past where you have demonstrated values and behaviors that we value at Cubyn.
You will meet people from different teams and get a better understand of how we work at Cubyn
5. Welcome to Cubyn
Cubyn
Interested in this offer?
Questions and answers about the offer
Add to favorites

Share on Twitter

Share on Facebook

Share on LinkedIn