Artefact
SEO Account Director
Permanent contract

 

London
The company
Artefact
Artificial Intelligence / Machine Learning, Digital Marketing / Data Marketing

From 250 to 2000 employees
The job
SEO Account Director
Permanent contract

 

London
Who are they?
Artefact is a consulting firm specialized in AI and Data. We are convinced that marketing cannot be optimized without engineering and technology, that's why we identify as "marketing engineers". In order to improve the performance and impact of brands, and consumers' experience, we assemble lots of different talents: data application engineers, data scientists, creatives and designers, advertising strategists and consultants. In only four years, Artefact has become one of the international references for Data and IA expertise. The society counts today more than 1000 collaborators worldwide, in 17 countries and gathers 3 complementary offers: Data Consulting, Digital Marketing expertise and the Deployment of Technologies (Big Data and Artificial Intelligence).
Visit the profile
Rencontrez Arnaud, Head of Social Ads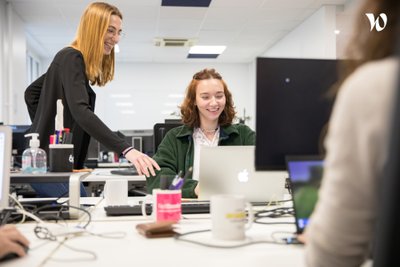 Rencontrez Leïla, Responsable du Développement du pôle Création
Rencontrez Laetitia, Responsable du Staffing
Job description
Who we are
Artefact is a new generation of a data service provider, specialising in data consulting and data-driven digital marketing, dedicated to transforming data into business impact across the entire value chain of organisations. We are proud to say we're enjoying skyrocketing growth.
Our broad range of data-driven solutions in data consulting and digital marketing are designed to meet our clients' specific needs, always conceived with a business-centric approach and delivered with tangible results. Our data-driven services are built upon the deep AI expertise we've acquired with our 1000+ client base around the globe.
We have 1000 employees across 20 offices who are focused on accelerating digital transformation. Thanks to a unique mix of company assets: State of the art data technologies, lean AI agile methodologies for fast delivery, and cohesive teams of the finest business consultants, data analysts, data scientists, data engineers, and digital experts, all dedicated to bringing extra value to every client.
Reports to
Head of SEO
Role purpose
As a passionate digital marketing leader, you will be responsible for managing the relationship of a large global client. You will have a core background in Organic Media and a an understanding of owned and paid channels and cross-channel strategy. You will manage a team of specialists who will work on the delivery of your strategy and ad hoc requests from the client - you should also be adept at delivering pieces of work to a high standard, should this be required. However, your focus will be on management of the team and projects, delivering performance results and client retention and satisfaction. You will immerse yourself in the marketing world, pushing the boundaries to ensure clients receive the best in class media solutions that Artefact can offer.
Main responsibilities
Client management
Manage the relationship between the agency and clients 

Develop an annual strategy plan for your client to ensure we meet the objectives of the client brief, ensure we are constantly looking at innovation, test & learn initiatives

Ensure delivery against the agreed business growth and strategy plan and ad hoc deliverables

Responsible for client retention and satisfaction. 

Lead all client meetings including Quarterly Business Reviews and ad hoc meeting requests

Maintain a deep understanding of your client's business and consumers and to use this knowledge to give good strategic advice to clients and to drive client strategy

Take responsibility for the quality of work produced by the agency for your client, ensuring that all work is innovative, produced to the highest possible standard, and meets or exceeds the brief

Maintain a level of relationship with your client whereby they trust and value your opinions and seek advice on their business, marketing and brand issues

Continually monitor the client relationships and immediately address client concerns by escalating to the Head of Department ensuring a quick resolution of issues
Team management
Lead your client team, ensuring that they are inspired and motivated to deliver the best work possible

Ensure that everyone you manage has regular appraisals, clear objectives and a career plan to work towards and that they have the skills required to meet your client's objectives

Take responsibility for the quality of work produced by your team, ensuring it is of the highest possible standard and meets or exceeds briefs

Implement new processes to improve the efficiency and quality of your team's work with clients on a regular basis
Skills required
Seven years' marketing agency experience with a background in organic media

Strong technical and content knowledge 

Ability to multi-task in a fast-moving environment

Strong client management skills with proven ability to add value to clients and to drive revenue from existing accounts

Strong problem-solving/troubleshooting skills

Experience of inspiring and motivating a delivery team

A broad understanding of digital marketing and an in-depth understanding of SEO

Experience managing migrations and building business cases for SEO workstreams 

Experience working with and managing developers

Experience auditing, research, ideating and creating content and on-page SEO strategies

Experience advising on social media strategy and leveraging social for SEO
Questions and answers about the offer
Add to favorites

Share on Twitter

Share on Facebook

Share on LinkedIn