The company
Artefact
Artificial Intelligence / Machine Learning, Digital Marketing / Data Marketing

From 250 to 2000 employees
The job
Senior Data Analyst
Who are they?
Artefact is a consulting firm specialized in AI and Data. We are convinced that marketing cannot be optimized without engineering and technology, that's why we identify as "marketing engineers". In order to improve the performance and impact of brands, and consumers' experience, we assemble lots of different talents: data application engineers, data scientists, creatives and designers, advertising strategists and consultants. In only four years, Artefact has become one of the international references for Data and IA expertise. The society counts today more than 1000 collaborators worldwide, in 17 countries and gathers 3 complementary offers: Data Consulting, Digital Marketing expertise and the Deployment of Technologies (Big Data and Artificial Intelligence).
Visit the profile
Rencontrez Arnaud, Head of Social Ads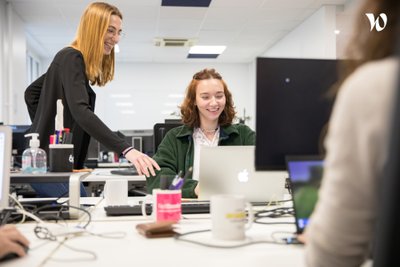 Rencontrez Leïla, Responsable du Développement du pôle Création
Rencontrez Laetitia, Responsable du Staffing
Job description
Who we are
Artefact is a new generation of data service provider, specialised in data consulting and data-driven digital marketing.
Our purpose?
Every day we boost our clients' data transformation into business impact across the entire value chain of organisations. 
Our strength?
Our data services stand on double expertise: the combination of Artificial Intelligence and the business prowess acquired from our customers around the world, such as AccorHotels, Orange, Carrefour, Engie, Samsung, L'Oréal, Nissan...  
Artefact's success comes from a unique mix of company assets: cutting-edge data technologies, agile methodologies for fast delivery, cohesive teams assembling the finest business consultants, data analysts, data scientists, data engineers, and digital marketing experts.
Artefact is :
13 offices in Paris, London, Shanghai, Dubai...

900 employees

4 practices: Data Consulting, Data Marketing, Activation and Creation
What you will be doing: Key responsibilities
As a Senior Data Analyst, your role will encompass:
Conducting projects to accompany the transformation of your clients' businesses through the effective collection, processing, and visualisation of data
Extracting valuable insights from our clients' marketing-related data sources.
Designing dashboards for marketing decision-making while taking into account the business needs
Accompanying our clients in the conception and implementation of data architectures and data pipelines, from collection to monitoring.
Actively contributing to the expertise level and competencies of the Data & Analytics team
Closely collaborate with the other divisions (Media & Activation, Creation, Consulting, Data Science and Data Engineer) to provide comprehensive services to your clients
Being a great tech role model
Demonstrating the skill and credibility required to ensure the success of our clients' initiatives
Researching and developing new technical approaches to address problems efficiently
Staying up-to-date on developments within the industry, sharing best practices and actively contributing to Artefact's institutional knowledge
Embodying Artefact's values and inspiring others to do the same
Qualifications: Education & experience required
Having an academic level of education (Bachelor or Master), in a data-driven working environment, you have experience or have knowledge in :

A minimum of 3 year of work experience in a data-driven working environment

1 or more data collection (Google Analytics, Adobe Analytics, SQL database, CRM database, transactional data)

1 or 2 programming languages among SQL, Python and/or R.

1 or more Data visualisation tool (Tableau, Data Studio, Dataviz, R / Python dataviz libraries, ...) 

In addition, you have the knowledge in one or more of the following technologies:

Google Cloud Platform resources (Big Query, Google Cloud Storage) or its equivalent in Azure or AWS

You know how to connect to an API through the knowledge of the different authentication method (OAuth, HTTP Basic, API key)

Advertising tool, linked to tracking and/or analytics in a marketing context (Google Analytics, Adobe Analytics, DMP, DSP, Adservers, DV 360...)  

ETL tool (Airflow, Dataiku, Dataflow, Dataprep...) 

Web application (R-Shiny, Python Flask) that you have industrialized

Ideally you have: 

Knowledge of statistics 

Knowledge of machine learning and data engineering
What we are looking for
A Doer: you get things done and inspire your team to do the same
An Analyst: you LOVE data and think every company should take their decisions based on facts
A Pragmatist: you have a no-nonsense mindset that seeks for practical and realistic solutions
A Mentor: your clients and colleagues naturally seek you out for advice
An Adventurer: you're an entrepreneur constantly looking for business opportunities
Why you should join us
Artefact is the place to be: come and build the future of marketing
Progress: every day offers new challenges and new opportunities to learn
Culture: join the best team you could ever imagine
Entrepreneurship: you will be joining a team of driven entrepreneurs. We won't give up until we make a huge dent in this industry!
Come join us!
Questions and answers about the offer
Add to favorites

Share on Twitter

Share on Facebook

Share on LinkedIn