Algolia
EMEA: Business Development Representative - Netherlands and South Africa
Permanent contract

 

Dublin
The company
Algolia
Software, IT / Digital, SaaS / Cloud Services

From 250 to 2000 employees
The job
EMEA: Business Development Representative - Netherlands and South Africa
Permanent contract

 

Dublin
Who are they?
Algolia's mission is to make every search interaction meaningful and rewarding through developer-friendly and enterprise-grade APIs. They build the leading Search & Discovery API for websites and mobile apps.
Their goal is to help the most innovative companies across most industries to create powerful, relevant and scalable discovery experiences for their users. Their hosted platform reduces the complexity of building and scaling a fast, relevant digital experience and helps teams accelerate development time.
Today, more than 7,500 companies such as, Twitch, Lacoste, Ouest-France, Medium, and Stripe rely on Algolia to manage 65 billion search queries a month.
At Algolia, milliseconds matter !
Visit the profile
Meet Morgane, Technical Recruiter
Meet Justine, Customer Success Manager
Meet Julien, CTO & Co-Founder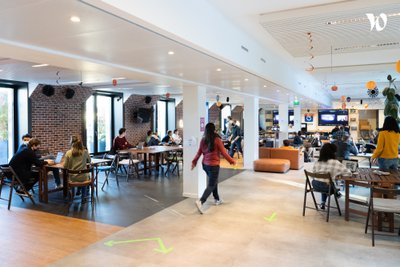 Job description
At Algolia, we are passionate about helping developers & product teams connect their users with what matters most in milliseconds!
We are looking for a highly energetic individual with technical aptitude and natural sales instincts to join our growing sales organization. As a Business Development representative at Algolia, you will play a critical role prospecting and expanding business opportunities for our Enterprise and Commercial teams across the Netherlands and South Africa.
You will be a valuable piece to our process and will take part in a wide variety of responsibilities that will help foster, qualify and mature our sales pipeline with high profile customers. We need someone with a hunter attitude who can take direction as well as have the drive and motivation to work autonomously.
Your role will consist of:
Working closely with our Enterprise and Mid Market teams to build pipeline and strategize on how to approach targeted accounts in the region.
Identify and prospect key contacts at target accounts and build the foundations for a strong, long lasting relationship.
Execute appropriate strategies by building out the right content ie. case studies, screencasts, presentations, demo hacks. This is where we expect you to unleash your creativity!
Be an active part of the team, sharing best practices and participating in the Business Development organization's projects.
Manage, track and report sales activities and results using SFDC.
A typical day in this type of role consists of: "Every morning, reach out to new people to raise their interest in Algolia. You would research new companies to target and find the relevant people to reach out to. From there you would craft personalized messaging to help them realize the value they would get from utilizing Algolia. Eventually, you would own the initial conversation with them and decide if they are a good fit for the Sales organization. We invest heavily in systems that allow you to do your job efficiently.
You might be a fit if you have:
Prior experience in lead generation and sales (SaaS experience preferred, but not required).
Fluent Dutch (native) is a must for this position.
Are highly motivated with a competitive edge.
Your communication and writing skills are on point.
Strong ability to quickly learn and adapt to new initiatives.
Demonstrated success overachieving (professionally/ personally).
You have a keen interest in the tech industry.
WE'RE LOOKING FOR SOMEONE WHO CAN LIVE OUR VALUES:
GRIT - Problem-solving and perseverance capability in an ever-changing and growing environment.
TRUST - Willingness to trust our co-workers and to take ownership.
CANDOR - Ability to receive and give constructive feedback.
CARE - Genuine care about other team members, our clients and the decisions we make in the company.
HUMILITY - Aptitude for learning from others, putting ego aside.
#LI-Hybrid #LI-Remote
REMOTE STRATEGY:
Algolia's workplace strategy, Hybrid Remote, is designed to harness the power of the opportunities that remote work offers both employees and the company, while also providing an engaging in-office experience for the times when an employee is in an office. Our workplace approach reflects the belief that an employee's impact, contribution, and output are more important than their physical location.
The majority of employees will be able to choose if, and when, they come into an office on a regular basis. There will be times when our people are asked to come into an office for "moments that matter:" activities like critical planning meetings and team social gatherings. Beyond those events, 80% of our workforce may choose the location from where they work in the country in which they were hired.
We have physical offices in San Francisco, NYC, Atlanta, Paris, London, Austin, and Bucharest. https://www.algolia.com/about/
ABOUT US:
Algolia prides itself on being a pioneer and market leader offering an AI-powered, API-First Search & Discovery platform that empowers 12,000+ businesses to compose customer experiences at internet scale that predict what their users want with blazing fast search and web browse experience. Algolia powers more than 30 billion search requests a week – four times more than Microsoft Bing, Yahoo, Baidu, Yandex and DuckDuckGo combined.
Algolia is part of a cadre of innovative new companies that are driving the next generation of software development, creating APIs that make developers' lives easier; solutions that are better than building from scratch and better than having to tweak monolithic SaaS solutions.
In 2021, the company closed $150 million in series D funding and quadrupled its post-money valuation of $2.25 billion. Being well capitalized enables Algolia to continue to invest in its market leading platform, to better serve its thousands of customers–including Under Armor, Petsmart, Stripe, Gymshark, and Walgreens, to name just a few.
The team is headquartered in San Francisco with offices in Paris, London, New York, Austin, Atlanta, and Bucharest. To learn more, visit www.algolia.com.
WHO WE'RE LOOKING FOR:
We're looking for talented, passionate people to build the world's best search & discovery technology. As an ownership-driven company, we seek team members who thrive within an environment based on autonomy and diversity. We're committed to building an inclusive and diverse workplace. We care about each other and the world around us, and embrace talented people regardless of their race, age, ancestry, religion, sex, gender identity, sexual orientation, marital status, color, veteran status, disability and socioeconomic background.
READY TO APPLY?If you share our values and our enthusiasm for building the world's best search & discovery technology, we'd love to review your application!
Questions and answers about the offer
Add to favorites

Share on LinkedIn

Share on Facebook

Share on Twitter