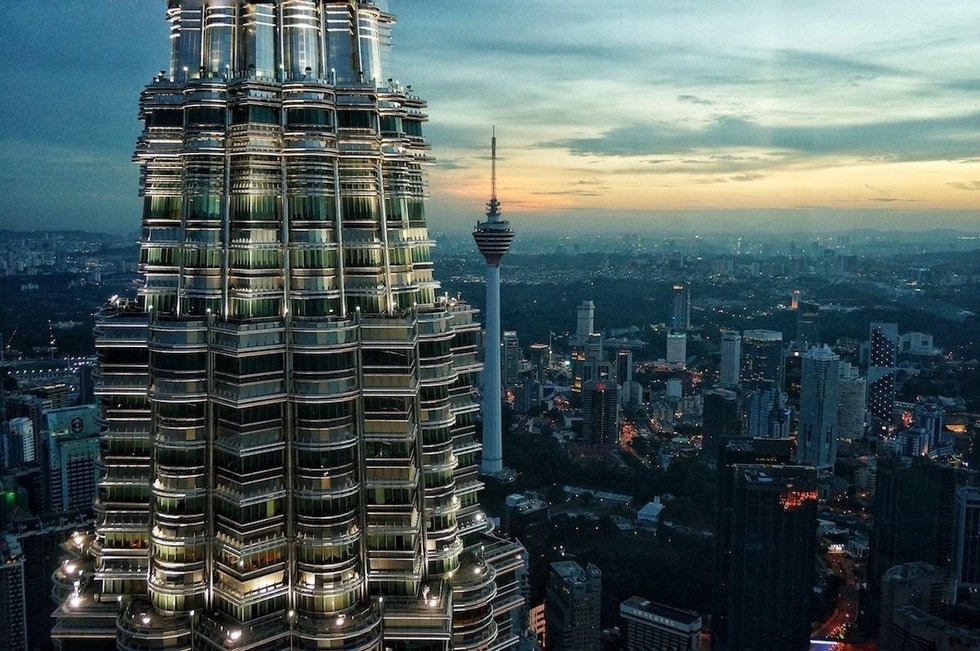 Want to explore Southeast Asia? Like the prospect of wandering from one dreamy island to another, strolling around temples, and sipping cocktails on skyscraper rooftops? Then we have the city for you! Kuala Lumpur is a cosmopolitan city in every sense of the word.
As Mida Zantout, a French expat who has lived in Malaysia for three years, says: "Multiculturalism is part of the landscape. It's everywhere around you—in the people, languages, food, and fashion. You eat what you want and dress however you want. You see traditional outfits, funky outfits, mini-shorts, and much more. No judgment!"
The job market
With an unemployment rate of 3.3%, Malaysia is clearly doing well and rapidly expanding. The average monthly salary in Kuala Lumpur, where the majority of opportunities are found, is about €1,600 euros, while young, college-educated Malaysians have salaries of about €400-€600 a month. Many international companies, such as Google, American Express, Hewlett Packard, IBM, Nestlé, and Intel have offices in Malaysia, so there's no scarcity of large companies that are hiring.
With more than 100,000 expats in Kuala Lumpur, the Malaysian job market clearly welcomes newcomers. English is the most common spoken language, so it's easy to communicate with people at work and beyond.
And the start-up scene in Malaysia is thriving! Consider the first Malaysian unicorn start-up, Grab, a taxi and car-service platform (which, after a bitter struggle, bought out Uber in Southeast Asia). Or look up the many coworking spaces that flourish in Kuala Lumpur:Common Ground has opened nine offices throughout the city so far, and WeWork, will soon be listed among the many spaces to be found on the website Coworker. Major digital conferences, such as Wild Digital and TechinAsia Tour, are held in Kuala Lumpur and the surrounding region. And local venture capital funds are on the rise, reaching $1.5 billion in 2016, or double the funds of 2006.
Hiring sectors
Because the Malaysian economy is in full expansion, almost all sectors are hiring. The key sectors this is happening are:
IT and tech
Marketing and sales
Finance and banking
Shared-service centers
E-commerce
Supply chain
Corporate life
Just like the social life, the work environment in Malaysia is as multicultural as it gets. Most Malaysians identify with one of three main groups: Malay, Chinese, or Indian. This categorization comes from the fact that, beyond the Malays—or Bumiputra in Malaysian (meaning "children of the earth")—the population is composed of mainly Indian and Chinese immigrants on their third generation. These main ethnic groups, combined with the other nationalities present, create a vibrant melting pot. "It's very common in meetings to not even notice that three or four languages have been mixed into one sentence!'" says Caroline Pierre, who works in the financial sector and began her Malaysian adventure in 2011.
While the legal limit for the working week is six days,
the vast majority of companies follow a traditional rhythm of eight-hour days, from Monday to Friday. The culture is pretty relaxed, so be sure to appreciate the free time you have there. Malaysia is one of the leaders in public holidays, with 11 national holidays a year, plus many regional ones! Malaysians see the office as a place of exchange. The workplace, while productive, is generally very friendly. "Nothing seems to be a problem! Malaysians are really friendly—they're welcoming, cooperative, and nice. In Malaysia, life is a long, calm river—getting angry won't accomplish anything. People won't understand and you won't move any faster!" says Zantout.
"It's very common in meetings to not even notice that three or four languages have been mixed into one sentence!"—Caroline Pierre, French expat in Malaysia
Who does Kuala Lumpur suit?
Like Malaysia and its inhabitants, Kuala Lumpur is an unusual patchwork of old, rundown neighborhoods and ultra-modern skyscrapers. The resulting atmosphere is authentic, a little chaotic, spacious, and green.
It's easy to get some air without traveling too far, thanks to a multitude of parks (even in the city center, such as the Kuala Lumpur City Center (KLCC) Park, found at the foot of the famous Petronas Twin Towers). The Perdana Botanical Garden, next to the KL Bird Park, is a bit larger but still easily accessible via public transport or a quick ride with Grab. There are also several hiking trails near that offer that offer jungle views and waterfalls. Spend a morning at Bukit Tabur, 20 minutes away from the city center: After two hours of brisk walking, you'll be treated to an unrivaled view of Kuala Lumpur on one side and the Malaysian countryside on the other. Or stroll among the treetops at the FRIM (Forest Research Institute Malaysia) canopy walk, also just 20 minutes from the city center!
And no article about Malaysia would be complete without mentioning the array of dreamy islands. They're generally easy to access within an hour by plane, or five to seven hours by bus followed by a few minutes on a speedboat. The Perhentian Islands are probably the most famous, but also consider Redang, Tioman, and Langkawi. Divers will love Mabul Island and Sipadan, which are renowned as having some of the most beautiful diving spots in the world.
Kuala Lumpur is the ideal starting point for a tour of Southeast Asia. As Lucile Roudenkoff, who moved to Kuala Lumpur at the beginning of 2018, says: "Malaysia is in the heart of Southeast Asia, and Kuala Lumpur is the headquarters of AirAsia, the region's low-cost airline. In two hours, for less than €70, you can be in Bangkok, the temples of Angkor, or Bali!"
"Malaysia is in the heart of Southeast Asia, and Kuala Lumpur is the headquarters of AirAsia, the region's low-cost airline. In two hours, for less than €70, you can be in Bangkok, the temples of Angkor, or Bali!"—Lucile Roudenkoff, French expat
The Pros
An incredible quality of life, thanks to a warm climate year-round, with temperatures between 25C and 35C (sometimes, fresh air is lacking but everyone has air-conditioning).
An extremely good quality-price ratio for housing in a capital city.
An easy, central location that facilitates weekend getaways to explore the region or simply relax on beautiful beaches.
The food is inexpensive and exceptionally varied, with authentic Chinese and Indian cuisine widely available, as well as many other kinds of cuisine and comfort food to accommodate your cravings.
A good expat community that makes it easy to meet people, while the Malaysian culture is warm and values helping friends.
The city feels very secure, so it's nice to wander around without having to worry about your safety.
The Cons
It's difficult to find true local friends without making a conscious effort.
Paid leave is a maximum of 12 days, although it can increase to 21 days, depending on your seniority in your organization (which can be negotiated).
The health insurance provided by employers doesn't always cover all your needs, so it's important to look into the details of available coverage.
Budget information
Rent
It's simple to find housing to suit all price ranges and lifestyles. Take Bukit Bintang, the lively neighborhood where most young expats live. For €300 a month, you can rent a room with private bathroom in a spacious, fully equipped, shared apartment. Oh, and did we mention that these apartments are often in centrally located, modern buildings with a pool and gym? If you're looking to settle down, there's Mont Kiara, a more residential area near schools. There, apartments are generally suitable for families, with three to four bedrooms, at reasonable prices. A good compromise between those two areas is Bangsar, which is more residential than Bukit Bintang but still lively and close to the center of town. The center, KLCC, is where you'll find the skyscrapers and, as mentioned, the famous Petronas Twin Towers.
Housing can be rented empty or furnished, and you're generally asked to sign for at least 12 months. You'll need to leave a down payment for two months, and pay rent at the beginning of each month. The sites iproperty and propertyguru are comprehensive and full of all kinds of offers from agents that are easy to contact for scheduling visits and help with administrative procedures. Airbnb is also widespread and can be an option for a few weeks—enough time to get your bearings!
Transportation
The two main forms of transport are Grab and the subway, which is well organized and relatively low priced (about 50 cents per ticket). Grab generally costs €2 for an average trip, so it's quite popular.
Of course, you can buy a car or rent a scooter (gas is cheap at less than 50 cents per liter), but cars are a little more expensive to buy because of taxes on imported vehicles. As Roudenkoff tells us, "In Malaysia, you shouldn't be in a hurry, especially not in a car—traffic can quickly become a nightmare, especially when it rains and everything is congested. But you get used to it and learn to stress a lot less!"
"In Malaysia, you shouldn't be in a hurry, especially not in a car—traffic can quickly become a nightmare, especially when it rains and everything is congested. But you get used to it and learn to stress a lot less!"—Lucile Roudenkoff, French expat
Health
Malaysia has a very good health-care system with reasonable pricing, so you can relax when it comes to insurance. The hospitals, general practices, and specialized care offices (such as dental practices) are run by competent doctors. You'll find that many have degrees from prestigious British universities and you're treated in hotel-quality accommodation!
Internet and mobile-phone usage
For about €35 a month, you'll have a very good internet connection. For mobile-phone needs, you can rest easy and use your favorite apps from €10 a month.
Currency
At the time of writing, the Malaysian ringgit converts at €1 euro for 4.6 ringgits and 4.1 US dollars and is a relatively stable currency.
Visa information
To work in Malaysia, you'll need a visa from your employer. The process can be long, but many employers have a special MSC status and can offer limitless numbers of visas. So the process of obtaining them is relatively simple, requiring you only to provide the necessary documents. All the information is presented coherently on the immigration site for expats. Organizations such as IOTA can help companies with administrative procedures.
After two years in the country, if you've paid local taxes and earn more than 15,000 ringgits a month (€3,200)—generally the income of experienced executives—it's possible to apply for a long-term visa in your name (in contrast to a visa attached to a specific employer). This visa may be renewed only once.
Once you obtain your own visa, it's easy to get your spouse and/or children family visas, or "dependent passes."
We'll conclude with the words chosen by Pierre to describe her time spent in Kuala Lumpur: "Evolving in a culture as rich and varied as Malaysia has taught me a lot. The open-mindedness I've acquired to adapt to new ways of working and living is a priceless asset that will stick with me forever. Travel opportunities have also contributed to my long stay in Malaysia, because it's so easy to spend weekends in incredible places and discover new countries and cultures! One downside is that the food here is so varied and accessible that it can have an impact on your diet. Luckily, the heat helps you sweat out what's needed!"
Translated by Kate Lindsmith
Discover Work in, our new media series dedicated to expats working in cities. Find all the insider tips, advice and inspiration you need to relocate for work. First stop, Barcelona!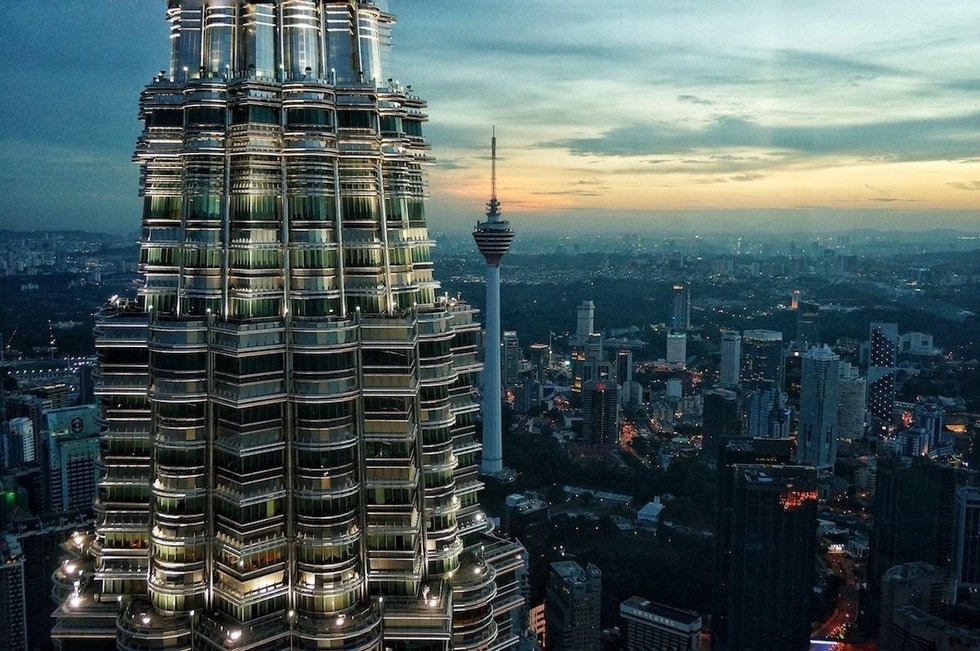 Looking for your next job opportunity ?
More than 200,000 candidates have found a job with Welcome to the Jungle
Explore jobs