Working in Bratislava: an insider's guide to a vibrant capital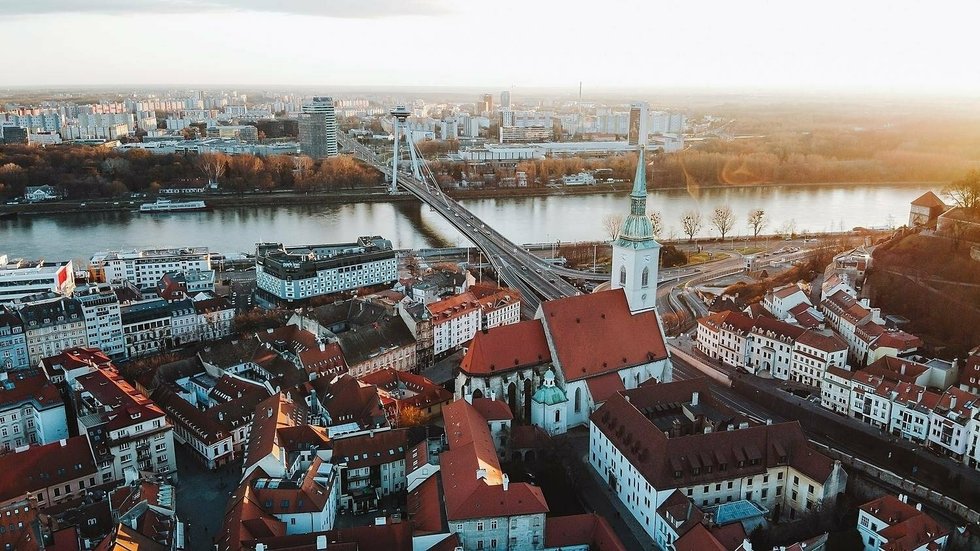 Bratislava is one of the few European cities to have adopted a brand new name in recent history—the Slovak capital was known as Pressburg 100 years ago. More than just a fun fact, this illustrates the city's dynamic identity. Thirty years after the fall of communism, Bratislava is home to quite a few multinational companies. It has also become a creative energy hub, with a vibrant local community. For a long time, the city was overshadowed by Budapest and Vienna. Over the past 10 years, however, it has seen the number of foreign workers increase tenfold without losing any of its intimate atmosphere. "It's a hidden gem," said Steven Gouws from South Africa, who moved there more than 10 years ago. If you're thinking about relocating to Bratislava for work, read on.
The job market
Although the pandemic will probably disrupt this trajectory, Slovakia's unemployment rate had been falling since 2013, and in May 2019 dipped under 5%, hitting a historic low. In Bratislava, the unemployment rate tends to fluctuate around 3%, which makes it the nation's lowest. The region also boasts the highest average salary in the country at €1,600 per month. Recent graduates can expect a starting salary of €1,100 to €1,600 depending on the sector and the size of the company. Working in Bratislava also gives you the best chance of earning more than €2,000 per month compared to the rest of the country, as that is the experience of about 17% of the people employed there.
Slovakia joined the European Union in 2004 and that has helped it to attract multinational companies, mainly from the automotive, electrical engineering, and IT industries. Among the biggest international employers are IBM, Lenovo, Dell, Amazon, AT&T, Accenture, Jaguar Land Rover, Deutsche Telekom, Siemens, and Mondelēz International. "I think that anybody can find a job in Bratislava. There are quite a lot of vacancies if I compare it to my previous experience," said Terézia Saxunová, who works as an administrative assistant to the chief technical operations officers in an international insurance company. She relocated to Bratislava for work three years ago, after several years of living abroad.
Most job vacancies are in the IT, marketing, business, telecommunications, and administrative sectors, though there are some in culture, development, and research too. A recent analysis of labor market trends also suggests that Slovakia will face labor force shortages in the coming years, mainly in customer support centers, as well as business, trade, and administration.
Bratislava, the "brain business" leader
A 2017 Swedish study found that Bratislava has the highest share of "brain business" jobs in Europe. As many as 18% of all employees work in knowledge-intensive companies and occupy highly specialized positions that require specific skills. The study divides "brain business" jobs into four fields:
Tech sector: high-tech manufacturing, engineering, architecture, research, and development
ICT: telecoms, IT services, computer programming
Advanced services: head office management, advertising, and market research
Creative professions: publishing, film, TV, music, design, and other creative work.
According to the study, Bratislava has become an unexpected leader because it is brimming with talented programmers, but remains a low-cost alternative for investors and employers, with good travel connections through Vienna's international airport. That said, it should come as no surprise that the Slovak capital has also become a breeding ground for start-ups. One of the most successful ones is Exponea, but Minit, Photoneo, Hopin, SurgLogs, MultiplexDX, and Eyerim were also on the up in 2019.
The working week
Legally, you can work up to 40 hours per week, which is more or less respected. Slovaks generally take short lunch breaks, which last up to half an hour. The majority of bigger companies, both international and local, offer flexible working hours and the possibility to work from home. "An employee can choose to work any time from 6 AM to 10 PM upon agreement with their manager," said Saxunová. There are other benefits too, such as company events, free drinks and snacks at work, restaurant vouchers, and free language classes. A handful of companies have also started to offer sabbaticals and four-day working weeks, kicking off a debate around new work trends.
The "city on the Danube" is home to international companies and shared service centers, which attract foreign talent as well as Slovaks wishing to work in multicultural teams. Ten years ago, there were about 5,500 foreigners working in Bratislava; by December 2019, the number had soared to 22,000. Today, foreigners make up almost 8% of the capital's population of about 430,000, making the city more cosmopolitan and a more tolerant place to live. "In the two years since I moved here, I've already noticed dramatic changes," said Alexandra Gustavo from Portugal. She initially arrived in Bratislava on a scholarship and has since found a job as an accounts assistant. "My Slovak colleagues are a lot more open. My explanation for this is generational: I've noticed that every other person that I work with had the possibility to study or intern abroad. They find it completely natural to work in an international team," she said.
Who does Bratislava suit?
If you believe that variety is the spice of life, you will love working and living in the rapidly changing Bratiska, as the locals call their city. Every day, you'll come across new cafés, restaurants, cycling lanes––and construction sites too. Real estate projects are both a blessing and a curse for the city. Some neighborhoods are in desperate need of regeneration, but there has also been a huge increase in the number of building projects in recent years.
Development naturally brings more activity. Gouws, an English language teacher, who has been working in Bratislava for 10 years, said that the city's identity has evolved significantly. "Bratislava has become a hectic working city. People are running all over the place, sometimes with that get-out-of-my-way attitude," he said. Saxunová agrees with him: "The typical resident of Bratislava lives fast and is often under a lot of stress."
Bratislava's identity isn't set in stone yet, but the city has become an important creative energy hub. The New York Times has called it "the region's capital of cool", highlighting the success and originality of local brands that have set up shop there. The city is also home to unique cultural spaces such as Stará tržnica (literally "old market"), which hosts weekly farmers' markets and events, and is a great addition to the capital's 50 museums and 40 theaters. According to some, Bratislava's strategic location and vibrant creative community also make it an ideal base for digital nomads looking to reduce living costs while staying close to international airports.
Pros
"Public transport is amazing and regular," said Gouws. A mix of new trams, older buses, and trolley buses offer frequent connections.
A growing network of cycle lanes. The city is pretty flat, so any destination can be reached easily by bike. Drivers seem to be finally getting used to cyclists, but pedaling on smaller, quieter streets is the more enjoyable (and safer) option.
Its strategic location: only one hour to Vienna, three to Budapest, and four to Prague. There are regular bus and train connections throughout the day.
Unlike Prague, the Slovak capital is not besieged by tourists.
The city is compact. So you don't have to worry about spending a quarter of your day on public transport. Most areas are no more than a 10-minute tram ride away.
It's easy to get away. If you want to escape the city, you can visit the medieval Devin castle, hike up through the national nature reserve of Devinska Kobyla (highest point, 514m), take a walk through the Zelezna Studnicka valley, or run up the Kamzik hill (439m). In the summer, head to the Zlate piesky lake.
Jogging along the Danube. There are several running events held in the city during the year.
A well-established volunteering community.
Cons
"Apartment rental prices are completely crazy," said Gustavo. A studio or a one-bedroom flat relatively close to the city center will set you back €450 to €600 per month.
Eating out can also be expensive as prices edge towards those seen in western Europe. Lunch will set you back €7 to €10.
The construction boom, which has taken over Bratislava, affects the air quality and traffic flow.
Arm yourself with patience when dealing with public service workers, who can seem unwilling to help. (It doesn't matter whether you're a Slovak or not). "People here could be more forthcoming and helpful. In the better-case scenario, they won't make you feel like you're a burden to them," said Saxunová.
Bratislava doesn't top the list of cities with the most museums, nor can it claim to be the most picturesque European capital. Yet the city is diverse, lively and––most of all––ambitious. "Thirty years after the fall of communism, Bratislava is at a point in growth similar to that of a 30-year-old individual. The city has gone through the same stages of development: getting to know oneself, trying things out, searching for one's identity," said Lucia Kmecová, a teacher at a bilingual secondary school, who moved to Bratislava from eastern Slovakia. "Development needs time. But I'm convinced that our capital offers many job opportunities and can provide a person still looking for their right career path with the necessary support," she said. "Bratislava is working hard on becoming better, which makes it an ideal city for those who also wish to work on themselves and want to take part in making it a better place."
Practical information
Rent
Apartment rental prices can be steep. Living alone in a studio or a one-bedroom flat not too far from the center will cost you €450 to €600. If you're flat-sharing, expect to shell out €300 to €350.
Transport
Bratislava has a good network of trams, trolley-buses, and buses. A basic ticket costs 70 cents and can be bought in paper or digital form, though the latter is a few cents cheaper. Ticket prices vary according to city zones. If you're traveling within Bratislava, you need the "100+101" zones, which are always sold together. You can also get a prepaid card ("električenka"), either directly on your bank card or as an individual card. A monthly ticket costs €27 and your employer can partially reimburse it. If you're looking for an app to help you to find your way in the city, try UBIAN, which works for public transport across Slovakia, or HOPIN, which allows you to book a cab and also keep an eye on the real-time location of public transport.
Language
Foreigners who use English have no problem getting around. Although learning Slovak isn't necessary, it can come in useful when having to communicate with public institutions. Harsh Goenka, originally from India, said: "I would say that 90% of the time, the language is not a problem. The remaining 10% represent situations when you find yourself in hospitals or at the police station, and it can be a little uncomfortable."
Visa
Bureaucracy is Slovakia's weak spot: "There is definitely a lot of room for improvement," said Goenka, who had to wait six months to get his visa. If you're not from a member state of the European Union, the type of working visa you need will depend on what type of job you do, length of stay and your nationality. You need to obtain a work permit first, then ask for temporary residence.
Currency
Slovakia adopted the euro in January 2009.
Photo: Welcome to the Jungle
Follow Welcome to the Jungle on Facebook, LinkedIn, and Instagram, and subscribe to our newsletter to get our latest articles every day!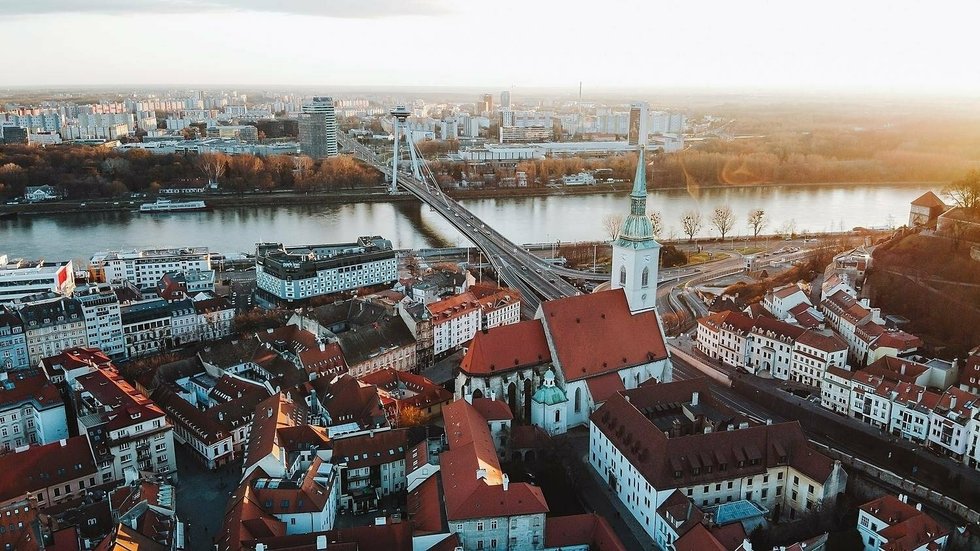 Looking for your next job opportunity?
Over 200,000 people have found a job with Welcome to the Jungle.
Explore jobs