Meltwater
Enterprise Business Development Representative (Linkfluence)
Společnost
Meltwater
IT / Digital, Marketing a komunikace, Digital

> 2000 zaměstnanců
Nabídka
Enterprise Business Development Representative (Linkfluence)
Who are they?
Linkfluence first started as a passion project between four students with an ambitious goal: to understand and "map" the social web. Today, Linkfluence is a leading AI-enabled consumer insights company that turns social data into valuable insights for global brands. Our hybrid combination of AI and human expertise is what sets us apart from other social listening players in the industry.
In 2021, Linkfluence was acquired by Meltwater, a leading global provider of media intelligence and social analytics. This important achievement and milestone further highlights Linkfluence's core mission and vision. This also represents a huge opportunity for growth for the company and for Linkfluencers.
Our AI team is young, diverse, ambitious, and growing rapidly. With Meltwater, we are more than 2000 people across the globe, so there is a lot going on. We believe in diversity and inclusion, and building teams with a wide variety of backgrounds and perspectives. This approach not only raises the quality of our products for our customers, but makes collaboration along the way much more fun.
If you're passionate about staying on top of online trends, if your ambition is to help companies serve their customers, if you're curious about what's happening in the world and love to listen to others, and if you're thrilled to be a part of shaping the future of social media intelligence, then we want to hear from you!
Visit the profile
Rencontrez Cécile, DG Meltwater Paris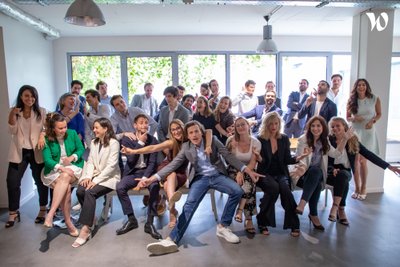 Rencontrez Julien, Key Account Manager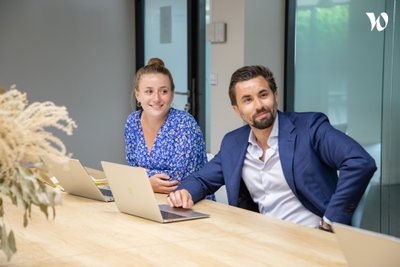 Rencontrez Fanny, Sales Manager
Job description
We're looking for a talented candidate to help strengthen the Linkfluence Sales & Marketing team in Paris. As a Business Development Representative, you will be working with an aim to drive the company's rapid growth through acquiring new leads for the sales process.
Your responsibilities will include:
Generating qualified leads by executing our France and European business development, ABM and personalization plan, and ensuring that all activities are aligned with this plan.

Researching target verticals, named accounts, decision makers, renewal dates, and other information needed for executing outreach and other sales activities.

Committing to and delivering on an agreed volume of outbound cold emails, cold calls, social selling, as well as fast and appropriate response or triage of inbound leads.

Setting meetings for the sales team colleagues based on qualification of leads generated, and briefing sales team members on targets and opportunities.

Tracking your performance in terms of outreach and meetings booked, analyzing this performance, and adapting to improve these results (with coaching from the sales team).

Supporting other team members with their work as needed, and asking them to support you when needed, even if outside the scope of the other responsibilities included above.
Preferred experience
You will succeed at this job if you have the following attributes:
A focused, self-driving mindset and the ability to manage your time, work, and physical and mental health, especially in a work-from-home environment (during COVID).

Confidence to reach out and connect with people over phone and email, along with strong verbal and written communication skills.

A humble and information hungry mindset, with dedication to actively progress in your role through training and improvement of both soft and hard skills.

An ability to collaborate, listen before speaking, quickly admit mistakes, and confidence to provide critical analysis while coming with constructive solutions.
Alongside the other new members joining Linkfluence, you will participate in a full training program. You will be mentored by a senior team member to assure constant progression in your role. We offer an exciting career path with rapid progression towards a full sales role.
Other requirements:
· 1 year sales related experience
· Experience with BDR, sales outreach, account entry, and lead qualification
· Proficiency with sales and marketing CRM / automation software
· Fluent in French and English. A third language is a plus
What we offer:
· Company with passionate and ambitious projects
· Competitive salary and benefit's package
· Comprehensive training and onboarding process
· Opportunity to take initiatives and grow in the organization
· Dynamic, multicultural, and welcoming environment
· Lunch vouchers (Swile card)
· Modern flexoffice with a rooftop!
· Flexible working hours and homeworking policy
· Great office address with tons of good restaurants and bars
We encourage the diversity of applicants across gender, age, ethnicity, nationality, sexual orientation, social background, religion or belief and disability.
Meltwater
Máte zájem o tuto nabídku?
Questions and answers about the offer
Sdílet na LinkedInu

Sdílet na Facebooku

Sdílet na Twitteru
Další nabídky na pozici Business Development
Mohly by vás zajímat tyto nabídky práce!
BRIGAD

Plný úvazek

Možnost pracovat částečně z domova

Malt

Plný úvazek

Možnost pracovat částečně z domova

Malt

Plný úvazek

Možnost pracovat částečně z domova
Podívat se na všechny nabídky