Their story
Heetch started back in 2013 on the parking lots of Parisian nightclubs, where founders Teddy and Mathieu would showcase their nocturnal ride-sharing service to young customers who'd missed the last train. One court case* and two fundraisings later, our professional 24/24 ride-hailing app covers more than ten countries and is growing very fast, particularly in French-speaking Africa.
We aim to create healthy and culturally relevant markets wherever we go, which implies guaranteeing a fair income to drivers and affordable prices to passengers… while taking care of our employees. This indisputable challenge unites the teams and keeps us going everyday!
*Google it, it's an epic story!
4,8/5
Heetch, the only driver-friendly app in France
+50.5M€
Raised, profitability is next!
Their vision
Making mobility accessible to all is far from easy, but it's been our motto since the very beginning. We face many challenges: payment by cash, pricing that matches both the drivers' and the passengers' expectations… our app is constantly evolving to match our users' needs.
In our opinion, no-one should be left behind: for many, Heetch represents a true alternative to the lack of public transportation (remote parisian suburbs, rapidly urbanizing African cities…)
Wherever we go, the same vision applies: our users choose us for our prices, then love us for our ethics!
We are convinced that it's possible to fulfill your ambition while working in a healthy and caring environment and that's why we make sure to help you balance your professional and personal lives : flexibility is the key, when you feel trusted, you can accomplish anything.
We encourage self-development through career paths, rituals and trainings.
Transparency is our motto : from our app's algorithms to our revenues. Every voice is welcome : to us, one open dialogue is worth a thousand polite speeches
BE KIND
DOs: Respect others and their opinion, no matter who they are. Always assume good intentions, especially in written communication.
DON'Ts: Saying 'yes' to everything, being 'too nice'. Gossiping.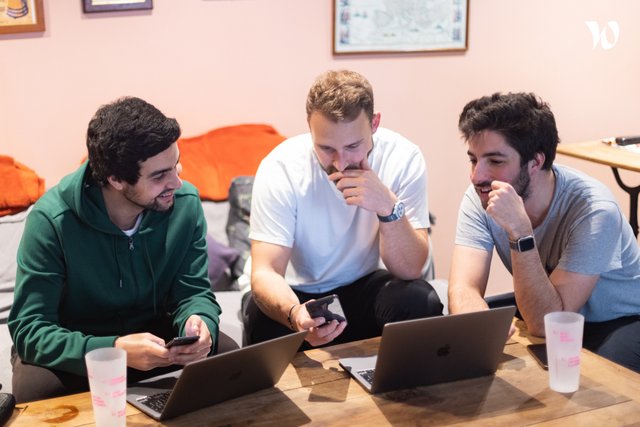 MAKE IT HAPPEN
DOs: Be efficient, driven and autonomous rather than spotless. Make decisions, admit when you're wrong and move on. Being focused and trustworthy.
DON'Ts: make it happen at all cost. 'Bulldozer' through your days.
PLAY FOR THE TEAM
DOs: Put the company's interests first, not your own. Speak up when necessary, regardless of your self-interest. Think of the future and document what you do.
DON'Ts: Sacrifice your personal goals and well-being. Protect your team at all costs against the 'greater good'.
THINK DIFFERENT
DOs: Invent solutions for the unsolvable. Be yourself! Seek knowledge and new experiences.
DON'Ts: Staying in your own world or overthinking simple things. Creating conflicts, being overly critical.
No need to pretend we're perfect (no business is), we'd rather be 100% honest.
Our gender equality index is at 84/100 and we're convinced that it can be better ! Our strategy ? A guide about discrimination and regular trainings to fight cognitive biases.
Any and every one of our employees is encouraged to participate in social actions : organize collections, blood donation, sustainable actions : choose yours !
We're proud to help make mobility more accessible wherever we go !