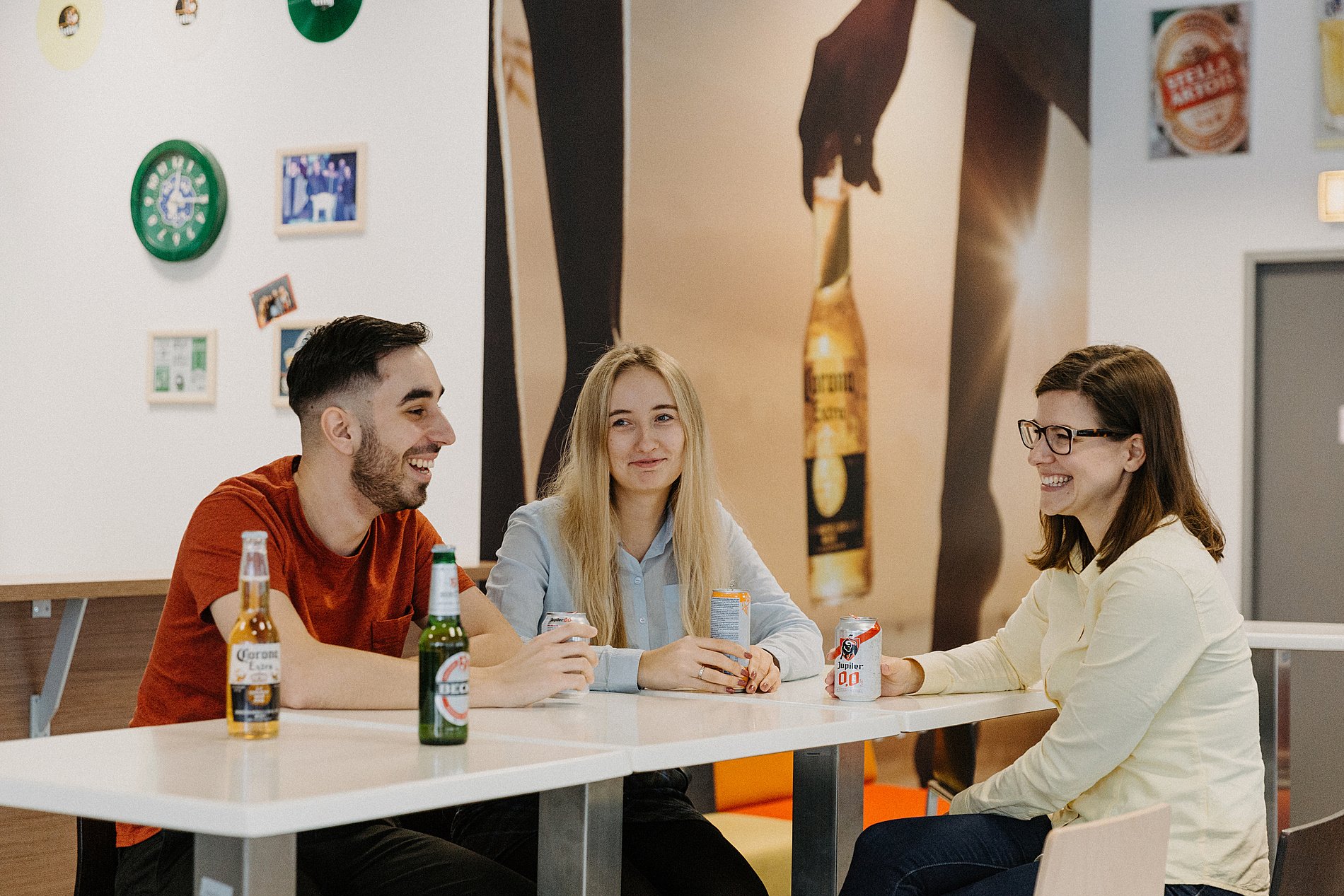 Bringing People Together for a Better World
The brewing heritage of AB InBev dates back more than 600 years, spanning continents and generations. From the European roots at the Den Hoorn brewery in Belgium. To the pioneering spirit of the Anheuser & Co brewery in St. Louis, US. To the founding of the Castle Brewery in South Africa during the Johannesburg gold rush. To Bohemia and the first brewery in Brazil. The company produces over 500 brands of beers including world-famous household names such as Stella Artois, Corona, Leffe, Beck's and Hoegaarden. One of their main offices is located in Prague, where AB InBev provides the best services possible to the breweries and customers all over Europe.
Diverse Teamwork in Diverse Environment
The employees of AB InBev are far from being sticklers for formalities; the atmosphere in the company is very relaxed. The offices form a small universe of its own: you can meet people from all over the world as the employees come from around 46 different countries and connect 61 nationalities. Furthermore, employees speak over 20 different languages. The company holds an open bar event every two weeks where people meet with their colleagues, grab a beer together, play some table football and tennis, and prepare snacks and finger food for each other. Everybody is very close and people often spend even their free time together. And when it comes to work, everybody works as a team.
Helping to make the world a better place is part of AB InBev DNA. That is why they have set themselves ambitious sustainability goals to reach by 2025. These span climate change, circular packaging, water stewardship and smart agriculture. By 2025, their goals are:
100% of purchased electricity will be from renewable sources
25% reduction in CO2 emissions across their value chain
100% of their communities in high-stress areas will have measurably improved water availability and quality.
100% of their product will be in packaging that is returnable or made from majority recycled content.
100% of their direct farmers will be skilled, connected, and financially empowered.
"Dreaming big is in our DNA. Brewing the world´s most loved beers, building iconic brands and creating meaningful experiences is what inspires us.
Our people are curious, bold and resilient. We see challenges as opportunities, push boundaries and thrive under pressure.
We are owners, building a company to last. Empowered to lead real change, deliver results and grow at the pace of our talent. Through hard work and the strength of our teams, we can achieve anything."
ABInBev. Challenge Accepted.