Rakuten DX
Digitálne technológie, Marketing / Komunikácia, Softvér

Montpellier
Rakuten is was established in 1997 in Japan and is at the origin of the very concept of marketplace. Today, an international Tech group, Rakuten is an ecosystem made up of 100 entities from e-commerce, content production, Fintech or even communication such as Rakuten Viber, Rakuten Kobo, Rakuten TV and Rakuten DX… to name a few.

In Japanese, Rakuten means "Optimism"
Contrary to a pessimistic market vision where digital platforms aim to replace the players who prospered before the advent of digital, Rakuten cultivates an optimistic vision of the digital transformation of commerce. This philosophy is reflected in each of the group's actions: both with its partners and with its internal employees.
Rakuten is committed to building a better and more optimistic future by empowering individuals, businesses and societies to take on all their projects and achieve success in their professional and personal development.
Our center of expertise is involved in important group projects for advanced No code & Low code editor for App creation and content rendering experiences. We are focusing today on the Mobile Technology domain, embracing the current trends, architecture and market challenges.
Our involvement within Rakuten Mobile Business lead us to be an important piece of the group strategy with Rakuten Symfony.
Beyond this strong collaboration we are involved in satellite projects for big Rakuten businesses around the globe.
Our challenge is to always do better, become stronger and think wide to make the difference.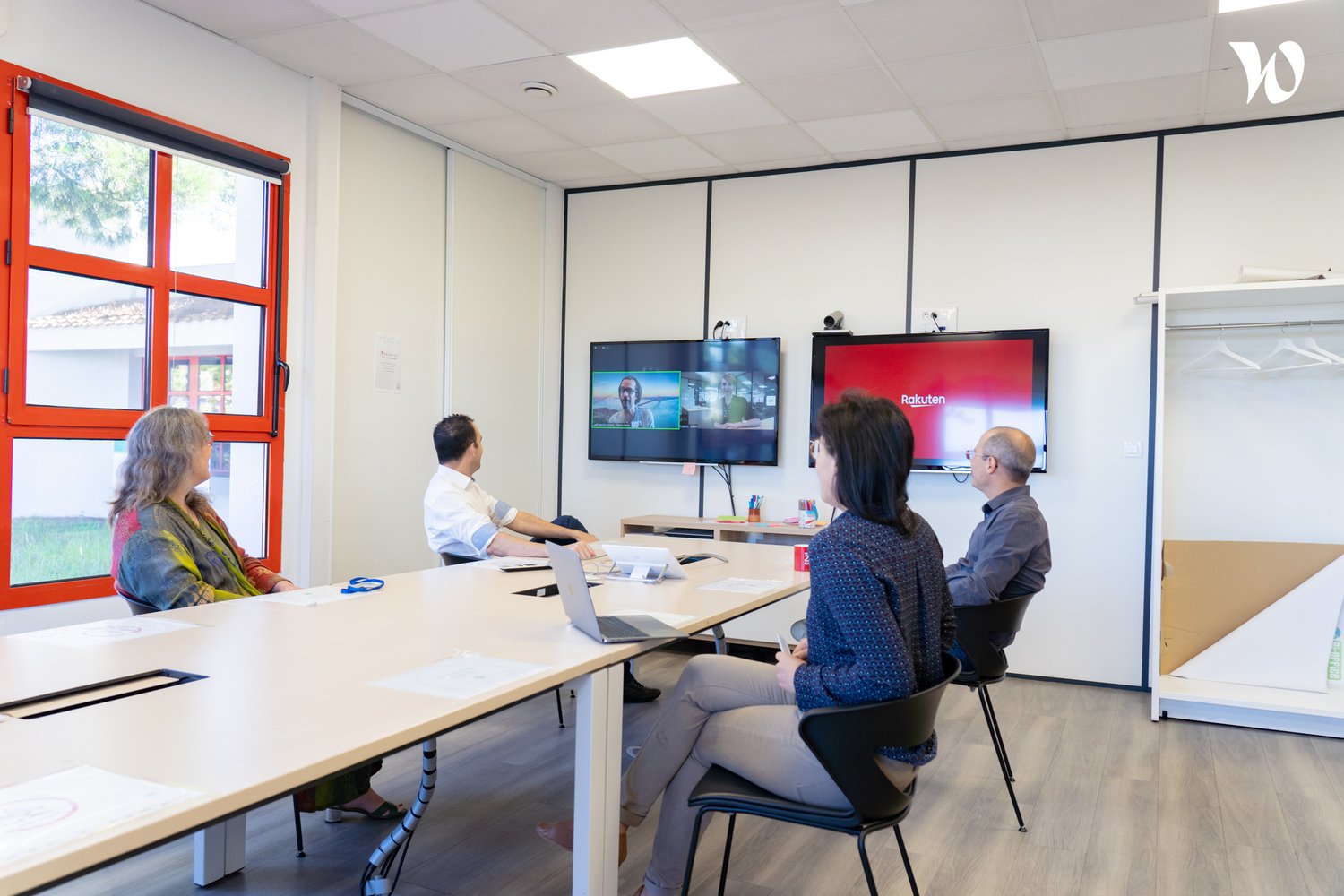 #oneteam is what we are and what we are always focused to stay: Executives, Leaders, Managers, Product owners, Scrum Masters, Software Engineers, QA Engineers, Ops, Project Manager, UI UX designer... everyone is part of the same team, embracing the same objectives and challenges to succeed our project.
With the support of Rakuten Group and its thousands of Engineers among the globe, we are targeting quality excellence by following industrial processes to deliver our products and serve our consumers with a minimum of risks.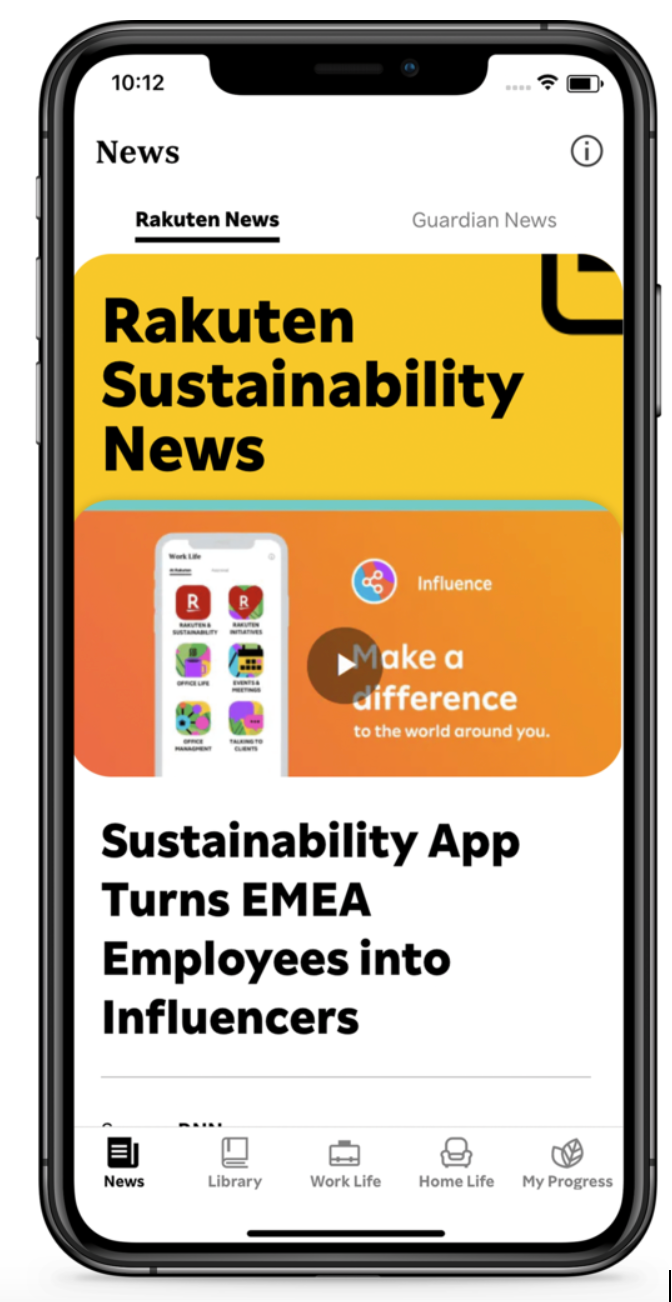 Rakuten DX has initiated a continuous improvement process to measure and limit its impact on the environment. We have contributed to the group's approach with the creation of the Shift application, which allows all of the Rakuten's business units to share content, capitalize on points reinvested in eco-responsible actions.
Shift was created with the goal to empower more than 1600 employees spread across 14 countries in the EMEA region to shift their minds and habits to live more sustainably, both at work and in their private lives.
To achieve this and due to the prioritization of Digital Inclusion, Shift is designed as a Progressive Web App (PWA), enabling the huge variety of different mobile handsets and connectivity types to engage with the same user experience.
The experience itself is rich and varied. By applying the theory of change that Rakuten developed and that takes employees on a journey to learn, act and then influence their peers with their acquired knowledge. The app encompasses gamified actions which result in trees planted, articles, videos, interviews, quizzes, challenges, competitions and much more.
Well-being at work is also a strong value of the company with equipment such as electric desks adjustable in height and a shower for athletes, but also convivial activities (breakfast, team meals and other outings). Services make it possible to reconcile professional and personal life.
Regarding training and Tech events, the investment is strong to support our teams, and we are sponsoring a very nice local event dedicated to Tech conferences in Montpellier.
To know more
Rakuten DX is a technical expertise center of the Japanese group Rakuten, based in Montpellier. The company is specialized in mobile applications generation using its own SaaS platform. Thanks to No code & Low code technologies, Rakuten DX delivers App combining quality, design, security and fast conception with the best possible user experience.
Whether it is sport, telephony, or sustainable development, its expertise is focused on ergonomics and design using collaborative design methodologies, as close as possible to the customer's expectations and to the Rakuten group thanks to a talented team.
A true start-up within a large international group, Rakuten DX solutions combine many services, innovations and technologies from the vast Rakuten ecosystem: e-commerce, Fintech or communication with Rakuten Viber, Rakuten Kobo, and Rakuten TV.
What they are looking for
Rakuten DX is looking for talented people who thrive both in a start-up environment and in a group with an international dimension. Creative, passionate people, true team players convinced that digital technologies help to improve the world.
A big tech level : enthusiasts people and international projects with the Rakuten group
An arcade terminal made "home" by the team
Time flexibility : they organize themselves, they reconcile : flexibility comes first
Flower power: green office ! And other initiatives.