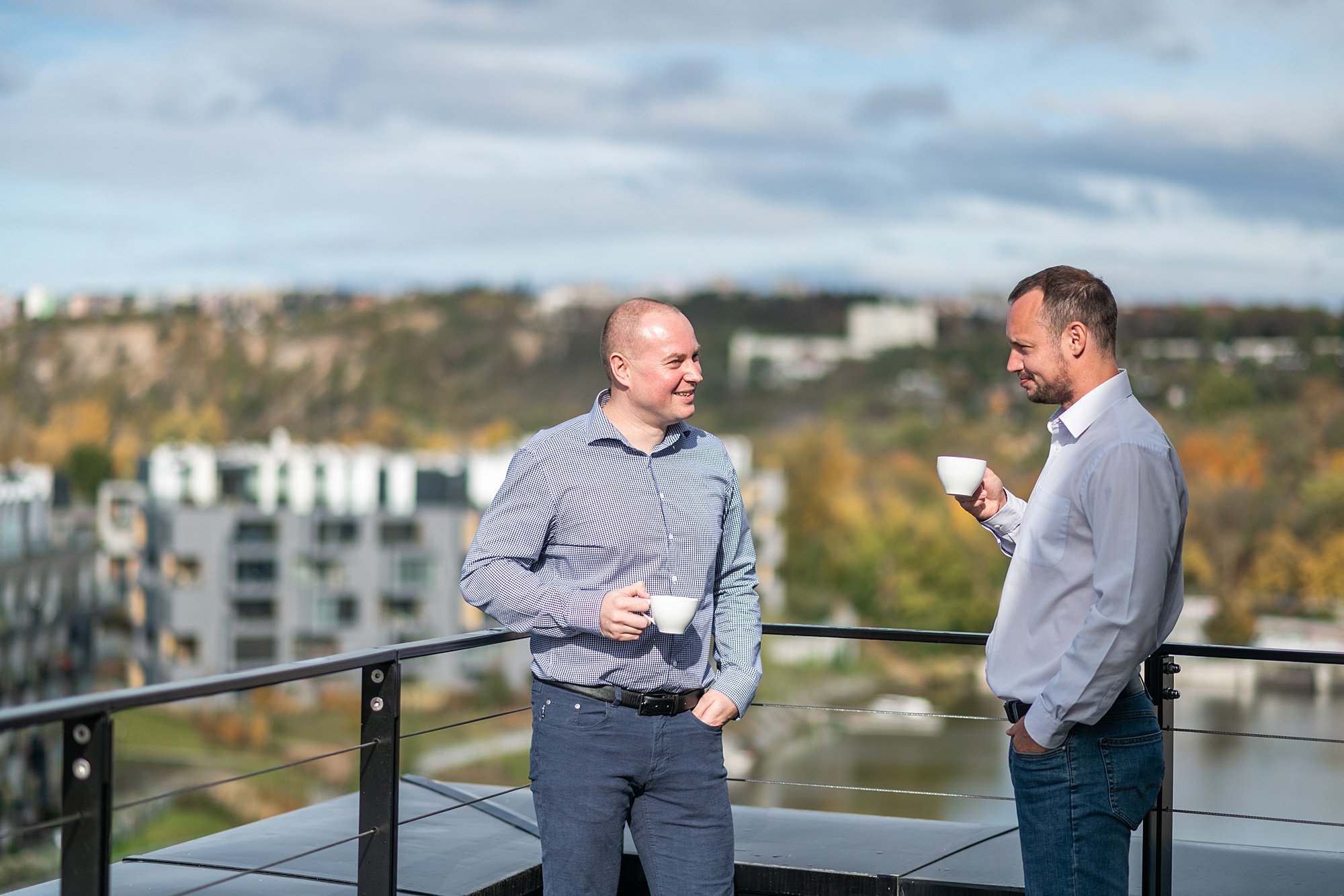 BNP Paribas Cardif
Bankovníctvo, Financie, Poisťovníctvo

Praha
Katka's bread and butter is drawing up and revising agreements, negotiating terms with partners, and reviewing company's and client's documents and marketing materials. She helps her colleagues with complex issues and participates in the creation of new products. Despite being in the company since 2008, she still enjoys her work. Most of all, she appreciates that the company was forthcoming during her maternity leave, both in the option of part-time employment and the possibility to work from home. Katka works from home about 40% of the time.
She spends the time she saves on the commuting at her home in the countryside, caring for horses, goats, sheep, and her dog and a cat. She enjoys an evening by the fireplace with a good book and a glass of wine. Dancing used to be one of her hobbies, in particular the Irish dance and salsa. She would like to pursue it once more and learn pasodoble.
Pavol is originally from Slovakia, but he has been living in Prague since 2012. Before joining Cardif Services, he worked in several IT companies. His work entails the implementation of IT projects and architectural solutions, primarily for front end applications. He and his team of five code in Java; for back end systems, they use C# and .NET. Most of all, he likes that he is in contact with the business and the final product. In his previous job, he rarely came in touch with the finished software upon the completion of the contract.
In his free time, he likes to do sports or go to classical music concerts. When he is on vacation, he likes to go abroad to explore new destinations. A common theme of his journeys is the quest to discover the local cuisine.
After finishing his banking and insurance studies, Honza joined the Cardif Pojišťovna branch as Pricing Team Leader. Later, he became the Actuary Team Leader, which is his position to this day, and he was present at the creation of a pricing platform that unified the Actuaries from several European countries into one team in Prague. Now, he manages three such platforms and leads a team of 15 people.
What he likes about his job the most is the complexity. He watches over new projects from their inception through pricing and implementation to reporting. To assess the price of a new product, he uses statistical data and cooperates with Finance and Legal Departments. It wouldn't be possible without a team of skillful colleagues, whom he appreciates very much.
Jan spends most of his free time with his little kids. He is also an enthusiastic cyclist and likes to go for a run or a swim.
Cardif is a part of the French BNP Paribas Cardif. Their starry logo is well known to many thanks to their sponsorship of the most prestigious tennis tournaments. And their goals are stellar as well – to protect their clients in the case of sudden life-changing events such as loss of income due to loss of employment or long-term illness.
In the Czech Republic, the company has two branches – BNP Paribas Cardif Pojišťovna (insurance company) and BNP Paribas Cardif Services. The former branch cooperates primarily with banks that offer their products to the customers. Their chief discipline is the payment protection insurance, and they were one of the pioneers of this type of insurance in the Czech Republic.
The latter company branch is the knowledge center for the entire Central Europe. It comprises of IT, Marketing, HR, Finance, and several other departments. Its corporate culture is considerably more free-spirited, but everybody still makes up a crack team. The Services branch could be described as a corporate "start-up" founded in 2017 that has been growing like weeds ever since. Many natives and foreigners work here daily on international projects. All the apps are tailor-made by the programmers in Services and then sold to insurance companies.
The Services branch will suit all who don't like strict rules and work by the book and prefer to use their common sense. Their dream candidate is one who is not discouraged by the rapidly changing environment but can adapt to it, and who is gifted with creativity and flawless English skills. On the other end, the insurance company branch will suit those looking for stability and clearly cut competences.
IT experts, whether Developers, Architects, and Security or Infrastructure Specialists, are particularly welcome. Besides the IT experts, Actuaries are also in high demand. They should be able to handle statistical data and be ready to communicate with the Legal Department frequently. Many attractive international projects await them.
Aside from cool teambuilding activities in the local marina, every newcomer can look forward to catering in Cafeteria in the amount of CZK 17,000 per year, a generous pension contribution, and, after the first year, a life insurance contribution. Job sharing, flexible working hours, and the possibility to work from home in case of need are naturally available as well. The company supports its employees in volunteering – everyone can take one day off per year to perform any socially responsible activities, and thus improve their karma. That counts!