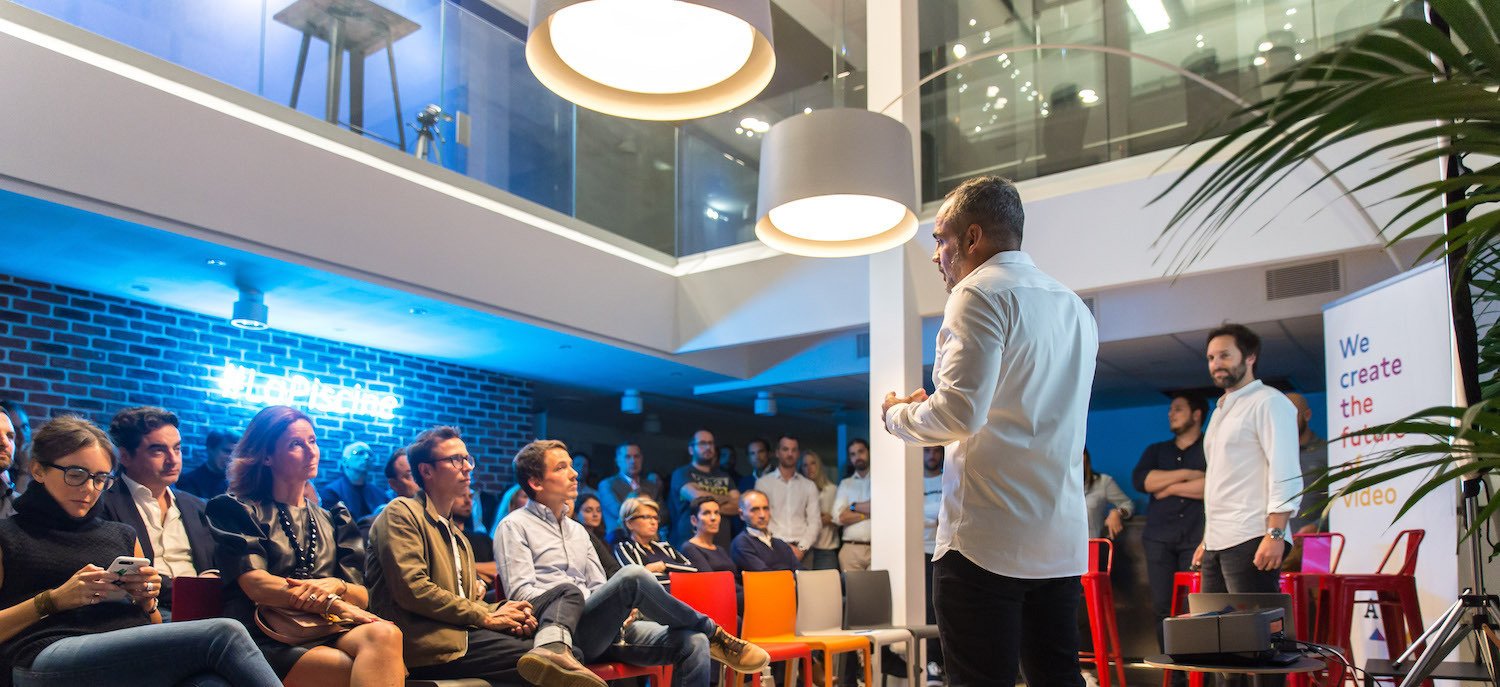 Aive
Inteligencia artificial/Aprendizaje automático, SaaS/Servicios en la nube

Montpellier, Paris
Olivier belongs to the generation of entrepreneurs considered to be the precursors of French "Tech". Indeed, between 2003 and 2010, Olivier co-founded Airtist, which can be considered the pioneer of online music listening platforms, earlier even than Deezer and Spotify. In 2010, the Airtist model evolved into a B2B model which gave birth to Teads, which in eight years became the global leader in online video advertising.
He is now launching a new Aive project in Artificial Intelligence (AI), Video and Creativity, which sets itself the ambition of revolutionizing the large scale creation and distribution of videos.
Rudy launched his first successful start-up company, Soonnight, during his engineering studies. Building on this successful experience, he participated in the launch and accompanied numerous large scale entrepreneurial projects such as Teads, Keyfetch, placeminute.com or Adyoulike.
In addition, he is a Board Member of several start-ups, always with the aim of sharing his experience and expertise, because sharing is one of his core values. It is also one of the main values at Aive, which dictates his daily mission as co-founder and CEO, to translate into reality the transition from a vision to a technological tool with the capacity to revolutionize the video sector.
Founded in 2019, Aive create the future of video thanks to a unique creative artificial intelligence.
Aive is a creative AI technology specialised in video for brands that want to unleash creativity.
Our mission is to automate the video post-production (format, duration, personalization, etc.) as well as their distribution (centralized ad serving, unified data, audit reporting, etc.).
The benefits from Aive are immense : Video post-production cost and time are thus optimized, while guaranteeing the diffusion context for an enhanced video experience.
Aive, ode to creativity.
What they are looking for
Aive values people with diverse backgrounds and experiences. What is important for its founders above all is the desire to share and develop their team skills.
Its co-founders are proud of the talents they have brought together to form a team that shares strong values and a culture of responsibility. Aive is looking for talented, knowledge-hungry and energetic talent to join the adventure.
It is developing rapidly and it is looking for new collaborators to join the adventure, and in particular in the R&D teams (Data Scientist, Back-end, Site Reliability Engineering, etc.).
Work @ Aive
Our values
Ambition. You must have a high taste for challenge, we create the future of video together

Innovation. You are be part of great innovators by working with us and by building cuting-edge technologies

Vision. You make a global impact in creative industry while while promoting the most important : our customers first

Excellence. Your strength and excellence are multiplied in team spirit and in quality because "God is in the detail"
Our vision, create a global leader in video creation and distribution powered by creative AI.
Join the adventure, join Aive now 🚀
The Aive co-founders are the original co-founders of Teads, now the global leader in video advertising, acquired by Altice in 2017 for $304M. This success bears testimony to their excellence and demonstrates an ability to carry out large-scale entrepreneurial projects. Together, let's create something legendary in video!
Aive is a company supported by the Région Occitanie, Bpifrance and FrenchTech.