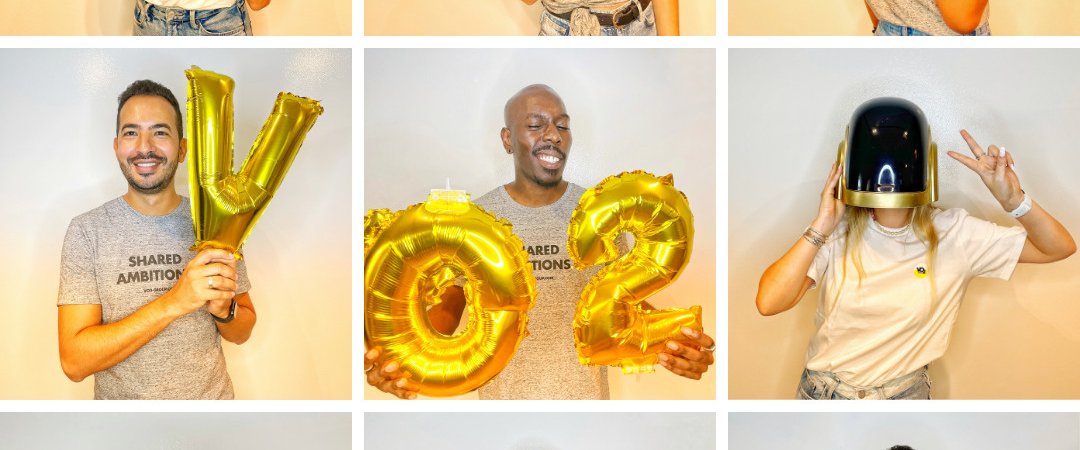 VO2 GROUP
Change Management, IT / Digital

Paris, Bruxelles, Casablanca, Montréal Qc, Shanghai
Because the well-being of our employees is one of our priorities, at VO2 Group we offer a series of benefits and services to provide them with an unforgettable experience.
Beyond the "classics" (restaurant tickets, mutual health insurance, CE and teleworking), we provide our employees with a partially paid work bike, access to nurseries for parents who are more relaxed at work and we even organize clothing collections with the Redonner association!
We have a sense of hospitality and our onboarding is five stars with the delivery of a Welcome Pack upon the arrival of a new employee. Welcome Days are regularly organized to give the opportunity to exchange with Émilie and Florent - the co-founders of VO2 Group - as well as the partners and the Superteam.
With us, everything is a pretext for exchange! We organize events to get to know each other and discover the Group's news in a friendly and fun setting! Transpi Tuesdays (cross-fit lessons with our coach Justine), running challenges with Run4Digital for the benefit of a charity, Basketball matches, Share-Eat, the Colibri project… There is something for everyone's tastes!
And because our employees are our best ambassadors, we offer a co-optation bonus that is superior to the market.
We even offer mentoring for employees who wish to take their Agile training (we pay for the first passage). The Rocket Academy, the training school by VO2 Group, propels our talents and those of our customers! Our ambition: to offer a career accelerator to those who join us.
Located in the heart of Paris, our premises are eco-friendly and full-free: coffee, tea and small healthy snacks to work in the best conditions.
Vo2 Group around the world
The activity of VO2 Group is: 5 consulting & tech support subsidiaries (Digital Experience, IT Solutions, Force, Data Experience, Communications) and a Finance business vertical dedicated to Financial banking / Insurance services.
We have also developed an Artificial Intelligence R&D Lab in Paris and 4 centers of expertise in Canada (Montreal), Morocco (Casablanca), Belgium (Brussels) and more recently in China (Shanghai).
VO2 Group is a global force in digital transformation focused on the customer experience.
Our clients are international brands in retail, luxury, banking, insurance and industry ... We work with half of the CAC40 (in particular LVMH, Renault, Bouygues, BNP) and startups like Mirakl, Younited Credit or InsideBoard.
We are GPTW, Growth Champion - Les Echos, and we received the Syntec / KPMG customer relationship award in 2020. Our ambition is to become the leading independent French technology group.
What they are looking for
VO2 Group is looking for:
team players to carry out synergy in our projects and bring our expertise to the client 🚀
teammates to sweat with our coach Justine and for our challenges Run4digital 👟
charitable souls to have a drink in the evening 🍻
and curious minds to continuously learn and challenge their knowledge 💪
We are also in Belgium (Brussels), China (Shanghai), Morocco (Casablanca) and Canada (Montreal).
Whether you're an introvert with a wicked sense of humor, or a caring extrovert, it's perfect! We love diversity, it's as much in our values as it is in the modern world. Our leadership is equal, as are our teams.
Great opportunities are created every day in a growing company so if you have the desire to join us, do not hesitate to apply 😉
By the way, we often use men in our job ad but that doesn't mean we have a preference. It's an abuse of language. Ladies, we are waiting for you too!