Upflow
Backend Engineer (Financial Integrations)
Plný úvazek

 

Počáteční datum:

 

Možnost pracovat plně z domova

Magisterský stupeň vzdělání

> 5 let
Společnost
Upflow
Software, FinTech/InsurTech, SaaS / Cloud Services

Od 50 do 250 zaměstnanců
Nabídka
Backend Engineer (Financial Integrations)
Plný úvazek

 

Počáteční datum:

 

Možnost pracovat plně z domova

Magisterský stupeň vzdělání

> 5 let
Tato pozice byla obsazena!
Who are they?
At Upflow, we're building the platform revolutionizing how B2B businesses get paid.
Today, most companies are still struggling to collect payments from their customers: hundreds of unpaid invoices, anarchic communications, multiple payment methods. They lose tons of hours on zero value-added tasks, suffer from late payments that hinder their growth, and sometimes simply go bust because of cash flow issues. It's time for a change.
Upflow is the modern hub to manage all data exchanges, communications, and payments to get paid faster, simpler. We are a product-led organization solving this problem with a tech approach.
We've launched in 2018 and are trusted by hundreds of awesome users in the EU & US including Lattice, Front, Triplebyte, Iziwork, ProductBoard, Proxyclick, and more. We're also backed by leading investors (YCombinator, 9yards, eFounders) and top executives business angels from N26, Square, Mercury, Uber, and Netsuite.
We're a remote-friendly, distributed team across 3 continents and rapidly expanding. Now's a perfect time to join if you're looking for an exciting international experience.
For more information, please visit our website www.upflow.io or check out our product demo here: https://demo.upflow.io
Visit the profile
Rencontrez Alexandre, Co-fondateur et CEO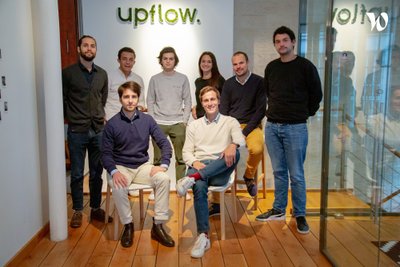 Rencontrez Barnaby, Co-fondateur et CTO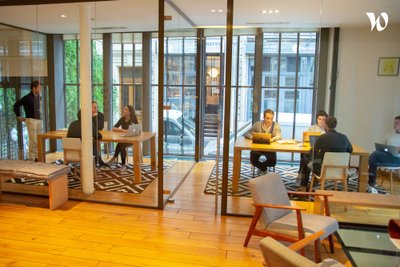 Rencontrez Raphaëlle, Payment Expert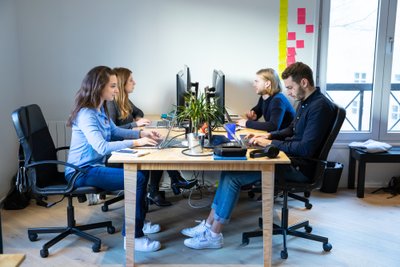 Job description
The Financial Integrations squad is in charge of the repository of financial data provided by our customers. It is a critical component of our platform since the rest of Upflow's product depends on it. To populate this repository, the squad builds & maintains:
integrations to other accounting, billing & payment SaaS tools (Stripe, Netsuite, Quickbooks…) to automatically synchronize the data, with a strong focus on data consistency & freshness
our public API which is called by customers who build their own synchronization because they use custom systems or systems that we don't yet support yet
We are looking for a backend engineer to work with the team to build new integrations, scale existing ones, evolve our API, and investigate & resolve data discrepancies.
Our current stack
100% Typescript with Node.js+Express
Postgres (as a datastore) and Redis (queues for asynchronous synchronization tasks)
Monolith hosted on Heroku (to be migrated to GCP) + CloudFlare
Datadog + Sentry for monitoring.
Github Advanced Security for security
Full continuous delivery on CircleCI, with 10 deploys per day on average & 1000s of non-regression tests run on each build
What you will do
This role is focused on building & maintaining a specialized & efficient synchronization engine between different systems; this requires technical skills as well as domain knowledge which you will acquire over time.
Write code, be a tech expert, and solve various complex challenges of scale & performance while balancing technical innovation with product & business needs
Collaborate with product managers to define product solutions to complex problems & business needs
Own the technical implementation for our largest projects: write the design document, create technical alignment with other engineers, identify project milestones & their underlying technical tasks, and be the technical lead for other engineers throughout the project
Participate in the champion rotation to triage, investigate and resolve production & data issues or customer-reported bugs
Preferred experience
The Financial Integrations squad will suit engineers who
are comfortable working on a project with a lot of domain knowledge: you'll need to acquire knowledge from documentation & discover the details of complex third-party systems
can work with black/grey boxes and enjoy analyzing data & making working conclusions
like to rely on automated tests to ensure non-regression including on edge-cases for each release;
have the drive to tackle multiple problems at once & the ability to find pragmatic solutions
Knowledge of accounting isn't required but you should be interested in learning about it.
Why join Upflow?
🚀 Best-in-class product in a massive market.
💨 Fast-moving environment - you will never stop learning and growing.
🤝 Trusting environment - hands-off management style with a strong culture of ownership and autonomy.
🌎 International environment - work with team members across Europe and the US.
🪐 Top end offices in central Paris, with a strong remote culture.
💶 Competitive salary package, and benefits (Alan coverage, Swile card for lunches, etc.)
Recruitment process
Discovery call with Victoire (Talent Acquisition) to see if your goals and Upflow's align.
Screening call with Philippe (VP of Engineering) to assess your fit for the role.
Technical test reviewed by the team.
Technical interview with Anri (Engineering Lead for the squad) and Jean-Christophe (Principal Engineer).
Meeting with 2 members of the squad to confirm culture fit.
Final interview with Barnaby (CTO & cofounder).
Upflow
Máte zájem o tuto nabídku?
Questions and answers about the offer
Sdílet na LinkedInu

Sdílet na Facebooku

Sdílet na Twitteru