Hive
Launch Manager France (f/m/d)
Plný úvazek

 

Počáteční datum:

 

Paris

Možnost pracovat příležitostně z domova

3 rok VŠ

> 1 rok
Společnost
Hive
Software, Dodavatelský řetězec, E-commerce

Od 50 do 250 zaměstnanců
Nabídka
Launch Manager France (f/m/d)
Plný úvazek

 

Počáteční datum:

 

Paris

Možnost pracovat příležitostně z domova

3 rok VŠ

> 1 rok
Tato pozice byla obsazena!
Who are they?
Notre vision c'est de permettre à quiconque de gérer et piloter son entreprise e-commerce. Nous voulons être le cerveau opérationnel de votre marque D2C afin que vous puissiez vous concentrer sur vos enjeux business et scaler votre activité en toute sérénité. 📦 🚀
Hive réinvente la logistique e-commerce en concevant des solutions sur-mesure répondant aux enjeux des DNVBs (Digital Native Vertical Brands). Hive gère les opérations des marques D2C (Direct-to-Consumer) de manière efficace et écologique, en opérant ses propres entrepôts en Allemagne, en France, et désormais en Italie, et en proposant une plateforme all-in-one qui intègre tous les éléments de la chaîne logistique d'un produit, de l'approvisionnement jusqu'à la livraison. Hive fournit en temps réel toutes les données clé concernant l'état des stocks, des livraisons et des retours, jusqu'aux prévisions de réapprovisionnement, et permet à ses clients de prendre les bonnes décisions en conséquence.
Fondée par Oskar Ziegler, Franz Purucker et Léo von Kleist en Juillet 2020, la plateforme se distingue des autres acteurs du marché par son engagement pour le développement durable et sa transparence en matière de gestion des opérations. Cette transparence passe également par la simplicité d'utilisation de sa plateforme, sans minimum de commandes ni durée d'engagement pour ses clients.
Visit the profile
Rencontrez François, Site Lead France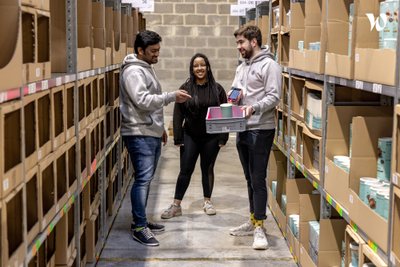 Rencontrez François, Site Lead France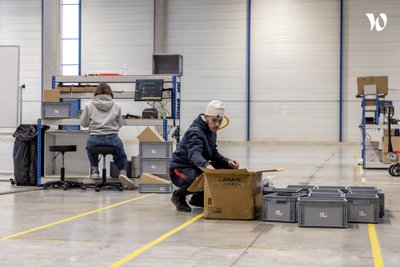 Rencontrez Maxime, Account Manager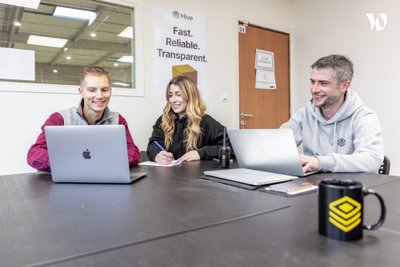 Job description
Be one of the first employees in our account management team in France and support us in onboarding our new customers into our hive.
Act as the first point of contact for customer onboarding, clarifying all questions and issues (tech integrations, packing processes, communication, inventory shipping, shipping provider setup, etc.) together with the customers.
Analyse and optimise our customer onboarding processes for a smooth onboarding experience.
Coordinate and plan the onboarding with all departments within Hive to ensure that the entire operational and technical setup are ready to go.
The position will be based in Paris, France.
Preferred experience
You have first experiences in project management, customer relations (sales, account management, customer support, etc.) or e-commerce.
You enjoy coordinating projects and work in a customer-centric way.
You have very good analytical & empathic skills, which you use to your advantage in customer communication.
You bring an entrepreneurial mindset, a certain "hunger" for personal development.
You speak fluent French, also business fluent in English.
Most importantly, you share our vision to build & democratise e-commerce logistics for D2C Brands!
Hive
Máte zájem o tuto nabídku?
Questions and answers about the offer
Přidat mezi oblíbené

Sdílet na LinkedInu

Sdílet na Facebooku

Sdílet na Twitteru