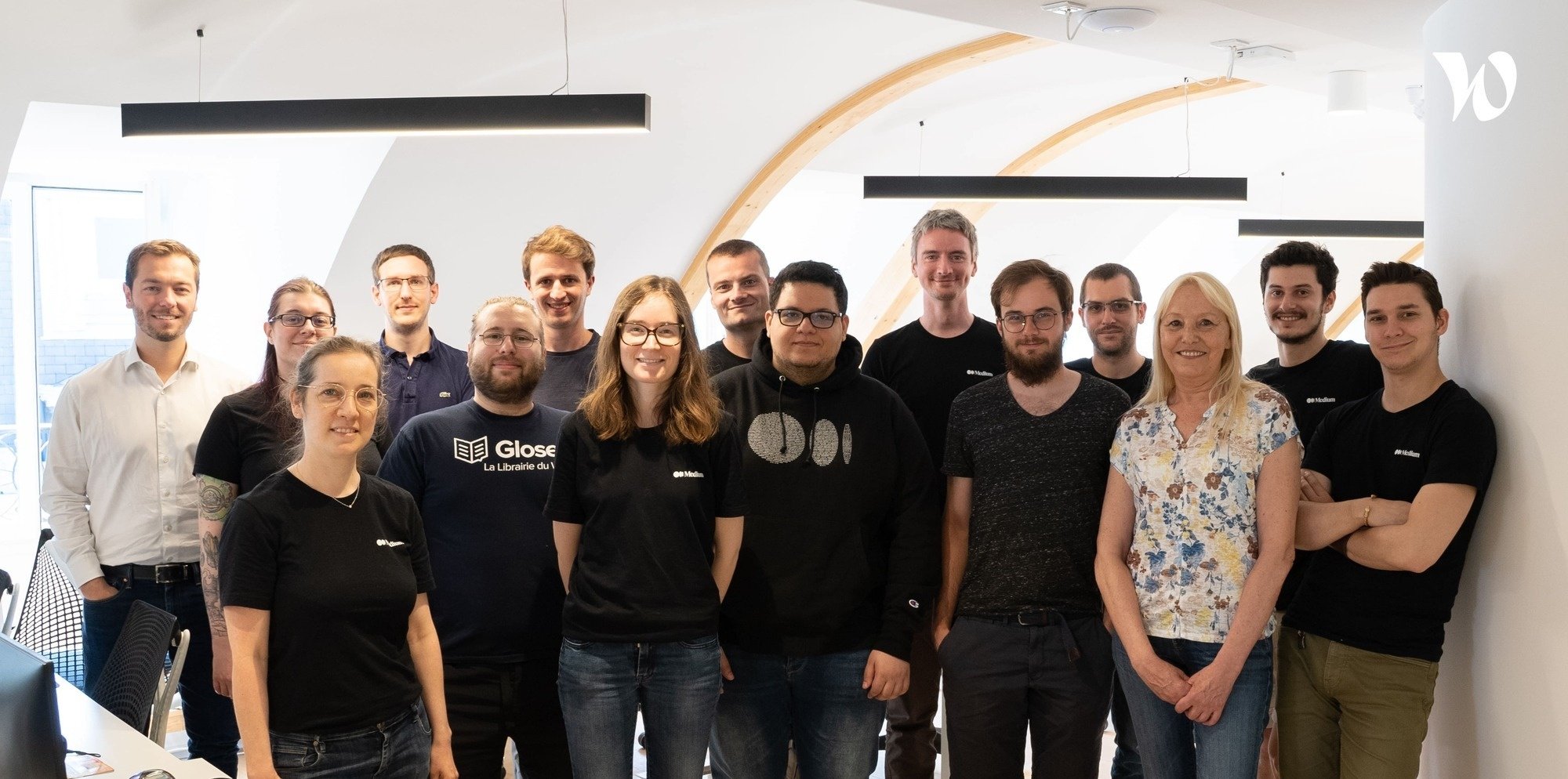 Glose | Medium
Fullstack Engineer (React/GraphQL)
Plný úvazek

 

Paris

3 rok VŠ

> 3 roky
Společnost
Glose | Medium
Nabídka
Fullstack Engineer (React/GraphQL)
Plný úvazek

 

Paris

3 rok VŠ

> 3 roky
Tato pozice byla obsazena!
About
Créée en 2014, la mission de Glose est de créer le futur de la lecture et du partage des savoirs.
Glose a été acquise en 2021 par Medium, la plateforme unique de lecture et d'écriture basée à San Francisco.
Glose est l'application qui rend la lecture plus sociale, plus efficace et plus fun. Sur web et mobile, Glose permet de découvrir, lire, surligner et annoter les passages de milliers de livres numériques et d'échanger avec une communauté de lecteurs.
Medium est une plateforme de création et de diffusion de contenus digitaux où chaque auteur peut exprimer ses idées sous la forme d'articles à destination de tous les internautes du monde entier.
Experts dans leurs missions respectives, l'objectif de Glose et de Medium est de créer LE site le plus enrichissant du web, où lecteurs, auteurs et spécialistes se rencontrent, lisent, échangent et partagent leurs expériences.
Job description
We're looking for a Fullstack Engineer to join our team and help us make reading better. Your goal is to work on the next iteration of the Glose platform, and build fast, intuitive, and powerful interfaces that will serve and delight readers and learners around the world. You should be willing to be autonomous and own a large part of the product. You will be working with every member of our team, especially our product designer, product manager, and back-end engineers.
You are obsessed with beautiful products and great user experiences.
You are detail oriented with a sense of aesthetics, pixel perfection, and a will to please users
You like to use the latest programming languages and processes
You are curious about other products you like to explore and benchmark, and push the limits of your discipline.
You are curious about other technologies and missions within the team, and are willing to learn from your teammates and grow your scope of action.
You like to execute and get things done with a high level of quality
You are a team player who accepts feedback, uses data to improve, and works to improve personally and professionally
You like to work for an ambitious and necessary mission.
You are passionate about the future of education.
You want to be one of the best at what you do, worldwide.
If this sounds like you, we love you already!
Responsibilities
Help design, build, and improve the next version of Glose and other projects
Implement pixel perfect UI using React, GraphQL, NodeJS and our in-house design system
Contribute to team work on design and back-end integration
Contribute to open-source projects
Help us build the best learning experience in the world, with a deep understanding of our users' needs.
Preferred experience
Requirements
BS in Software Engineering or related field
3+ years of programming experience in frontend development
Experience with web technologies such as modern JavaScript (ES6/7, TypeScript, Babel), NodeJS, React, GraphQL, Redux, Webpack
A rock-solid foundation in Computer Science (data structures, algorithms, software design)
A passion for shipping quality code and neat user interfaces
Good oral and written communication in English
Preferred skills
MS or PhD in Software Engineering or related field
Working in a very fast-paced and continuously changing environment
Experience about high performance NodeJS and React/GraphQL application, load time optimization and caching
Recruitment process
If you apply for a position in our team, you will undergo a 4 stage interview process:
Resume and motivation screening: this is to know who you are and what you have achieved.
Technical challenge at home: and then to build a small product. This is to show us how you you build things.
Scientific challenge in our office: you will be asked to solve more abstract problems live with our team. This is to see how you think. And also to debrief on what you build.
Personal meeting: this is to understand who you are and what you want –and to explain more of our culture. This is more personal. We don't recruit to fill fixed positions. We recruit to add extraordinary individuals to our team. Individuals who want to expand, improve, take responsibility in building great things.
Throughout all this process, our obsession is to help you succeed, and get a good feel for the work we do and the team we are.
Learn know about how we think about tech in our tech blog
Meet the team
This content is blocked
Youtube cookies are required to show you this content
Questions and answers about the offer
Přidat mezi oblíbené

Sdílet na Twitteru

Sdílet na Facebooku

Sdílet na LinkedInu