Pricemoov
Engineering Manager F/M
Zmluva na dobu neurčitú

 

Možnosť pracovať iba na diaľku
Spoločnosť
Pricemoov
SaaS / Cloudové služby, Big Data

Od 15 do 50 zamestnancov
Pracovná ponuka
Engineering Manager F/M
Zmluva na dobu neurčitú

 

Možnosť pracovať iba na diaľku
Táto pozícia bola obsadená!
Who are they?
Pricemoov is an innovative pricing SAAS solution.
The prices are the main drivers of sales and profitability for a company : bad prices can have huge negative impacts on volumes and margins.
Still companies face many challenges when making a decision on their prices : the dynamism of the market, the complexity of their offer, the diversity of their clients…
Pricemoov provides a unique tool that helps any company to better manage and optimize its prices and increase its margins. Our platform functionalities allows its users to :
build and pilot a pricing adapted to any sales context, channel or client type
connect any source of data to monitor the performance of the prices (competition, sales…)
automize the price calculation with pricing strategies that can leverage AI/ML technologies
The digitalization of the economy compels companies to rethink their pricing models and search for new profitability levers, which provides a great momentum for Pricemoov.
We are a team of 40, backed by international VCs. We capitalize on famous client references that can vouch for our expertise : Kiloutou, Rentacar, CMA CGM, CDiscount…
Visit the profile
Rencontrez Pierre, Product Manager
Rencontrez Pierre, Product Manager
Rencontrez Justine, Customer success Manager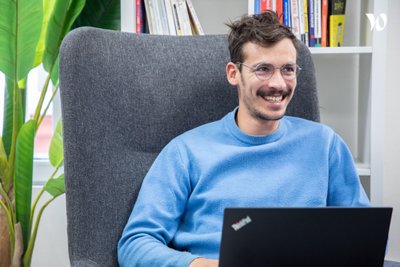 Job description
Pricemoov is a pricing solution whose mission is to empower revenue managers in the optimization of their margin and income through a better management of their prices, 
We've combined our unique pricing expertise and advanced data analytics processes into the simple - yet powerful - Pricemoov Platform which assist our customers in their day-to-day lives and help them capture revenue gains through enhanced pricing strategies.
With a team of 45 and backed by international VCs, we're very well positioned in the pricing software market and maintain huge growth ambition!  We opened our office in New York City in November 2021. At the end of 2022, meet with the opening of Singapore and we will exceed 100 employees! Join our team we are hiring!
Part of the pricing platform engineering team, your challenges will be :
- Hire the best individual contributors. You will be given a generous budget to help you find the people you want ;
- Partner with the Talent team to make our hiring process more efficient and our onboarding process smoother ;
- Grow your team by guiding individuals in finding the right career path for them
- Support and inspire the engineers in their careers as software engineers ;
- Help your team members become exceptional engineers by helping them grow individually and technically ;
- Partner with the product team to define the next features we want to deliver to our customers ;
- Partner with the product team to ensure the product roadmap is shipped on time and on budget ;
- Ensure your team is allocated efficiently between tasks ;
- Efficiently work with external partners to boost the velocity of your team ;
- Ensure your team members deliver high quality, timely work while keeping them happy and motivated.
Our technical stack : AWS, Kubernetes, Docker, RestFul API, Python, SQL, Typescript, React, Datadog.
What you will bring to our team ?
Previous experience(s) at leader positions (Team Lead, Engineering Manager, CTO) & strong knowledge of leading engineering teams efficiently
Experience in US companies is a big plus
Experience and passion for growing, developing, and coaching people
Openness to receiving and giving feedback in a safe workplace
Interest in working in an environment where leaders support their teams to do great work, through removing impediments, finding improvements, and facilitating effective decision making
Enthusiasm about reaching new levels of effectiveness and quality
Exceptional background as an individual contributor and willingness to help when the team needs it
Excitement for learning about how our industry works and the impact we bring to our customers and the world
Experience working in agile development teams with some knowledge of our following tech stacks: AWS, Kubernetes, Docker, RestFul API, Python, SQL, Typescript, React, Datadog
Excellent verbal and written communication skills in English, French is a big plus.
Why should you join us ?
Pricing is a Universal topic. It is the most powerful lever in a company's revenue strategy. Yet, it is often overlooked or poorly managed due to a lack of expertise and tools. Some of the most successful companies on the planet have harnessed the secret power of pricing. Tens of thousands more have not yet tapped this gold mine. At Pricemoov, we believe that we can change that.
We have experienced +100% annual revenue growth, 9 awards, many industry-leading customer references (CMA-CGM, Kiloutou, Rent A Car, etc.), expansion from Europe to the US. With solid financials and loyal customers were are now ready for the scale.
It is the right moment to join. We already have solid financials and key features that our customer loves. We just grasped the surface of the disruption opportunity and are currently designing and implementing the next generation of features of our platform.
What we offer :
- An opportunity to join a fast-growing start-up already between Paris and New York City (Singapore, end of 2022),
- A culture of continuous learning with training throughout the year,
- Workshops on different themes throughout the year, quarterly seminar (when the situation permits),
- Great location: work either from our office in the heart of Paris or remotely,
- Alan health care, Swile luncheon voucher, 50% of your transportation,
- Bicycle kilometers are compensated.
Pricemoov
Máte záujem o túto ponuku?
Questions and answers about the offer
Pridať medzi obľúbené

Zdieľať na LinkedIn

Zdieľať na Facebooku

Zdieľať na Twitteri