Spoločnosť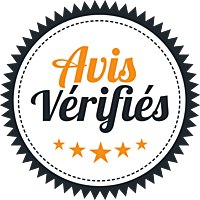 Avis Vérifiés (Net Reviews)
AdTech / MarTech, SaaS / Cloud Services, Software
Pracovná ponuka
Support Technician (L1) Spain
Zmluva na dobu neurčitú

 

Madrid

Magisterský stupeň vzdelania

> 4 roky
Táto pozícia bola obsadená!
About
Depuis sa création en 2012 par le groupe Net Reviews, Avis Vérifiés a une mission simple : faire rayonner la parole sacrée des consommateurs ! Pour y parvenir, l'entreprise a mis au point une solution SaaS, leader sur le marché français. Cette interface permet de collecter, gérer et diffuser des avis clients sollicités en post-achat.
En quelques années seulement, la startup marseillaise s'est déployée dans plus de 44 pays. De Paris à Madrid, en passant par Boston ou Sao Paulo, on ne parle pas la même langue, mais on exprime une seule Voix : celle des clients.
Les clients de la MarTech Avis Vérifiés sont composés de plus de 6 000 sites web et 20 000 magasins. Grâce à ce tiers de confiance, chaque entreprise peut écouter, analyser et s'appuyer sur les feedbacks clients pour performer… Jusqu'à viser les (5) étoiles.
Après une levée de fonds de 32 millions d'euros en 2019, l'intégration dans son écosystème de 2 pépites de l'expérience client (Teester et Mediatech-cx) en 2020… Avis Vérifiés continue son développement en France et à l'International, en partant en quête de nouveaux talents.
Job description
Since its creation in 2012 by the Net Reviews group, Verified Reviews has a simple mission: to promote the voice of consumers!
To achieve this, the company has developed a SaaS solution, the leader in the French market. This interface makes it possible to collect, manage and distribute customer opinions, requested in post-purchase.
In just a few years, the Marseille startup has been deployed in more than 44 countries. From Paris to Madrid, via Boston or Sao Paulo, we do not speak the same language, but we express a single Voice: that of the customers.
MarTech Verified Reviews clients are made up of more than 6,000 websites and 20,000 stores. Thanks to this trusted third party, each company can listen, analyze and rely on customer feedback to perform … Aiming for those famous 5 stars!
Upon earning a fundraising of 32 million euros in 2019, 3 great customer experience players (Teester, Surprise and Mediatech-cx) were integrated into the Net Reviews ecosystem in 2020.
Verified Reviews still wants to develop further in France and Internationally, on a quest for new great talents !
Within the Support department, you will work closely with:
Customer Success Managers (CSMs)
Level 2 and 3 Support Managers (Developers)
Project Managers and technical experts
The Sales team
You will provide functional support by answering any questions related to the product, as well as independently managing and handling the users' support requests. You will be the direct interface between the R&D teams and the customers, in the context of user requests (assistance, service requests, management of anomalies or complex operating issues).
Your main missions will be:
Correctly identifying customer requests
Ensuring level 1 and 2 support actions until escalation to level 3 (Developers).
Proposing the best possible solutions to answer customer problems or questions.
Participating in the consolidation and improvement of our knowledge base.
Improving the efficiency of customer service (callback time, processing, etc.) and guaranteeing the quality of the company by keeping the customer informed.
Analyzing then providing feedback in case of the discovery of bugs, as well as participating in the evolution of the solution.
Processing, resolving or transfering requests / files, while respecting deadlines and following up on in progress requests.
Identifying and reporting any information on recurring problems.
Eventually training colleagues or newcomers to use the information system
In addition, you may be required to:
Participate in functional testing
Integrate customer data during integration
Draw up monthly statistics to communicate activity
Provide user training
Preferred experience
Job requirements :
Coming from an IT or corresponding background, you have experience in a similar position of at least 2 years. Passionate about computers and user support, you show empathy, patience and are a good communicator. You have good analytical skills and are able to quickly take control of specific software:
Experience with ERP or GED customer support tools and processes (ZENDESK, JIRA, SALESFORCE would be a plus)
Ideally with development experience (SQL, capable of running and exploring javascript code, web)
Languages: Spanish + English
Do you have the following qualities? Apply today to join the Net Reviews adventure:
Sense of customer service
Good interpersonal skills
Autonomy & responsiveness
Analytical mindset
Good oral and written communication (English and French)
Ability to document and synthesize
Benefits :
The opportunity to play a strategic role in a growing organisation Working within a dynamic structure full of ambitions in a competitive market
Permanent contract
40 hours / week
This content is blocked
Youtube cookies are required to show you this content
Questions and answers about the offer
Pridať medzi obľúbené

Zdieľať na Twitteri

Zdieľať na Facebooku

Zdieľať na LinkedIn
Vybrali sme tieto články, ktoré by vás mohli zaujímať
Inšpirujte sa týmto výberom článkov