BRIGAD
Mobilné aplikácie, Potravinárske technológie, Recruitment, Zdravie
SWILE Card 🌟
Meal allowance of €8.50 per day worked, 50% subsidised by Brigad.
ALAN Health Insurance 🌟
Also 50% subsidised by the company.
Language Classes 🌟
Free English and French classes every week.
A Welcome Pack 🌟
With loads of goodies that will make you feel welcome the second you step through the door.
Gym Lib Subscription 🌟
Preferential rates on over 300 activities and over 4000 partner programmes.
When you join Brigad, it is always clear what the next steps in your professional journey with us are and what skills you need to acquire to reach the next step!
With optimal talent development in mind, we put in place a "Performance Review" every six months. During this meeting, you and your manager can go over the road covered in the six previous months and, more importantly, discuss your career perspectives and your continued journey with the company. We have also implemented our very own "Career Path" programme to ensure openness and fairness for all our employees, as well as a clear vision of their career path within the company. Good to know: every new job posting open to external applications is first offered internally in order to encourage and reward our talented people's career progression.
Testimonial from Julia, VP Sales Healthcare
"I arrived at Brigad as a Junior Business Developer in 2018, prospecting restaurants in Paris to find new clients. I then opened other cities by going into the field to meet decision makers. After a year of prospecting, I built my own sales teams to continue conquering the French hospitality market. Two years later, I had the opportunity to open a new market for Brigad: healthcare. Today, I am VP of Healthcare Sales and I have my fair share of new challenges! The last five years at Brigad have been as rewarding as they have been dynamic."
"

Today, I am VP of Healthcare Sales and I have my fair share of new challenges! The last five years at Brigad have been as rewarding as they have been dynamic.

"

Julia, VP Sales Healthcare
Training
We are committed to helping our staff progress and learn new skills. We carry out performance reviews and weekly one-to-one meetings to target areas of development and identify potential training opportunities.
At Brigad, we also believe that feedback from management and peers allows staff to grow professionally. This is why we encourage everyone to share their experiences and give positive feedback and constructive criticism. This is the embodiment of our "Care" value!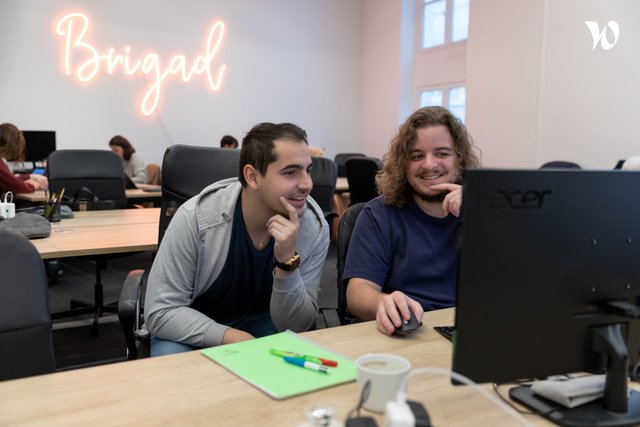 Team rituals and events
Brigad's annual conferences provide the opportunity for everyone to get together, enjoy various team building activities, celebrate the company's past achievements, and discuss its future. Times like these really fulfil one of our fundamental values, "ENJOY".
As well as yearly conferences, each Manager is encouraged to organise occasional team events. Everyone enjoys these special moments that allow them to strengthen bonds, whether around the dinner table or through fun activities.
Although the recent health crisis meant our off-site events had to take a back seat, Brigad as a company takes creating these special moments outside the professional bubble very seriously. From karaoke nights to cookery workshops, yoga sessions and so much more, there is seemingly never a week at Brigad without something going on, allowing every employee to have fun and discover new passions or show off their skills.