BRIGAD
Mobilné aplikácie, Potravinárske technológie, Recruitment, Zdravie

At Brigad, we love working together side by side, but we're also completely open to remote working, for those who wish to do so!
No matter your contract (internship, work placement, permanent), working from home is open to all Brigad employees, and is decided on a team-by-team basis.
Every team is different and therefore requires a different approach to remote working, so each manager is free to set their own policy to meet their team's needs while combining flexibility and efficiency.
Testimonial from Emma, Product Marketing Manager
"In the Product team, we can work from home two or three days a week, or more if we need to.
It allows me to break up my working week and make the most of my personal time. On the days that I work from home, I'm glad that I get to avoid public transport, work in a calmer atmosphere, and do different things during my lunch break or after I've closed the laptop for the day.
I choose which days I work in the office, and at Brigad, every one is so friendly, so I do enjoy going in. I'm always happy to see my colleagues and soak up the energy going around the office!"

Brigad is based right in the middle of the "Silicon Sentier", in the heart of Paris. It is an ideal location for our teams to optimise travel time from anyway in the city and enjoy their lunch break at one of the hundreds of cafés, restaurants, and shops less than a 10-minute walk away. There are also four metro lines and several RER lines in the area.
Brigad is committed to providing the best working environment to its employees. We currently have a flex office system, where staff are free to work from wherever they like within our 750m² floor plan. There are eight meeting rooms, several phone booths, as well as a fully-equipped kitchen and other unusual workspaces available.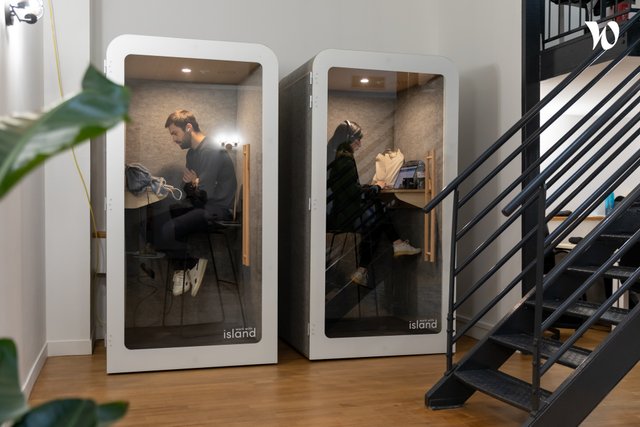 At its core, Brigad has always believed that anyone should be able to pursue his/her passion while being well valued, considered and, above all, free. This means being able to fulfill oneself in one's job and career, reaching a sustainable work-life balance, being paid in a fair way and respected.
Brigad is proud to enable thousands of talents, and tomorrow millions, to experience this lifestyle. We believe so firmly in our mission "Make work attractive and valuable to all" that we even decided to carve it into the charter of our "entreprise à mission" status (equivalent to US B-Corp).
Since 2016, this ambition is translated into building the best app of the market enabling self-employed professionals and hospitality businesses to connect for short-term missions.
⭐️ Our users realize that we make a difference by currently giving a NPS of 77/100 over 5,000 answers, and sharing how Brigad changed their life.
If originally Brigad deployed itself in the catering (restaurants, collective catering) and healthcare sectors (care homes and clinics), tomorrow, even more sectors will be concerned: everywhere talents aren't equipped to pursue their passion while being properly considered and free.
Brigad is currently available in the largest cities in France (Paris, Lille, Lyon, Bordeaux, Marseille, Strasbourg..) and in the UK, with the ambition to expand well beyond in France and Europe.
Exciting challenges are waiting for you: expect to discover new countries, new industries, a top-notch product, a fast-paced development, and above all a solid team united around a truly concrete and positive impact on our daily users' lives. A spirit that can also be found on Glassdoor and the grade of 4.7/5.
What they are looking for
Brigad's fundamental values guide us each day in order to tackle those challenges with consistency and build an extremely strong culture:
Brave : Be bold and make courageous moves.
Impact : Do things that make a real difference.
Care : Pay attention to all the people around you.
Enjoy : Love what you do and have fun
Brigad guarantees equal opportunities to all candidates. Each application received is put into consideration regardless of ethnic and racial origin, opinions, beliefs, gender, sexual orientation, health or handicap.