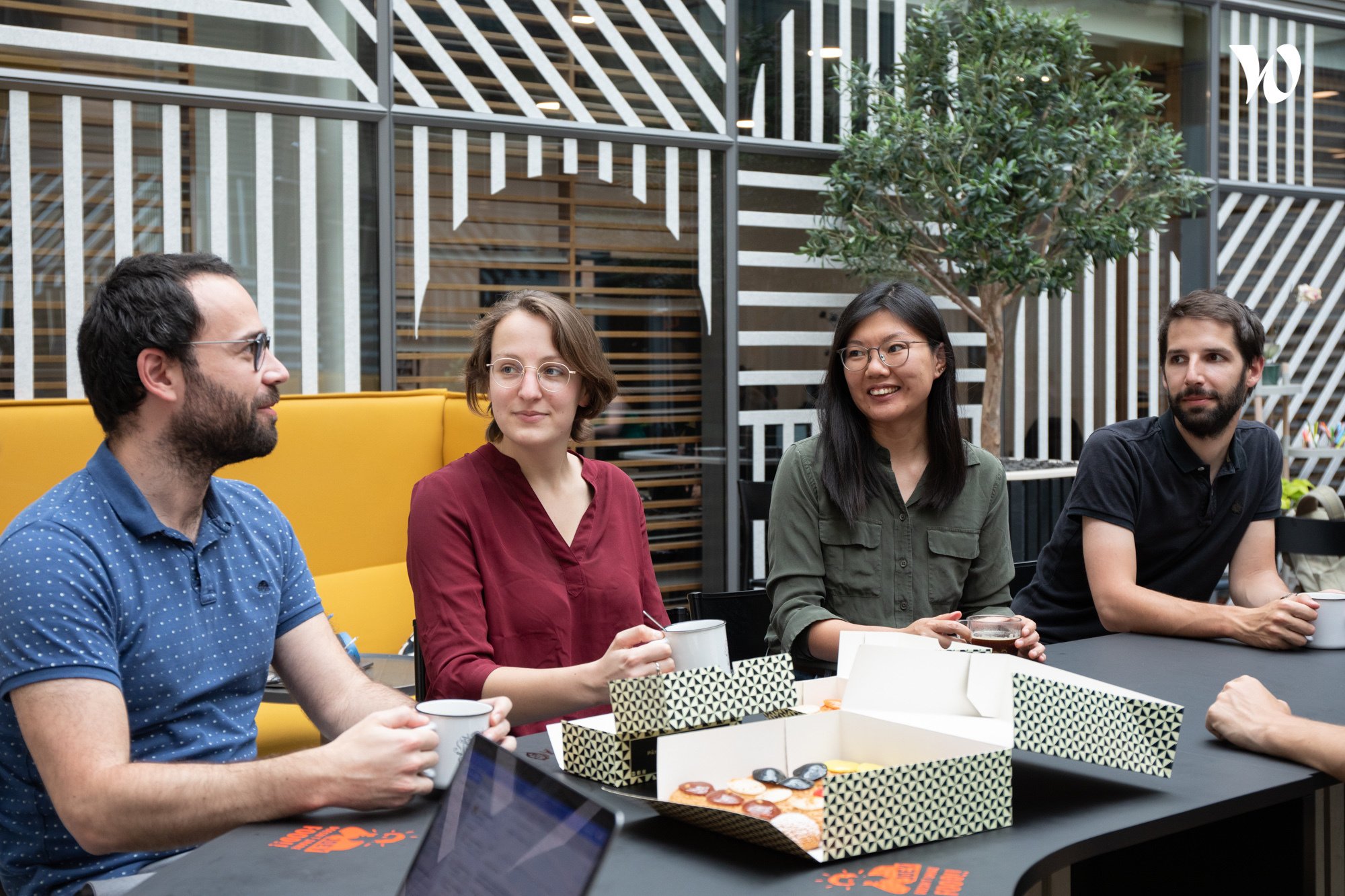 Owkin
Internal Event & Culture Coordinator - 0112W08
La empresa
Owkin
La oferta
Internal Event & Culture Coordinator - 0112W08
About
Our pioneering federated learning framework opens a way to train AI models without moving data from hospital and industry partners – solving the critical privacy and security issues that have inhibited AI's potential to transform healthcare until now.
We were co-founded by Thomas Clozel MD, a clinical research doctor and former assistant professor in clinical hematology, and by Gilles Wainrib PhD, an academic pioneer in the field of artificial intelligence in biology, in 2016.
We now collaborate with dozens of leading academic, research and life sciences institutions worldwide. Our platform is being used extensively for R&D, either through internal R&D or through pharma-partnered programs, to discover and develop better treatments in eight cancer types. On the clinical applications side, our collaborative work produces precision medicine diagnostic solutions.
Owkin has raised over $255M from investors and works with the largest cancer centers and pharmaceutical companies in Europe and in the US. Our data scientists are among the best in the world, with several Kaggle Masters, DREAM Challenge top performers, and publications in Nature, ICML, NIPS and other leading scientific journals.
Beyond our cutting-edge technologies, our strongest belief is in the power of collective intelligence. At Owkin, we foster a global community of top cancer physicians and researchers through our decentralized approach. The only way to outsmart cancer is to work together - and the most effective way to do that is through federated learning.
Owkin is looking for a highly motivated Internal Event & Culture Coordinator to join our People Team.
Job description
The Internal Event & Culture Coordinator has the opportunity to join a fast growing start-up and help the construction and development of a top-tier team of talents who are making the best of Machine Learning to tackle real medical and biological issues.
As an Internal Event & Culture Coordinator, you will be at the heart of every internal events planning, all company offsites, team offsites, recurrent events, thematic events. Also, support as an ambassador, the Culture development in all Owkin offices. You will be reporting to the People & Culture Manager and work directly with her and the People team.
Main Missions :
As an event coordinator you'll be in charge of:
Deploy the annual event roadmap ;
Act as a Project Manager around the events (plannings, logistics, good execution, internal coordination, suppliers management, budget management, …) ;
Provide strong reporting to the P&C Manager : measurement and monitoring of KPIs, objectives set for the event (participation rate, quality of leads, response rate, …), to ensure its profitability ;
Bring a strong expertise and provide a thoughtful perspective on internal processes.
An one of our Culture ambassador, you'll be responsible of :
Participate in the development of the Owkin Culture (Lunch&Learn, Afterwork, …) ;
Create and/or coordinate well-being and quality of life at work actions linked with Owkin culture ;
Preferred experience
About you :
You have 3 to 5 years of significant experience in the event industry ;
You are autonomous in the organization and prioritization of your tasks ;
You are able to prioritize and to juggle multiple work streams ;
You have excellent interpersonal skills, good listening skills, customer orientation (internal and external), high level of ethics, curiosity and willingness to learn;
You are fun to work with, honest and transparent, excited to work in a dynamic, fast-paced environment;
You have Project Management skills ;
You are able to work in an international context ;
You are an excellent communicator, with a good level of English;
What we offer :
Swile "tickets restaurants";
Commuting allowance and/or biking allowance;
Opportunity to work with an international team with high technical and scientific backgrounds;
Friendly and informal working environment;
Flexible work organization and access to remote work;
Beautiful and well positioned offices in Paris (Petites Ecuries), London (Holborn), Nantes (Nantes island) and NYC (Union Square) with numerous and various team activities and events.
Recruitment process
Please attach a cover letter and a CV.
Owkin is an Equal Opportunity Employer. All qualified applicants will receive consideration for employment without regard to race, sex, gender, sexual orientation, age, color, religion, national origin, protected veteran status or on the basis of disability.
Owkin is a great place to work. Unfortunately, being a coveted workplace means we are vulnerable to recruitment phishing scams. We urge all job seekers and candidates to be wary of potential scams. Most of these have individuals posing as representatives of prominent companies, including Owkin, with the aim of obtaining personal, sensitive, or financial information from applicants. These scams prey upon an individual's desire to obtain a job and can sometimes "feel" like a genuine recruitment process. Some red flags are identified below. Should you encounter a recruitment process that claims to be for Owkin but is not consistent with the below, please do not provide any personal or financial information:
Legitimate Owkin recruitment processes include communication with candidates through recognized professional networks, such as LinkedIn. However, further communication is always through an official Owkin email address (from the @owkin.com domain), over the phone or though Recruitment platforms (WelcomeKit, talent.io, hidden.market, Fifty Talent or Hiresweet);
Legitimate Owkin recruiters will not solicit personal data from candidates during the application phase including, but not limited to, date of birth, social security numbers, or bank account information;
Legitimate Owkin interviews may be conducted over the phone, in person, or via an approved enterprise videoconferencing service (such as Google Meets or Highfive). They will never occur via Signal, Telegram or Messenger
Legitimate Owkin offers of employment are based on merit and only extended once a candidate has interviewed with members of the hiring team. Offers will be extended both verbally and in written format. Owkin may request some personal information to initiate the hiring process, but this will be through protected means.
If you think that you have been a victim of fraud,
Check the identity of recruiters on LinkedIn and the website https://owkin.com/team/
Check the existence of the position on our website https://owkin.welcomekit.co/
Notify Owkin's recruitment unit at this address hiring@owkin.com
contact the following authorities:
[FR] https://www.internet-signalement.gouv.fr/
[UK] https://www.actionfraud.police.uk/reporting-fraud-and-cyber-crime
Meet the team
This content is blocked
Youtube cookies are required to show you this content
Questions and answers about the offer
Añadir a favoritos

Compartir en Twitter

Compartir en Facebook

Compartir en LinkedIn