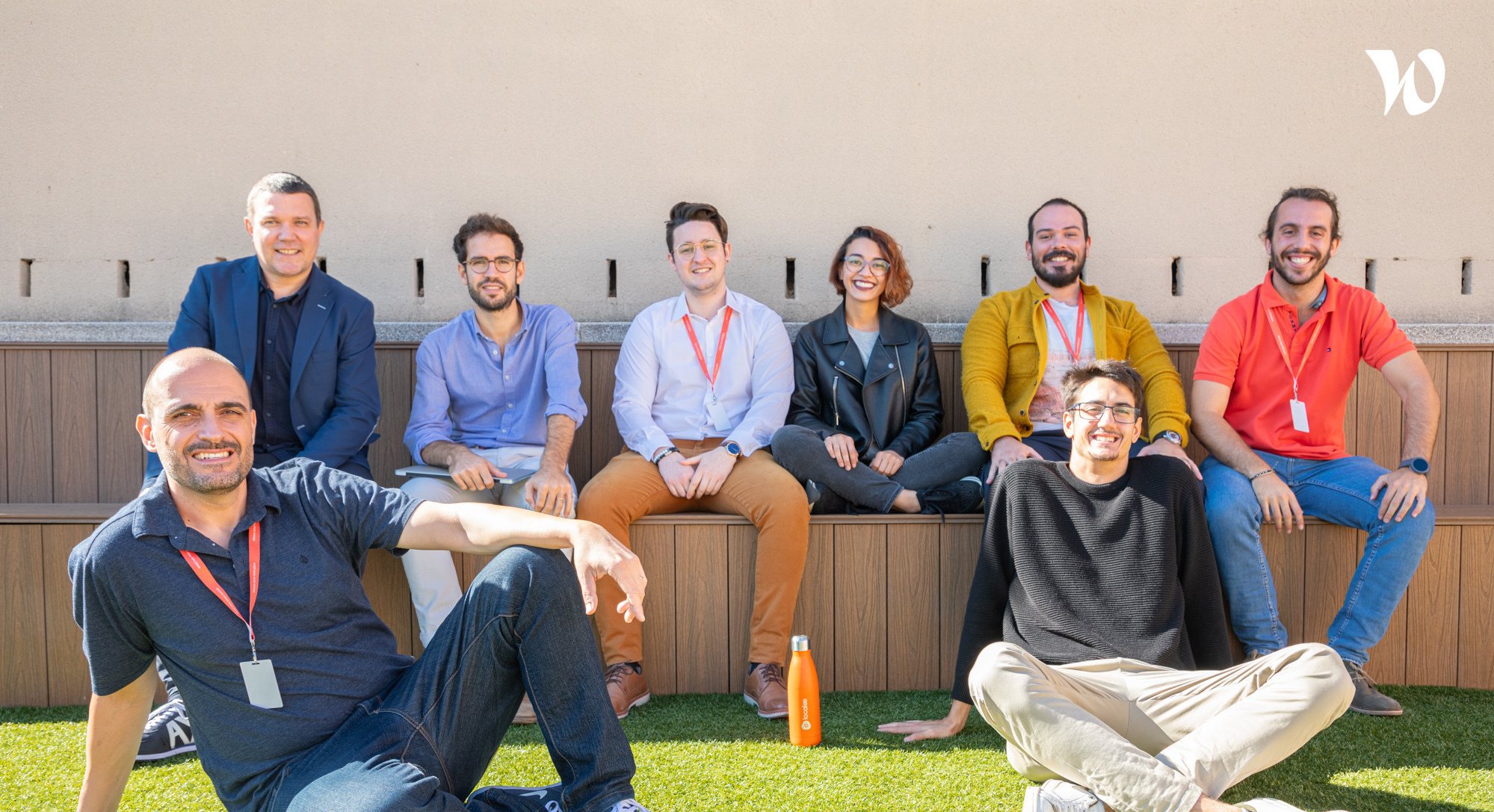 Partoo
Presales / Solution consultant
La empresa
Partoo
La oferta
Presales / Solution consultant
About
Localoo es una empresa scale up cuya misión es ayudar a los establecimientos a desarrollar sus ventas con Internet.
Con más de 200 empleados en Francia, España, Brasil e India, Localoo tiene una tasa de crecimiento anual de entre el 80% y el 100%. Y esto es sólo el principio. Su objetivo es convertirse en la aplicación de referencia utilizada por los puntos de venta de todo el mundo para desarrollar su negocio con Internet.
Los próximos 5 años verán, por tanto, una aceleración muy fuerte, tanto en términos de producto que aportará cada vez más valor a sus usuarios, a nivel internacional con su ambiciosa estrategia de expansión, como desde el punto de vista humano con el refuerzo de los equipos en sus distintas oficinas.
En mayo de 2021, Webedia decidió financiar el crecimiento internacional de Localoo con 15 millones de euros. Nuestra ambición es alcanzar los 100 millones de facturación y los 1000 empleados en 2025.
Pero Localoo es sobre todo una aventura humana: personas sencillas, divertidas, curiosas, empáticas y exigentes que quieren generar un impacto real ayudando a las empresas locales y comprometiéndose con las empresas que sitúan la política de RSE en el centro de su estrategia. Por ejemplo, los empleados de Localoo tienen la posibilidad de dedicar su tiempo a organizaciones sociales o ecológicas a través de la plataforma Vendredi.
El desarrollo personal y profesional de los empleados, así como su bienestar, es una de sus prioridades, como demuestra la etiqueta Happy at Work que recibieron en 2020 !
Job description
Partoo, who are we ? 
Partoo is a scale up company whose mission is to help stores develop their turnover thanks to the Internet. 
With more than 200 employees in France 🇫🇷, Spain 🇪🇸, Brazil 🇧🇷 and India 🇮🇳, Partoo is growing at a rate of 80% to 100% per year. And this is just the beginning! Our goal is to become the reference application used by stores around the world to develop their business thanks to the Internet.
The next 5 years will be those of huge growth, both in terms of the product, which will bring more and more value to its users, and on an international level with our ambitious expansion strategy, as well as from a human point of view with the strengthening of the teams in our various offices.
In May 2021, Webedia decided to finance Partoo's international growth with 15 million euros. Our ambition is therefore to reach 100 million euros in turnover and 1000 employees by 2025.
But above all, Partoo is a human adventure: simple, fun, curious, empathetic and demanding people who want to make a real impact by helping local businesses and committing themselves to a company that places CSR policy at the heart of its strategy. For example, Partoo's employees have the opportunity to dedicate their time to social or ecological organisations via the Vendredi platform.
The personal and professional development of employees, as well as their well-being, is a priority for the company, as evidenced by the Happy at Work label we received in 2020 and our 4.9/5 rating on Glassdoor.
Responsibilities :
Based in Paris or Barcelona, you will be the first Presales on the Italian and/or Spanish markets. Your mission will be to support the sales team in the acquisition of strategic accounts (>50K€), thanks to a comprehensive understanding of products, market, competitors and customer needs.
Missions :
Participate in the implementation of the pre-sales strategy in Spain & Italy.
Understand the technical aspects of Partoo solution: with the help of the product team, you will know everything there is to know about Partoo's products and features (Application, APIs, roadmap...) 
From onboarding to renewal, you will know and be able to present the key process elements that will allow the prospect to project himself in a collaboration with Partoo.
know everything about Google My Business, local Facebook, online reviews... and more generally about the web to store sector.
Conduct product demonstrations based on the needs stated by the prospect.
Helping Sales to understand their opportunities
Understand the needs of the prospect and provide concrete technical solutions adapted to his problems.
Answer the technical part of tenders and prepare tenders response presentations
Transmit to sales representatives the essential information on the product to enable them to maintain a level of technical knowledge during meetings conducted in the absence of pre-sales. 
Work with the product team to track customer needs and improve messaging of Partoo products.
--> Knowledge is power :)
Your team :
ThibaultR:Arrived as Director of Operations, Thibault is now Co-CEO. He is in charge of structuring the company and implementing the right processes in the right places. His few years at BCG allowed him to make PowerPoint presentations in a snap.
Sébastien: first employee & first sales person at Partoo, he decided to put his sales expertise at the service of the product team as Product Marketing Manager. Cornerstone linking the technical teams to the sales teams, he is the one who defines messaging, and is the main ambassador of Partoo products internally and with customers and prospects.
Vincent: arrived 2 years after the creation of Partoo, he was the 7th employee and the 2nd Sales. One year later, he took over the management of the sales department and started to create his team. Today, he manages all key account sales at Partoo by interacting directly with Guillaume (Head of Sales France), Torquil (Head of Sales Spain) and Mirko (Head of Sales Italy). His objective is to make Partoo a reference school for key account sales. 
Required profile :
You are natural, dynamic, confident and determined.
You have a perfect oral expression
You are very organized 
You have sales experience with C-level
You have experience in SaaS sales 
You have a logical mind
You have a strong ability to accumulate information and translate complex ideas into simple words
You are fluent in English, Spanish and/or Italian
You have one year experience in a Presales / Solutions consultant position
Recruitment process :
An interview with Sébastien
An interview with Thibault Renouf (General director)
An interview with Vincent (CSO) or Thibault Levi-Martin (CEO)
Working conditions :
Participation in the creation of innovative products in a fast-growing start-up company
Dynamic team located in Paris, Italy, Spain, Brazil and India
Various activities (sports, apero time, seminars…)
Salary based on years of experience ranging from 45K€ to 65K€
Meet the team
This content is blocked
Youtube cookies are required to show you this content
Questions and answers about the offer
Añadir a favoritos

Compartir en Twitter

Compartir en Facebook

Compartir en LinkedIn