Outside the gender binary, inside the UK workplace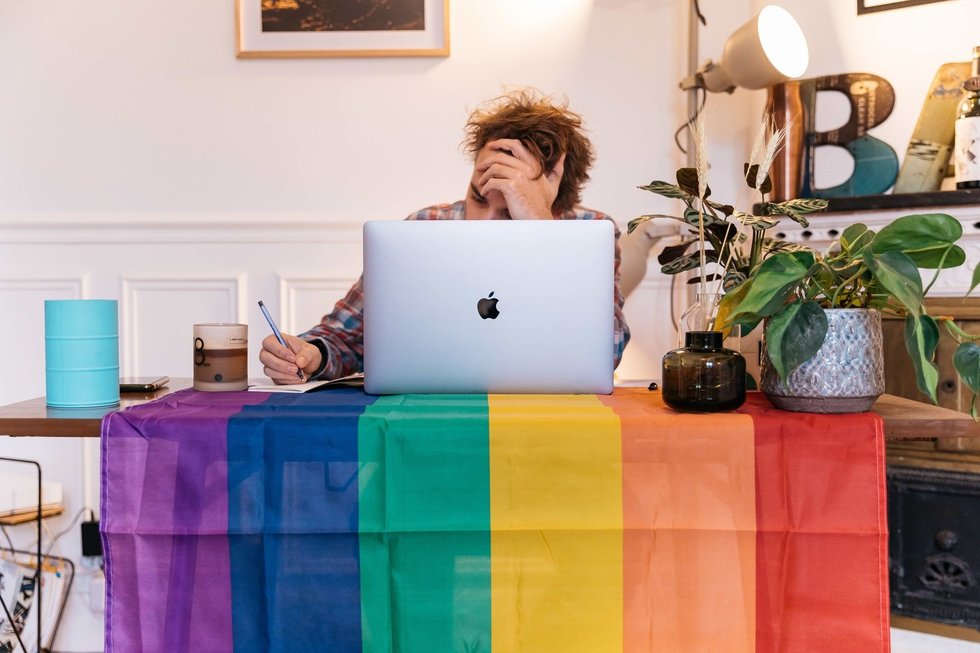 "It's difficult because you're not justifying a political opinion. It's your existence that you're justifying." - Christon Mallett
When it comes to the workplace, gender diversity has historically been associated with the struggle for women to achieve equal representation. But the term now covers much more, extending beyond the male-female binary and personal moral values. There is no shortage of scientific evidence to help us understand how gender operates along a spectrum. Not that we need science to tell us; it's something that a huge number of Gen Zers already hold to be true.
In this changing landscape, how are UK workplaces adapting to become more inclusive of diverse gender identities? And how do employees outside the male-female binary navigate a world so thoroughly gender-coded? We spoke to trans and non-binary inclusion experts, as well as members of the non-binary community, to find out more.
---
Non-binary: an umbrella term
No matter which generation you belong to, talking about diverse gender identities can feel like uncharted territory. However, that's not the case everywhere. In fact, some non-Western cultures have long had terms for a third gender, or even multiple genders. Today, however, the incredibly diverse community who identify outside the male/female binary might choose any number of terms: non-binary, gender-fluid, genderqueer, or gender nonconforming. According to Stonewall, the LGBT rights charity, non-binary can be defined as "an umbrella term for people whose gender identity doesn't sit comfortably with 'man' or 'woman'". This points to a vast range of experiences.
The language was central to a landmark case of workplace discrimination that made international headlines in October 2020. Rose Taylor, a former Jaguar Land Rover employee, sued the company for the harassment she experienced after transitioning to a gender fluid identity at work, a great deal of which was verbal abuse. JLR countered Taylor's claim by saying that she expressed identity did not fall under the "gender reassignment" category of protected characteristics in the Equality Act 2010. The employment tribunal disagreed and ultimately awarded Taylor £180,000 in compensation. For the first time, non-binary employees were legally recognized and protected under UK employment law.
A two-fold task
The push for acceptance and equality for the UK's transgender community has suffered recent political setbacks and transphobic hate crimes have quadrupled in the past five years. Unsurprisingly, this has a direct impact on how non-binary employees experience the workplace. Not only must they justify their right to exist against a backdrop of rising intolerance but they must also face constant comparison to binary trans identities, in part because that's easier for some to grasp.
Christon Mallett, a digital product owner who works at a bank, explains this dilemma of being non-binary at work. "When you're non-binary, you have to come out as 'trans' as an umbrella term and then educate people about being constantly in, as they see it, limbo," said Mallett. "On one hand, this can lead people to somewhat downplay the non-binary experience, seeing it as less 'serious' and more of a passing fashion trend or political identity. On the other hand, it's sometimes more socially acceptable because it's not as 'serious' and you're seen as 'just queer' instead of totally trans. Either way, there's a grave problem around the perceived legitimacy of being non-binary versus binary trans."
People first
…gender-binary is historically hardwired into the very structure of the professional space.
Global Butterflies, led by Rachel Reese and Emma Cusdin, is a UK consultancy firm for trans and non-binary workplace inclusion. Their consultancy work, both in the UK and abroad, has already had a major impact. While training certainly needs to cover definitions, terminology, and pronouns, Reese says that they also achieve success through more holistic means. "When we are training, we move trans and non-binary language to one side and train companies to deal with people first. Then the language comes with friendship, recruitment, knowledge, and getting to know the person standing in front of you," said Reese. This is very much in line with other fields of workplace diversity and inclusion, such as disability.
At the same time, Cusdin believes that a people-first approach is difficult when the gender-binary is historically hardwired into the very structure of the professional space. "We have workplaces that were founded on binary thinking. Today we have less formal ways of communicating and companies are updating their systems to include non-binary people, such as making sure HR systems have free text fields so people can enter their expressed gender identity." As the digital era transforms the workplace, opportunities for greater inclusion are ready to be implemented. But without effective support, the responsibility for promoting inclusion can sometimes fall on the shoulders of the very employees who need it the most.
Burden of proof
"Can I just exist without having to justify myself, without having to explain myself in very invasive, intimate ways that wouldn't be expected from somebody who doesn't have a gender-diverse identity? You don't see a cisgender man in the workplace talking about his masculinity and gender identity." - Christon Mallett
There are other side effects of placing the onus on non-binary employees to self-advocate. When Mallett worked for a US tech giant, they found being active in non-binary inclusion extremely rewarding, but it was also a lot of extra work. "It was like doing two or three jobs at once…If I'm in the right mood, then I feel like a warrior and I actually get energy from it. But there are days when I just want to be a human and get on with it, like everyone else." For Mallett, non-binary employees should be free to choose how much—or how little—they want to represent their community. When raising awareness turns into a burden, the overall scope of inclusion narrows, thus defeating its purpose.
It isn't just about the extra work. There is an existential weight placed on the shoulders of gender-diverse employees as well: the burden of proof."Can I just exist without having to justify myself, without having to explain myself in very invasive, intimate ways that wouldn't be expected from somebody who doesn't have a gender-diverse identity? You don't see a cisgender man in the workplace talking about his masculinity and gender identity," said Mallett. By building an inclusive workplace culture, companies can help to remove the extra burden placed on its most marginalized employees.
Woke-place culture
Failing to establish an inclusion framework for gender-diverse employees is an increasingly risky business. It can have grave consequences for talent acquisition, employee retention, and even company turnover. Creative advertising strategies aimed at today's "woke" consumers—those with a heightened awareness of social issues such as racial justice and LGBTQ+ rights—are common. However, when employees don't benefit from the same inclusive vision, companies can be accused of woke-washing: co-opting social issues for advertising purposes alone. Starbucks, for example, recently came under attack for its double standards after launching a support campaign for the trans youth charity Mermaids. According to a number of former employees, the coffee chain is sorely lacking in its treatment of LGBTQ+ employees.
Jei Ganiyeva, who identifies as non-binary, spoke to us about Starbucks' double standards. Ganiyeva came to the UK as a young refugee from Turkmenistan and is now a third-year student at SOAS in London doing an exchange year in Osaka, Japan. Ganiyeva took part in an employment support program partnered by Starbucks and the Refugee Council to make ends meet between semesters. They were initially encouraged by Starbucks' promise of an inclusive workplace. "In my interview training with the Refugee Council, they told me you can have blue hair, anything you want…You can bring yourself and your identity to work," said Ganiyeva. So when it came time for an interview, Ganiyeva didn't think twice about having an undercut.
Hairstyles are much like dress codes. For example, some members of the LGBTQ+ community use the undercut as a visual identifier. In a one-on-one meeting, their manager brought up this choice of hairstyle. The manager suggested the look was unprofessional and all but asked Ganiyeva to grow it out. This message left Ganiyeva feeling confused and marginalized: "Why would they hire me and not tell me then? Especially since there's a woman with purple hair and an undercut in the Starbucks manual." Despite the resources Starbucks has invested in promoting its brand as LGBTQ+ inclusive, a lack of consistency ultimately failed the company—and its employees.
Wanted: workplace allies
Where organizations and large structures fail, opportunity opens up for individual action: the workplace ally.According to Stonewall, an ally is "a (typically) straight and/or cis person who supports members of the LGBT community." Cusdin explains that you don't have to be someone's manager to get involved. "When we talk to our allies, we say, 'You don't go from zero to hero overnight.' It's a journey you go through. Every small conversation, and every small step of learning is good. Allies often beat themselves up and think they need to be perfect," said Cusdin.
The positive participation of both employers and employees is essential to create a workplace that is more inclusive of diverse gender identities. We can all help: if you want to be a better ally in the office, check out Stonewall's "10 ways to step up as an ally to non-binary people". It's simple, inclusive and ready-made for the office setting.
Photo: Welcome to the Jungle
Follow Welcome to the Jungle on Facebook, LinkedIn, and Instagram, and subscribe to our newsletter to get our latest articles every day!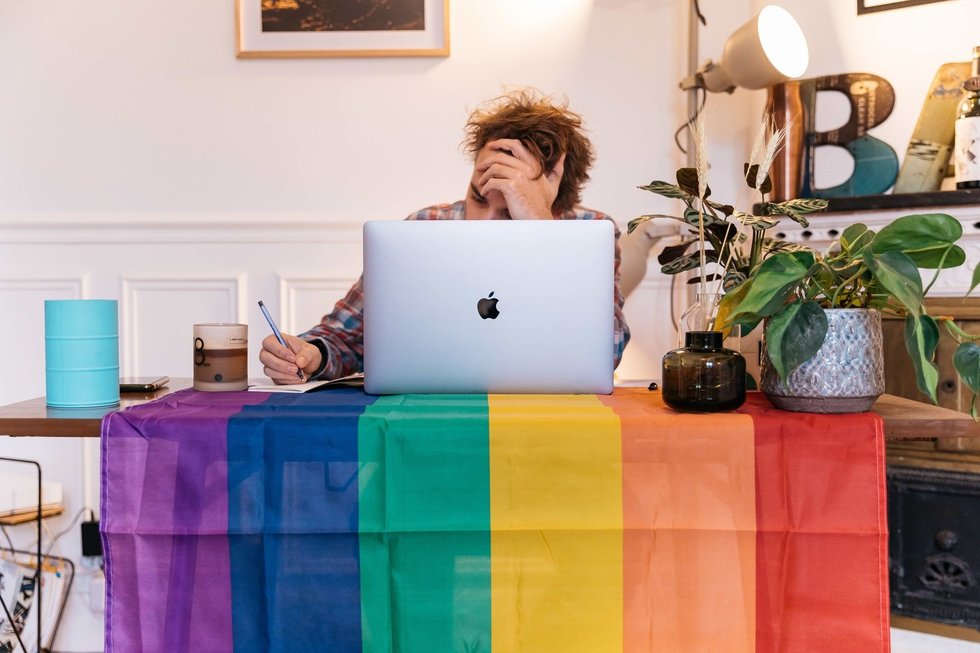 Looking for your next job opportunity?
Over 200,000 people have found a job with Welcome to the Jungle.
Explore jobs