Groover
Lead Frontend Engineer
Zmluva na dobu neurčitú

 

Dátum nástupu:

 

Plat:

Paris

Možnosť pracovať čiastočne na diaľku

Bez dokladu o vzdelaní

> 3 roky
Spoločnosť
Groover
Hudba

Od 15 do 50 zamestnancov
Pracovná ponuka
Lead Frontend Engineer
Zmluva na dobu neurčitú

 

Dátum nástupu:

 

Plat:

Paris

Možnosť pracovať čiastočne na diaľku

Bez dokladu o vzdelaní

> 3 roky
Táto pozícia bola obsadená!
Who are they?
At Groover, we are offering a new and innovative way to promote music that is highly effective and transparent for artists and for music professionals.
On the platform, artists send their music to media, labels and influencers for coverage and get high-quality feedback guaranteed. Thanks to the influencers' feedback and decisions, we are detecting top rising talents and we act as a genuine accelerator for their success by connecting them to bigger partners and providing additional services.
We have 100 000 artists using our plateform in 100 countries and community of 2500 music curators and pros who did more than 1M+ feedback. We are a team of 30 people in business, product & tech.
🎵Our mission: empower all independent artists to get their music heard and accelerate their careers
🔭Our vision: the best platform and services for independent artists globally
Our values are: 🧡 Benevolence 📢 Feedback 🎸 Passion 🚀 Results
Learn more about us here: https://groover.co/
Visit the profile
Rencontrez Romain, Co fondateur et CEO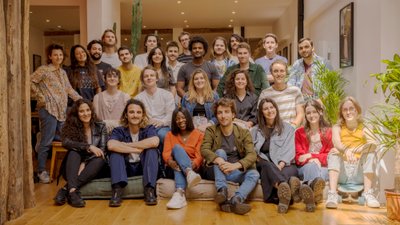 Rencontrez Louis, Performance Marketing Specialist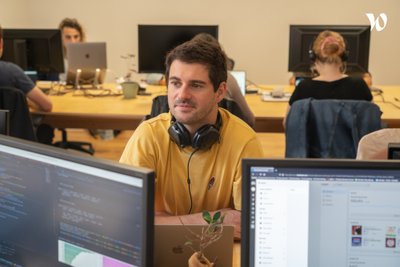 Meet Victor, Senior Back-end Engineer
Job description
We are looking for a Lead Frontendwho will be responsible for the front delivery and code quality (monitoring) and can help the frontend decisions and execution. He/She knows best practices in frontend and can transmit them. He/She will be responsible for leading the frontend team to achieve their OKRs, will provide direct reports to the CTO and mentor a team of 5-6 frontend developers in their individual goals.
Missions
Take features end-to-end in frontend and contributes to the codebase
Organize/Lead the cleaning of the frontend project code overall and all splitting projects on this codebase
Manage the whole frontend development team and Coaches individually each developer to help them improve in their hard and soft skills
Contributed to key decision with the CTO or equivalent on roadmap and planning by leading frontend or a squad or projects
Co-define his frontend-oriented OKRs with the CTO and track their progress with her
Lead Frontend Recruitment
Our current technical stack :
• Python 3, Django
• Vue.js / Typescript / Nuxt.js
• PostgreSQL
• AWS
Preferred experience
• You have a successful experience in Front-end development
• You already Lead a team & recruited frontend engineers before
• You are passionate about Frontend development, design & product
• You love Music and/or you are motivated to support independent artists
• You know Vue.js / Typescript / Nuxt.js and you work on it or at least you are willing to discover and learn it
• You have a good experience in webpack / babel
• You are Delivery oriented and Take pragmatic decisions to maintain high standards of feature delivery while ensuring stability and maintainable code
• You have a good level of Communication, you are able to explain, challenge other people in the team.
Recruitment process
• First 45 minutes interview with HR
• Meet the tech Team (CTO and one Frontend Senior) for a technical interview (1H30)
• In person meeting for Culture fit discussion with Founders (1H)
Benefits :
•A remote-friendly environment and a Great office in the center of Paris 11arr with flexible working Hours
•BSPCE Offered
• 50% Transports
• 10 to 12 RTT per year
• Swile Card for Lunch (10euros / Working Day)
• Alan (Health Insurance)
• Many opportunities for Career Development (Conferences, Learning, Coaching)
•Team events: OKRs presentation and strategic all hands all quarters, Concerts, Family diners on Thursdays, yearly team event (G-days) once a year
• Cultural Expenses : 400 euros per Year to Cover your Cultural Expenses (Theater, Concerts, Books, Netflix etc.)
• "Meet our Ambassadors" Program: You can work remotely where a Groover ambassador is located; New York, Londres, Bologne, Rio, Madrid, Barcelone etc. (500 euros offered to cover expenses for travels, housing and co-working)
Groover
Máte záujem o túto ponuku?
Questions and answers about the offer
Zdieľať na LinkedIn

Zdieľať na Facebooku

Zdieľať na Twitteri