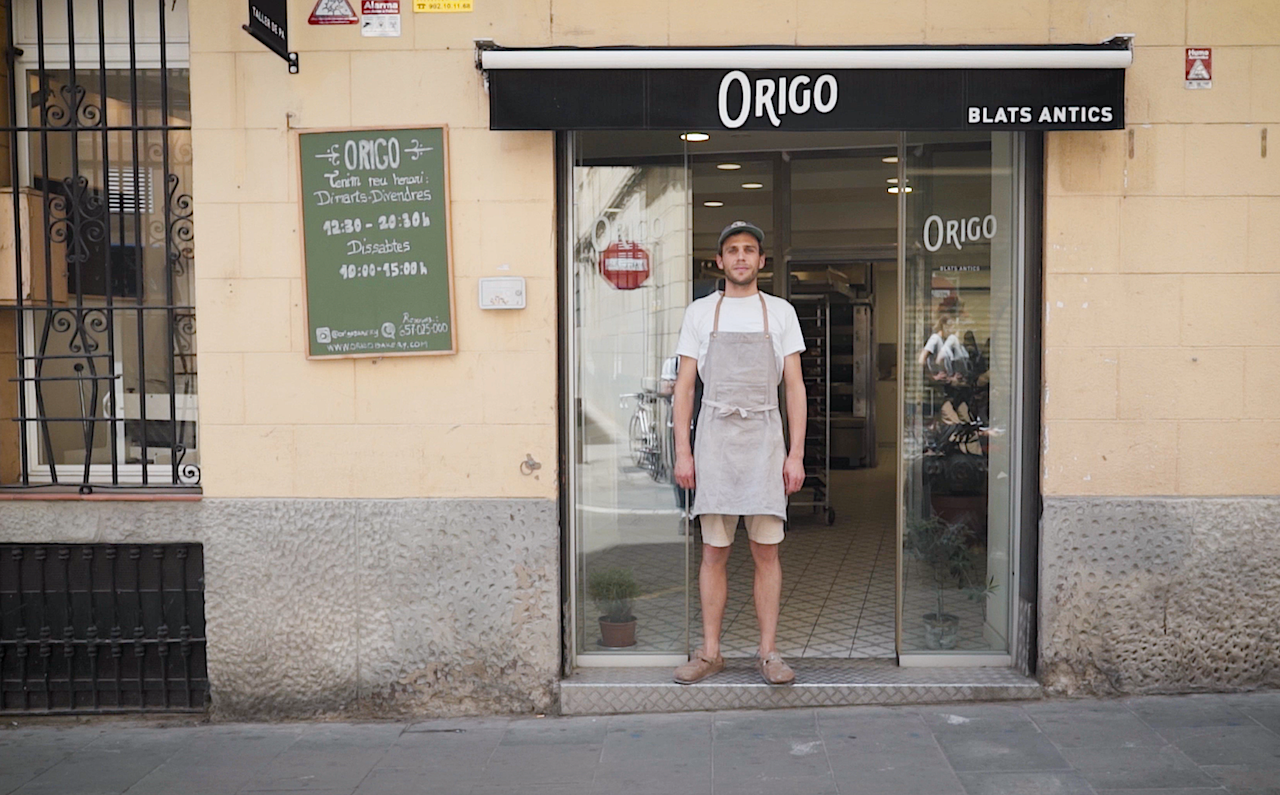 Work in Barcelona: François
Originally from Belgium, François left his job at Google in San Francisco to move to Barcelona with his madrileña wife, where he decided to open his own bakery. Two years later, he shares his expats experience of the Catalan capital.
How did you end up in Barcelona?
I'm originally from Brussels. After my studies, I went to live in Dublin where I worked for Google for two years. I then took a gap year before going to live in San Francisco where I joined Google for four and a half years as a Product Manager. I ended up settling in Barcelona because I wanted to change fields, but also because I had met someone.
Did you already know Barcelona?
No, I didn't really know the town. I had only spent a weekend there with friends when I was 18.
How is it different from the cities where you had lived before then?
The quality of life is amazing here, I hadn't had anything like it in Dublin, San Francisco or even Brussels. It's right on the sea, the mountains are an hour away by car and there are lots of little Catalan villages in the surrounding area. Once you leave the city, it's completely rural. It feels like you're in the middle of nowhere, I love that!
And on top of that, I like the general atmosphere: people are quite relaxed and they really take their time. Going out for dinner, for example, you really make the most of it rather than eating as quickly as possible then heading home because you have to work the next day.
The city is a more diverse than San Francisco as well. I've met people from all sorts of different backgrounds - artists, singers, tech people, too. There's a bit of everything.
The city is a more diverse than San Francisco. I've met people from all sorts of different backgrounds.
What was the most difficult thing upon arriving there?
As I didn't speak any Spanish, there was a barrier between the people there and me, I was unable to communicate. I thought it would be a lot more simple, but even things like opening a bank account turned out to be complicated. The first thing I then had to do was learn the language. I enrolled in classes near my place in Gracia. With 20 hours of classes a week, I learned the basics and was able to communicate within two months. From that point on, you can communicate with people and progress even faster.
Barcelona has a big expat community so it's entirely possible to get by without speaking Spanish or Catalan perfectly. But I think knowing the basics helps with the day-to-day stuff.
When you arrived in Barcelona, you left your job as Product Manager to become a baker. Why did you decide to change fields?
I loved my job, but I missed having meaning: "Why do I do what I do?". I thought to myself that there were so many young people working in technology who were so brilliant that my being there wouldn't really change anything either way…
When I got to Barcelona, I didn't have the faintest idea what I was going to do, I just know I wanted to have my own project. Something tied to the environment and food because I love to cook. And then it happened a bit by chance. I couldn't find the bread I was looking for, so I started to learn to make bread at home until it got to the point where I was able to make bread that I was truly proud of. So I figured I just needed to learn to do the same thing, but in larger quantities. So I studied breadmaking, and then worked in bakeries in Paris, in Brittany and in Perpignan.
I loved my job, but I missed having meaning: "Why do I do what I do?"
Not only did you learn to make bread, but you opened a bakery! How did you get this project going?
I didn't know a lot of people when I got here so I worked from my flat, writing my business plan pretty much on my own. I then found some organisations that help entrepreneurs, like Barcelona Activa, and I signed up for a coworking space in Gracia. There is a whole community of expats and freelancers who work there, and that helped build a network which really helped!
The first step was finding a space, then getting a license. That was one of the most complicated parts as it is highly regulated.
Can you tell us about your typical day?
I arrive at the bakery around eight in the morning. The first thing I do is refresh the yeast water. I mix water and flour with a bit of yeast oil from the day before and then we let it sit. Meanwhile, we start baking the bread we kneaded and shaped the day before. We start baking at 9 am until about noon.
We mix everything by hand, we don't have a mechanical mixer - it was a choice we made to be closer to the dough, closer to the ingredients as we work with very local flours. It's such a pleasure to touch the dough with your hands. It's almost like a kind of meditation (laughs).
Once everything is mixed, we let it sit and do what we call "the flap" - every half hour we take the dough and fold it back on itself. It's a way to make it stronger, so that it holds. When it's properly fermented we lay it out on the table and we break it into breads that we weigh. They're then shaped for the first time and left to sit on the table for a half hour. Then we take the dough piece by piece and give them their final shaping.
Once shaped, they are put in small wicker baskets called "benetons". They are then lowered into the fermentation chamber where they sit all night before being put into the oven.
How is professional life in Barcelona different than what you had experienced until then?
I was much more used to being more direct and focused on the final result. Here, you have to go about it more slowly and take the time to build a network. The relationships are much more personal than in the Anglo-Saxon countries. Barcelona is a city where people are a lot more concerned about others.
On the other hand, what has frustrated me a bit was a lack of rigour and ambition to strive for excellence. It's sometimes just the small things, but it's happened that I've had to go over things several times and I've had to breathe down peoples' necks a lot more than I was used to doing.
Plus the wages are way lower than other cities in Europe but it's totally worth it!
You have to go about it more slowly and take the time to build a network. The relationships are much more personal than in the Anglo-Saxon countries.
What would you have liked to know before you started?
I was surprised with the slow-moving bureaucracy! If I had known, I would have started it all a little sooner to avoid having lost some time with all that.
For example, it takes time to get a baker's license: you need a consultant, and I even had to contact a technical architect!
All in all, from the moment that I started working on the project up until the opening of the bakery, it took about a year.
I was surprised with the slow-moving bureaucracy
Do you see yourself staying in Barcelona?
I got to Barcelona without thinking about it, and here I am two years later! And I have no intention of leaving - nothing is ever certain, but I do plan to stay for a few more years!
Pridať medzi obľúbené

Zdieľať na Twitteri

Zdieľať na Facebooku

Zdieľať na LinkedIn
Work in Barcelona
Moving to Barcelona for work? Navigate the job jungle in this international hub with our insider tips, advice from locals and insights from industry …
Work in Barcelona: Amy
Born and raised in Canada, Amy moved to Barcelona to change career by retraining as a software developer. Here's her expat experience of the city.
Získajte užitočné rady a informácie o spoločnostiach, ktoré hľadajú zamestnancov, každý týždeň priamo do vášho inboxu.
A na našich sociálnych sieťach: