Tired of Chrome? Try These Six Browsers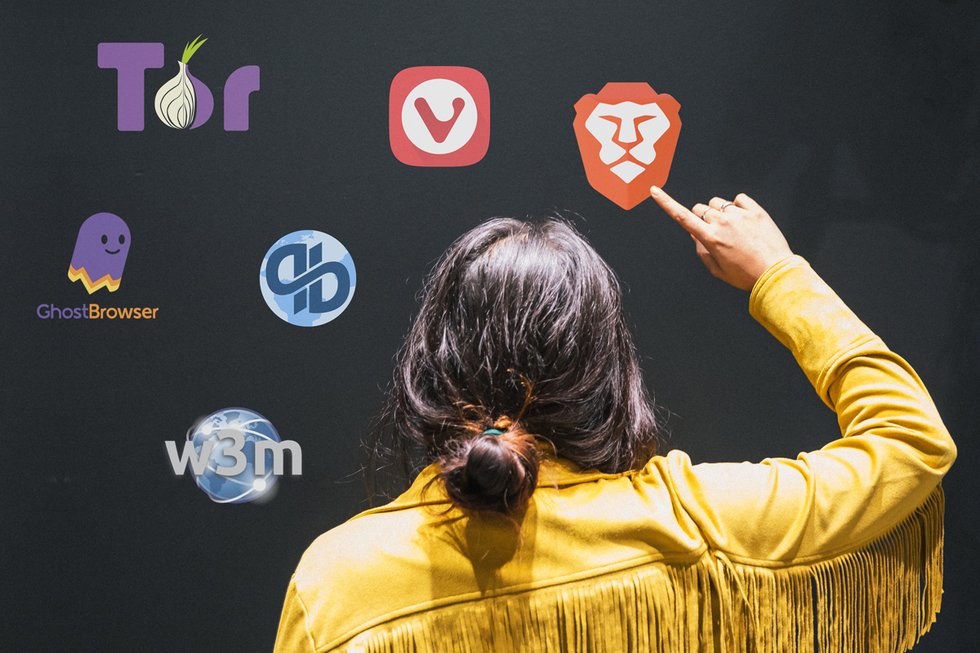 We've all heard of, and probably used, the four most popular browsers: Chrome, Safari, Internet Explorer (Edge in Windows 10), and Firefox. Together, they make up 83% of the global browser market share. But perhaps you have become frustrated with the big guns and are looking for some niche browsers to meet your specific needs. From browsing in your terminal, to customizing colors and gestures, to a new way of preventing distractions caused by advertisements and other unsolicited content, browser technology has exploded over the past few years. Here are six alternative browsers to consider if you're looking for a different Internet experience.
1. For privacy: Tor Browser
Facebook, Google, and others are tracking us not only on their own websites, but as we move around the Internet, too. For many, this poses no problem and they're happy to hand over their data for an improved user experience. But for those who bristle at the idea of their data finding its way into corporations' hands, there is Tor Browser.
Created and maintained by the nonprofit Tor Project, Tor Browser is built upon a technology called onion routing. In order to obfuscate a user's identity as they move through the Internet, onion routing passes requests through multiple servers, encrypting requests at each step. This results in web requests—your data—passing through a nearly impenetrable barrier of security. This is why onion routing is the method of choice for those accessing the "dark web" and performing illegal activities online. Though some may use Tor Browser for the wrong reasons, it nevertheless offers unparalleled security for online actions.
Tor's features
It works on Windows, Mac, and Linux.
It has a huge privacy advantage over other browsers.
It's free.
The trade-offs
Speed. Because Tor Browser routes your Internet requests through multiple servers around the world, encrypting messages at each step, you will naturally notice a much slower Internet experience than on other browsers.
In order to maximize privacy, the Tor Project recommends that users do not download any extensions. This can significantly hinder productivity and prevents a customized user experience.
On your work computer, this technology may be seen as inappropriate because of its association with the "dark web" and illegal online activity.
2. For a new Internet experience: Brave
Whereas Tor Browser provides an effective defense against those who would seek to collect your data, Brave's browser is a nimble tool designed to intelligently guard against tracking. It also comes with built-in ad blockers, HTTPS rerouting, and other privacy tools. Because it removes many of the scripts and images associated with advertisements on the web, sites running on Brave load much faster—up to twice as fast on desktop and eight times on mobile.
Brave is also free to use. The company makes money through an innovative scheme where users can enable advertisements on certain sites and earn Basic Attention Tokens (BATs) for viewing paid content. They may then spend these tokens to "tip" content creators, such as Wikipedia that just became a verified publisher on the site. This represents a reimagining of the advertising market online, and is an ambitious attempt to hand power over advertising content back to users.
Brave's features
It works on Windows, Mac, and Linux.
It removes ads on all websites; users may turn them on to earn credits.
It has a number of built-in privacy features.
It's built on Chromium, so most Chrome extensions are available.
It's free.
The trade-offs
Brave aims to create a new user experience of the Internet. Because users choose what to have to pay attention to, extra time needs to be given in order to understand how the process works and where to tip.
3. For complete control: Vivaldi
Vivaldi is a web browser that keeps user delight in mind. It offers a number of themes—changing colors and background images—and also allows users to create their own theme. Tabs can be managed in groups, allowing similar sites to nest under each other. A search function helps users find an open tab, a settings panel, or even a site that has been closed.
One of Vivaldi's best features is its ability to split a browser window as you might in a text editor. Additionally, a panel on the side of the browser allows for the quick loading of any websites you like. Wikipedia or Twitter would be good use cases for quick access, preventing you from losing your spot as you browse elsewhere but need to look something up.
Vivaldi's features
It works on Windows, Mac, and Linux.
You can adjust themes and colors.
You can control where and how content is displayed, from split screens to pop-up mini windows.
It allows you to adjust keyboard shortcuts and gestures.
It provides history analytics so you can view which sites you visit often and find sites you've already visited, even if you've forgotten their names.
It's built on Chromium, so Chrome extensions will be compatible.
It's free.
The trade-offs
There's no support for mobile currently, but it is expected later this year.
Some users report the browser is slower than they've experienced when using others.
4. For developer tools: Ghost
Have you ever opened multiple incognito windows in order to have your test users interact with each other? Ghost was designed with this problem in mind—it's a browser for developers. You can maintain a profile for each tab in your window, with different persisted settings in each one, including cookies, IP address(es), and proxies. And because it's built on Chromium, the open-source version of Google Chrome, it's compatible with Chrome extensions and easy to pick up quickly. The trade-off when considering this browser is that, unlike the big four or any of the other browsers mentioned in this article, it has a price: from $10 a month for an annual subscription, which offers unlimited sessions. The free version of the browser will limit users to three customized sessions.
Ghost's features
It works on Windows and Mac.
You can maintain session and proxy settings in different tabs, rather than sharing them across an entire program.
You can import browser settings and Chrome extensions.
Users have reported a short learning curve.
It's built on Chromium, so Chrome extensions will be compatible.
The trade-offs
The price. Ghost will set you (or your company) back a minimum of $10 a month to get access to the best features.
5. For those who only want to use a keyboard: Qutebrowser
For those who prefer not to take their hands off the keyboard to query Stack Overflow, there's Qutebrowser, a navigator specifically designed for use with keyboard shortcuts. Built in Python, Qutebrowser is an open-source solution that emulates a Vim experience for the Internet. The browser is built on Chromium, so provides similar security and the extension library you would expect to get with Chrome.
Qutebrowser's features
It works on Windows, Mac, and popular flavors of Linux.
You can navigate websites with the keyboard.
It's open source and free.
It's built on Chromium, so Chrome extensions will be compatible.
The trade-off
6. For those who want to be terminal-based: w3m
Vim aficionados may not be satisfied with a browser that needs to be navigated using a keyboard, and would rather open the browser in the terminal itself. Enter w3m, an open-source project that renders web pages in the terminal and handles basic navigation such as tabbing, image support (after downloading modifications), and visiting links. Users may also be pleased to find it supports Gmail and other web-based email programs.
w3m's features
It has been developed for use on Unix systems, but may be available for Mac and Windows if the system is properly configured.
It's open source and free.
The trade-offs
w3m is inherently and intentionally limited, as it renders text directly in the terminal. However, this is both an advantage and a trade-off
Conclusion
It can sometimes feel like Chrome is the only browser around. Though the team at Google is constantly improving their product, there are a number of other browsers available that provide functionality for a more niche market. In most cases, using either Safari or Chrome with your iOS or Android mobile, respectively, will provide greater cross-platform syncing of settings, bookmarks, and passwords. On the other hand, none of them can give you the security benefits of Tor Browser. And if you want to navigate by keyboard, you may find the experience frustrating unless you download the keyboard-focused Qutebrowser. Then again, the ability to change colors and adjust the display of your tabs and windows may be the most relevant to your needs, which would make Vivaldi the best choice.
New browser technologies are constantly being developed, many based on Chrome or Firefox open-source platforms, which means that users can benefit from any of their new and exciting features that are introduced. If none of the browsers we've mentioned pique your interest, though, keep an eye out for technologies coming down the road. Maybe the perfect browser for you will be available for download in the next few years.
This article is part of Behind the Code, the media for developers, by developers. Discover more articles and videos by visiting Behind the Code!
Want to contribute? Get published!
Follow us on Twitter to stay tuned!
Illustrations by WTTJ