Rise Up
Office Manager - Apprenticeship
Profesionalización

 

Fecha de inicio:

 

Paris
La empresa
Rise Up
Tecnología educativa (TE)

Entre 50 y 250 empleados
La oferta
Office Manager - Apprenticeship
Profesionalización

 

Fecha de inicio:

 

Paris
¡El puesto ya ha sido cubierto!
Qui sont-ils ?
Empower your organization with blended learning !
Rise Up is a SaaS platform that offers a technological and service-based response to the challenges of professional training. As a partner, Rise Up enables its customers to decompartmentalize training and unleash its full potential through expertise and data oriented technology.
 We are growing rapidly, with our community of 1 million learners in 60 countries! Over the years, Rise Up has expanded its presence in France, then in Europe: UK, Portugal, Luxembourg, Belgium, The Netherlands, Germany.
We currently employ more than 100 people between Paris, London, Belgium, Munich and Lisbon, and our team doubles every year.
 Part of the People Team, the Office Manager ensures a great working environment for our employees. Our France office is located in the center of Paris (Grands Boulevards). It is very comfortable and spacious.
Visiter le profil
Rencontrez Arnaud, CEO & Founder
Découvrez Rise up avec Laurent Bery, Directeur de projet & Responsable du Delivery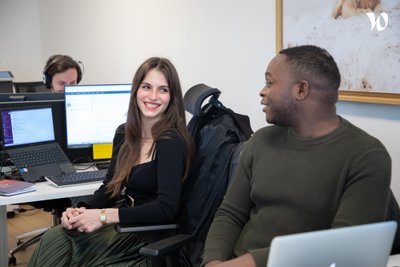 Découvrez Rise up avec Myrvete Hatoum, Developer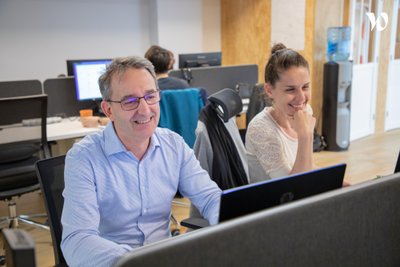 Descriptif du poste
Culture and Happiness:
Support People team in CSR activities, ensure a perfect execution of team event calendar (onboarding, monthly Share & Drink, cultural events, afterworks, etc.)
Update the organizational charts according to the different changes within our company
Support HR team in administrative activities  
Office Management :
Ensure overall office management activities in our Paris office
Manage the orders and their follow-up for our various needs in supplies (fruitbar, office supply, food supply, hygiene supply) 
Provide support for the various needs of employees in terms of travel (train, hotel, …) and events (organization of meetings, room reservations, restaurant reservations…)
Ensure health, property and safety in the office: emergency procedures, keys purchase of personal protective equipment covid / sanitary measures…
Oversee and manage outsourcing contracts with suppliers where applicable ( cleaning, plumber, etc.)
Coordinate operational projects related to the offices in  Paris
Manage Semana- our office reservation system
Profil recherché
You have a strong sense of responsibility, you take ownership in providing a great working environment for the whole team
You are friendly, dynamic, enthusiastic, you bring positive energy to your surroundings
You are rigorous and autonomous 
You speak both fluent English and French
Why Rise Up ?
A booming scale-up : we will double our size this year, again !
You will work in a company that will have a huge impact in the future. Reskilling and Upskilling is now a strategic response for our customers to changing skill demands
Rise Up culture is inclusive, collaborative and focused on an international working environment.
Our main culture events & celebrations : Annual seminar - Town hall, Secret Santa, Chandeleur, Chinese New Year, Diwali.
Football and Basketball clubs, Gaming night for the players, Group hiking, etc.
We are Remote friendly with work-life balance in mind
Perks and Benefits
Your onboarding will be on our product by following trainings and doing peer learning.
We offer competitive salary and benefits (Alan Health Care insurance + Swile meal tickets, parental benefits, paid holidays )
Non-limit fruits (with coffee and tea !)
Our sport room is free to use in the office
Rise Up
¿Te interesa esta oferta?
Questions et réponses sur l'offre
Compartir en LinkedIn

Compartir en Facebook

Compartir en Twitter