Uptime
Senior Software Engineer, The IoT Fellowship
CDI

 

Début :

 

Télétravail total possible

Bac +5 / Master

> 5 ans
L'entreprise
Uptime
Intelligence artificielle / Machine Learning, Big Data

Entre 50 et 250 salariés
Le poste
Senior Software Engineer, The IoT Fellowship
CDI

 

Début :

 

Télétravail total possible

Bac +5 / Master

> 5 ans
Qui sont-ils ?
Founded in 2016, Uptime is the first predictive maintenance technology for lifts.
After developing in-house our IoT device enabling to make predictive maintenance of elevators, an accessible and profitable reality in the sector, our role is to make our technology available, with a hand-to-hand support of the customer maintenance companies.
We are 66 uptimers and no less than 30 hires are planned in Q1 2022 to support our international expansion. 💪
With our HQ in Paris and our recent London office we are planning to continue our expansion to multiple countries by 2023. 🌎
Join us now!
Visiter le profil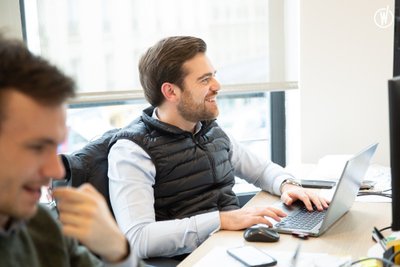 Rencontrez Claudino, Technicien Ascensoriste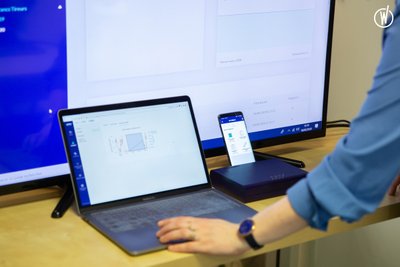 Rencontrez Aurélien, Lead Software Engineer
Descriptif du poste
Your role
As a Senior Software Engineer, your primary mission is to build the best predictive maintenance platform for our users, in terms of value and quality. One of three squads in the R&D team, the IoT Fellowship leverages IoT data to build this platform. One key IoT challenge is to design solutions which include several technical stacks: embedded software (C), core and IoT backend services (Python) and frontend applications (React-Native for mobile, React.js for web). Despite the broad range of elevator motherboards and high volume data, it is of utmost importance for our users that data remains accurate, reliable and up to date. In this context, all squad members work closely both with field experts and site reliability engineers to ensure quality standards are met at all times.
Your missions
The IoT Fellowship is currently working with quarterly/biannual objectives following the OKR method. The squad was designed as an autonomous work unit with as little external dependencies as possible. Software engineers at Uptime have full ownership, from solution exploration to delivery in production – they are free to pick their favorite method as long as they deliver.
For instance, in 2021, we focused on elevator error codes and developed a whole ETL pipeline so that field users can make better informed decisions. Those features were key to convince the first external clients to use our technology. In close collaboration with hardware engineers, we also developed our second device that aims to retrieve generic information from any elevator, regardless of its motherboard.
In 2022, we will take on various new challenges such as:
Recommend the most relevant actions to the field technicians based on IoT data
Control the elevator motherboard remotely
Scale ten times our ability to ingest IoT device events
Even if squads are independent by design, the whole R&D team also meets twice a month to sync on technical issues. We take the time to share best practices, prioritize most important problems and pick solutions. Tasks are then dispatched to the squads when possible. Members might be withdrawn from their squads to tackle more complex problems. For instance, in 2021, we partitioned our postgresql time series table for a better dev experience, easier maintenance and improved performances.
We strongly believe in peer learning and often organize hands-on workshops among the team. Furthermore, all engineers have dedicated time and are encouraged to work on projects that are not directly linked to the squad focus.
In the IoT fellowship, you'll work with Jean (Product), Armen (Design), Nicolas (Software Engineer), Alex (Software Engineer), Christian (Embedded Software Engineer) and Valentin (Lead Software Engineer).
Profil recherché
Success factors
As a Senior Engineer, you are expected to:
Deliver great quality code, whether in javascript and/or python
Design the best data-driven solutions to improve our users journey
Take actions to make sure what the squad delivers remains high quality
Be a technical leader within the whole r&d team
Déroulement des entretiens
Hiring process
A 45min phone call with Arthur (Tech Recruiter) to have a better understanding of what you're looking for and what we can offer
A 2h technical interview with Valentin (Lead Software Engineer) and one engineer from the squad to work together on technical issues that you may face in the squad.
A 1h30 interview, with Aurelien (Software Engineer Manager) to deep dive in your background and see how uptime can fit in your professional experience
Reference check will be done after your final interview
We offer you a lunch to meet your future teammates of your squad at our premises
At each step, you'll have dedicated time to ask any question you may have, the team makes sure you'll get the right answers.
Technical stack
Web and mobile applications: JavaScript (reactjs/react-native, typescript)
Backend services: Python (main libs: flask, graphene, sqlalchemy, celery …)
APIs: Graphql for core service, REST for IoT service
Datastores: Postgresql, Redis
Devops: Terraform Docker Gitlab-ci
Cloud providers: AWS, Heroku, Netlify
Embedded stack: Yocto (firmware), C (software), MQTT (cloud com)
Our values:
Feedback is a gift
Transparency builds trust
Speed: anticipate to execute fast
Grit: we never let go of anything
Team spirit: we're all uptimers
Did you read this job ads completely? Apply and take the next step
See you soon !
Questions et réponses sur l'offre
Ajouter aux favoris

Partager sur Twitter

Partager sur Facebook

Partager sur Linkedin
D'autres offres de Dev Fullstack
Ces offres peuvent vous intéresser !
Tactill

CDI

Télétravail total possible

Work4

CDI

Télétravail partiel possible

Work4

CDI

Télétravail partiel possible

Work4

CDI

Télétravail partiel possible

Work4

CDI

Télétravail partiel possible

Work4

CDI

Télétravail total possible
Voir toutes les offres