Uptime
Senior Data Engineer
CDI

 

Paris

Télétravail partiel possible

Bac +5 / Master

> 3 ans
L'entreprise
Uptime
Intelligence artificielle / Machine Learning, Big Data

Entre 50 et 250 salariés
Le poste
Senior Data Engineer
CDI

 

Paris

Télétravail partiel possible

Bac +5 / Master

> 3 ans
Qui sont-ils ?
Uptime, c'est le néoascensoriste qui allie l'innovation technologique IoT avec une approche revalorisée du métier de technicien ascensoriste.
Ils travaillent sur un secteur de niche, la maintenance d'ascenseurs. Un oligopole de quatre multinationales qui pèsent plus de 100 milliards d'euros de valorisation, notamment grâce aux revenus récurrents de maintenance.
En 4 ans, ils ont développé la plateforme de maintenance prédictive la plus avancée de l'industrie, en proposant une offre de maintenance prédictive, transparente et innovante, qui va à l'encontre des méthodes du marché. De quoi instaurer une réelle relation de confiance ! Plus de 20 000 copropriétaires et 180 clients, dont Nexity, Foncia ou encore Oralia ont fait le choix de la maintenance prédictive uptime.
En 2021, uptime est en train de passer à la phase 2 de son histoire : une croissance globale en tant que plateforme de maintenance prédictive pour tous les acteurs du marché de la maintenance ascenseur. Ils fournissent les pelles et les pioches d'une ruée vers l'or mondiale, où les ascensoristes valorisent leurs données et leurs organisations grâce à la technologie, et basculent dans un monde customer-centric.
Avec une vision qui met le produit au cœur et une équipe engagée à 200% dans le projet, ils ont réussi à convaincre des investisseurs de renom comme Serena, Xavier Niel ou encore Jacques-Antoine Granjon.
Visiter le profil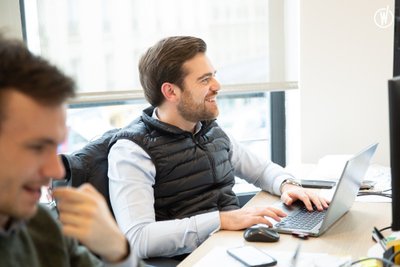 Rencontrez Claudino, Technicien Ascensoriste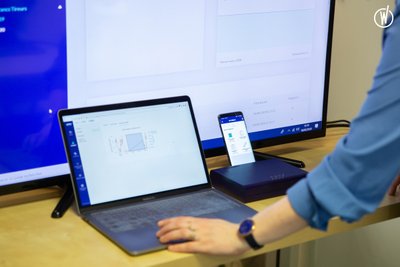 Rencontrez Aurélien, Lead Software Engineer
Descriptif du poste
Your role
As our very first Data Engineer, you focus on increasing the reliability, the speed and the efficiency of our data stack. On average, a device records around 4000 events per day, and our team plans on deploying many more devices in the coming months.
With all that data on the elevator's activity and state, uptime is uniquely placed to deliver on its vision: to bring predictive maintenance to the elevator industry. With big data comes big responsibility and complex challenges.
Data is front and center, and you make sure uptimers can leverage it to improve the products we build.
Your missions
You're part of the Data crew along with Valentina (Data Analyst), Jean-Baptiste (Data Scientist) and David (Lead Data).
All teams at uptime work on quarterly/bi-anually objectives following the OKR methodology and the Data crew is no exception!
For instance last quarter, we were thrilled when we finished implementing dbt to our data warehouse to help with data transformation. This redefined the way we think, deploy and maintain our data models, increased our field of possibilities and the speed at which we ship stuff.
This quarter is centered around reliability. We want to make sure our data models are up, tested and fast to query while balancing with pipeline run-time. Valentina & Jean-Baptiste are integrated within product squads for the quarter, working on data-driven recommendations and IoT data quality. A split has been made so they can allocate time to help David push on the OKR.
You work closely with David and you are part of the R&D department just like the rest of the crew. The department is made of 30 bright and kind team members, and consists of 2 hardware squads and 2 software squads. We are a diverse group of software engineers, hardware engineers, data peeps, product managers and designers.
For our team rituals, we like to keep it light: a bi-weekly team meeting, a monthly retrospective to get a feel on the general mood of the crew, and a short daily morning meeting to keep everyone on the same page and help each other. Punctually, we do technical workshops with the rest of R&D or just between us on data-related topics: we strongly believe in peer-learning.
Your focus is centered around 4 main axes:
You improve the data stack reliability, pushing on metrics like mean time to repair and SLA.
You improve the data stack performance, make queries run in the blink of an eye and orchestrate & optimize our data pipelines.
You make the data team more productive & successful, simplifying our local setup and making it easy to work with local & staging environments.
You grow our team through collaboration, helping the team grow their data engineering skills, bringing software wisdom and acting as a data "good habits guardian".
Profil recherché
Success factors
As a Senior Data Engineer, you are expected to:
write robust, maintainable and quality Python code,
create well orchestrated and optimized data pipelines,
create tools to automate the team's workflow and increase productivity,
be data and impact driven.
Déroulement des entretiens
Hiring process
A 45min phone call with Arthur (Recruiter) to have a better understanding of what you're looking for and what we can offer
A 2h technical interview with David (Lead Data) and Aurélien (Software Engineer Manager) to work together on technical issues that you may face.
A 1h30 interview, with Axel (CTO) to deep dive in your background and see how uptime can fit in your professional experience
Reference check will be done after your final interview
We offer you a lunch to meet your future teammates of your squad at our premises
At each step, you'll have dedicated time to ask any question you may have, the team makes sure you'll get the right answers.
Uptime
Cette offre vous tente ?
Questions et réponses sur l'offre
Ajouter aux favoris

Partager sur Twitter

Partager sur Facebook

Partager sur Linkedin
D'autres offres de Data Engineering
Ces offres peuvent vous intéresser !
Tactill

CDI

Télétravail total possible

Work4

CDI

Télétravail total possible

Work4

CDI

Télétravail partiel possible

Work4

CDI

Télétravail partiel possible

Work4

CDI

Télétravail partiel possible

Work4

CDI

Télétravail partiel possible
Voir toutes les offres