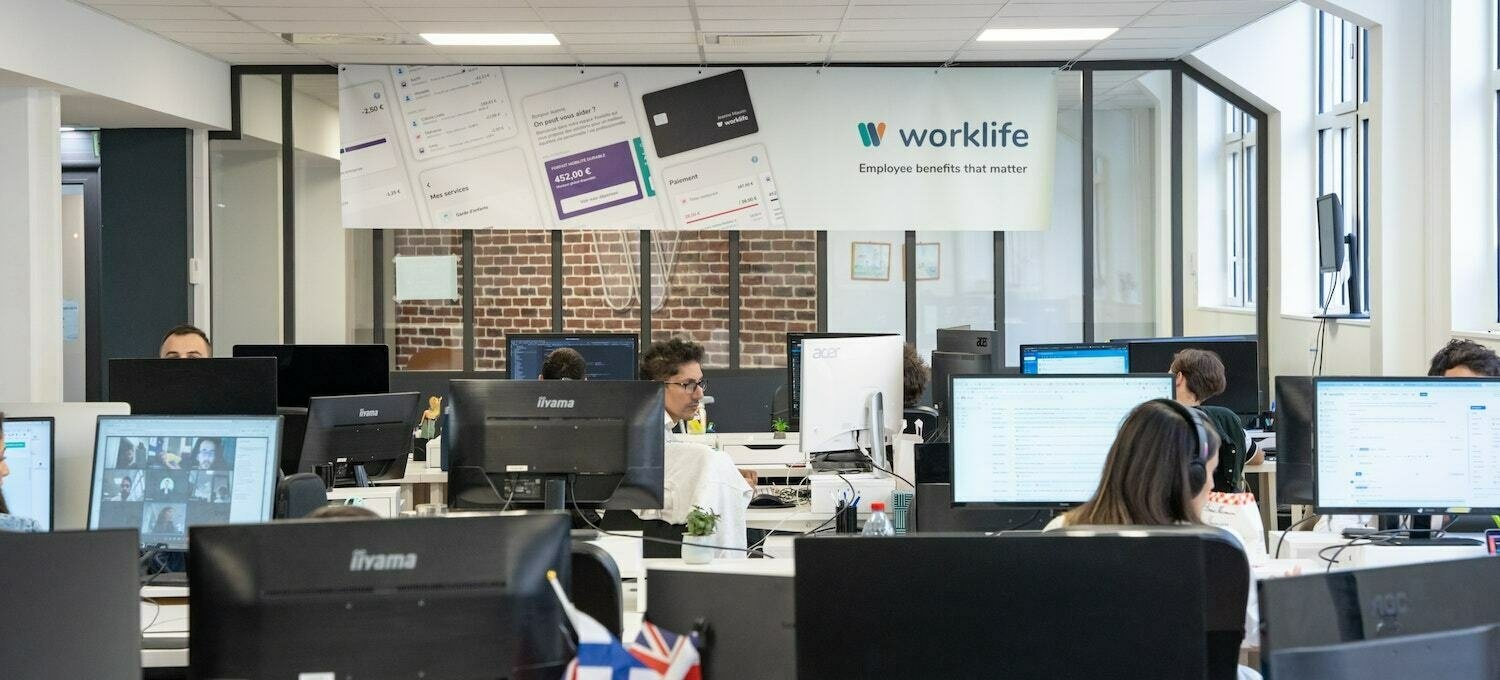 Worklife
Senior Sales Executive
Zmluva na dobu neurčitú

 

Dátum nástupu:

 

Paris

Možnosť pracovať čiastočne na diaľku

Bakalársky stupeň vzdelania

> 4 roky
Spoločnosť
Worklife
Pracovná ponuka
Senior Sales Executive
Zmluva na dobu neurčitú

 

Dátum nástupu:

 

Paris

Možnosť pracovať čiastočne na diaľku

Bakalársky stupeň vzdelania

> 4 roky
About
Worklife is the first fintech to disrupt the Employee Benefits Programs, bringing them all together on a single app, combined with a single payment card for greater ease of use.
To carry out our mission, we count on our +90 employees worldwide who are highly motivated and guided by common values (Care, Challenge, Curiosity).
Job description
Your role
Worklife is looking to expand rapidly on the french market. As Senior Sales Executive, you will play a vital role in Worklife's growth.
We are looking to recruit an experienced & skilled sales professional able to grow the sales pipeline, but, more importantly, we want to recruit a fit for the team.
We expect a high level of commitment and initiative paired with conscientiousness and a professional appearance. In return, you can expect a steep learning curve, a good salary, exciting networks and a strong team with a long-term vision. We want to solve issues together and celebrate successes accordingly.
You'll adapt and grow with us and soon taking on new challenges and responsibilities in your role.
Your duties :
Mentoring sales team members
Identify potential customers and set approach strategies
Develop solid and long-term client relationships
Act as the liaison between clients and account executives
Resolve issues and handle complaints quickly and effectively
Negotiate contracts and close agreements
Support sales team and clients with new features and product launches
Get feedback and suggest ways to increase customer engagement
As a member of the team, you are also the guarantor of our values:
Care: help your colleagues, coach, show, be exemplary and listen, be proactive and transparent;
Challenge: ask all the questions, understand the why and how, be daring, contribute to the success of the company, never give up;
Curiosity: keep an eye on the competition, technologies and eco-system. Try new things and learn!**
Why join Worklife ?
Joining Worklife today is an excellent opportunity for growth and career development in a very dynamic structure. You will actively participate in the next stage of Worklife, which is coming up soon 🔥.
Salary & Benefits :
A very flexible remote work policy ;
A remuneration package reviewed annually ;
1 month's paternity/maternity leave 100% paid by Worklife if the country where you reside doesn't provide it.
And if you reside in France :
The Worklife VISA card, with:
Meal vouchers (8.50€/day worked)
Sustainable mobility (500€/year)
Care services (100€/month - 150€/month for parents)
Excellent mutual insurance (Alan)
Mission & Challenge :
After solid growth in the BtoC segment, supported by leading investment funds, and a top
team, come and participate in the next stage of our development in the BtoB segment, which will be 🔥
Career & Evolution :
Sharing, challenging and learning are the values that will guide your career and evolution at Worklife.
Culture & Environment :
A great working atmosphere
Teambuilding once or twice a year
Pleasure and pride to use our own product daily
A pleasant working environment: a great office in the heart of Paris, Hong Kong & Kiev
Preferred experience
The offer is for you if you have…
Proven work experience as a Senior account executive
Solid experience with CRM software and Google Suite (particularly Google Sheet)
An ability to understand and analyze sales performance metrics
Excellent communication skills & a passion for sales
Strong analytical and negotiation skills
Business acumen with a problem-solving attitude
Thorough understanding of marketing and negotiating techniques
Self-motivated with a results-driven approach
Aptitude in delivering attractive presentations
Near-Native-level fluency in French & fluency in English
Recruitment process
Please reply to this ad with the following 3 bullet points (no cover letter!):
A (short) summary of your experience
The reasons why Worklife should hire you
Something original or interesting about you!
We then have a 5 steps recruitment process:
Manager meeting with Grégoire, our Head of Sales Enterprise
A business case
Presentation in front of Grégoire and Damien, VP Sales
HR Meeting
Team fit
Meet the team
This content is blocked
Youtube cookies are required to show you this content
Questions and answers about the offer
Pridať medzi obľúbené

Zdieľať na Twitteri

Zdieľať na Facebooku

Zdieľať na LinkedIn