Upflow
Sales Ops Specialist
Zmluva na dobu neurčitú

 

Dátum nástupu:

 

Možnosť pracovať iba na diaľku

Magisterský stupeň vzdelania

> 3 roky
Spoločnosť
Upflow
Softvér, FinTech/InsurTech, SaaS / Cloudové služby

Od 50 do 250 zamestnancov
Pracovná ponuka
Sales Ops Specialist
Zmluva na dobu neurčitú

 

Dátum nástupu:

 

Možnosť pracovať iba na diaľku

Magisterský stupeň vzdelania

> 3 roky
Táto pozícia bola obsadená!
Who are they?
At Upflow, we're building the platform revolutionizing how B2B businesses get paid.
Today, most companies are still struggling to collect payments from their customers: hundreds of unpaid invoices, anarchic communications, multiple payment methods. They lose tons of hours on zero value-added tasks, suffer from late payments that hinder their growth, and sometimes simply go bust because of cash flow issues. It's time for a change.
Upflow is the modern hub to manage all data exchanges, communications, and payments to get paid faster, simpler. We are a product-led organization solving this problem with a tech approach.
We've launched in 2018 and are trusted by hundreds of awesome users in the EU & US including Lattice, Front, Triplebyte, Iziwork, ProductBoard, Proxyclick, and more. We're also backed by leading investors (YCombinator, 9yards, eFounders) and top executives business angels from N26, Square, Mercury, Uber, and Netsuite.
We're a remote-friendly, distributed team across 3 continents and rapidly expanding. Now's a perfect time to join if you're looking for an exciting international experience.
For more information, please visit our website www.upflow.io or check out our product demo here: https://demo.upflow.io
Visit the profile
Rencontrez Charlie, Payment Expert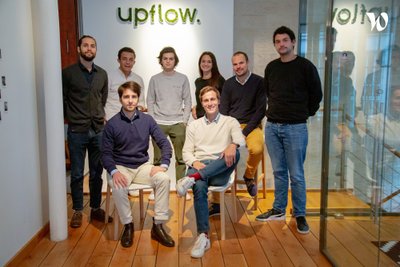 Rencontrez Charlie, Payment Expert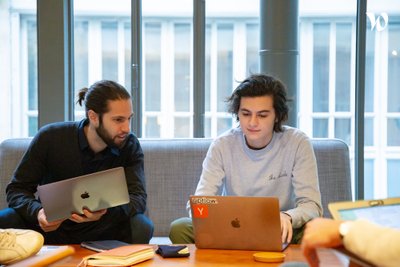 Rencontrez Raphaëlle, Payment Expert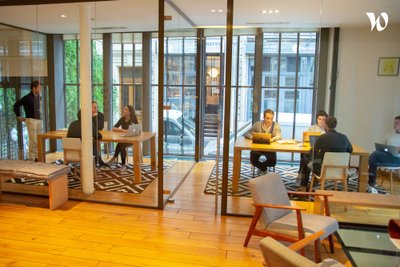 Job description
As our Sales Operations Specialist, you are the main point of contact for our BDRs and AEs and work at the heart of our sales engine.
As a member of the broader RevOps team, this critical role works hand-in-hand with Business/Marketing Ops, Growth, and Sales Leadership to ensure our BDR and Sales teams can operate seamlessly across our sales stack, and achieve their targets consistently. This role bridges the gap between inbound and outbound sourced leads, and is instrumental in helping Sales convert and drive leads down the sales funnel.
This is an amazing opportunity to work and scale in a fast-growing Fintech and an international environment — we're based in the US (NYC), EU (Paris) and remote — and directly impact our revenue growth.
Main Focus Areas:
Processes & Tools
Own our Sales stack configuration and integration to the global Upflow ecosystem, in collaboration with Marketing Ops, Finance, RevOps…
Continuously improve sales processes to match and support our overall Sales strategy, as much through tools configuration, process creation, as through documentation (Notion notes, Loom videos…)
Sales Enablement & Support
Continuously enable BDR and Sales teams on existing and new processes
Support BDR and Sales team in their day to day activities across our tool stack. Troubleshoot issues, bugs and process questions related to our CRM or Outreach platform, sometimes in collaborate with tool providers
Data & Organization
Ensure that our Salesforce data is accurate, measurable and actionable:

Improve reporting in Salesforce through the ownership of company-wide dashboards that are the source of truth for business reporting
Provide clear and actionable feedback on data generated by our Growth and Marketing teams (accounts, contacts, leads), with a view to continuously improve our automated enrichment flows
Our Stack:
CRM: Salesforce
Sales engagement: Outreach, Chili Piper, Modjo, Loom, LinkedIn Sales Navigator
Other integrations with Salesforce: Hubspot (Marketing), Vitally (Success & Care), Chargebee, n8n
Preferred experience
We primarily look for skills over experience. We strongly encourage you to apply to kickstart a Sales Ops career. You may feel more comfortable in the role with some of the following:
Experience with modern B2B Sales stacks would be a great advantage: Salesforce, Outreach, Linkedin Sales Nav, Chili Piper, Modjo or any equivalent
Good understanding of sales and BDR processes is a plus
A keen interest in B2B SaaS companies is a plus
Sales Ops, Lead Gen or Prospecting experience is a plus but not required
Who you are
A system thinker
You have a solution-oriented mindset: when launching a project, you understand the scope, pre-requirements, and impacts on other systems
You are able to conceptualize processes and translate them in operational steps
You are able to work autonomously and safely in our tools. You have a step by step checklist to ensure you've covered everything
You enjoy using and learning new tools to support and facilitate our sales strategy and processes
Analytical and data driven
Your solutions are rational and supported by data-based analysis.
You like to look at data! You can leverage it to understand gaps in our processes, and suggest improvements or provide support
You are detail oriented: you have exceptional attention to detail and can troubleshoot tools or process issues through a step by step process
Great communicator
You speak & write English fluently. You are able to troubleshoot in this language, provide explanation, and document processes

You can communicate with internal and external stakeholders of varying "tech depth":

Ability to communicate clearly & concisely
Ability to correctly manage expectations
Active listening & empathy

You have an insatiable curiosity, and a bias for action and initiative
Recruitment process
Discovery call with Victoire (TAM)
Screening call with Côme (Hiring Manager)
Business case with Julie (Revenue Ops Manager)
Meet with the team
Founder interview with Alex (CEO)
Why join Upflow?
International Mindset: We have offices in Paris and New York.
Flexible working: Work on-site in Paris, 100% remote, or something in between.
Exciting moment: Opportunity to join early and build the partnership function from the ground up.
All-star team: A solid team of wicked-smart builders.
Learning opportunity: Strong focus on learning and growing through education and professional development in hard and soft skills.
Trusting environment: Hands-off management style. We have a strong culture of ownership and autonomy.
Best in class perks: 35 paid days off, meal vouchers, cool offices, top-of-the-range equipment, great healthcare, and competitive salary and equity.
Offsites: Regular offsites with the team, meetups, and strong connections to the startup ecosystem
Upflow
Máte záujem o túto ponuku?
Questions and answers about the offer
Pridať medzi obľúbené

Zdieľať na LinkedIn

Zdieľať na Facebooku

Zdieľať na Twitteri