playgrnd
Senior Consultant - Innovation & Transformation
Zmluva na dobu neurčitú

 

Dátum nástupu:

 

Paris

Možnosť pracovať čiastočne na diaľku

Magisterský stupeň vzdelania

> 5 rokov
Spoločnosť
playgrnd
Dizajn, Stratégia, Manažment zmien

< 15 zamestnancov
Pracovná ponuka
Senior Consultant - Innovation & Transformation
Zmluva na dobu neurčitú

 

Dátum nástupu:

 

Paris

Možnosť pracovať čiastočne na diaľku

Magisterský stupeň vzdelania

> 5 rokov
Qui sont-ils ?
Rejoignez la communauté de Designers et Consultants dédiée au futur de l'économie avec impact positif !
NOTRE MISSION
Nous accompagnons les organisations privées et publiques à amplifier leur impact positif sur l'humain, l'environnement et la Société.
NOS TERRAINS DE JEU
EXPERIENCE : design eco-inclusif de services, produits, experience (client, collaborateur, citoyen)
INNOVATION : Imaginer les futurs souhaitables, et les faire exister, via le design systémique
TRANSFORMATION : guider les transformations vers l'impact, et accompagner le changement
EMPOWERMENT : veille prospective, méthodologies, DesignOps, formation…
UN ECOSYSTÈME ENGAGÉ
— LES TALENTS AU COEUR
Accompagner les projets complexes requiert des experts pointus… Et des talents épanouis, qu'ils soient salariés ou faisant partie de notre communauté de talents, consultants, designers et experts pluridisciplinaires au service de l'impact positif.
— INTELLIGENCE ET ESPRITS COLLECTIFS
Chaque projet au playgrnd est un nouveau terrain de jeu, empli de challenges complexes à résoudre. Nous sommes entraînés à jouer collectif, dans un environnement bienveillant et transparent, propice à l'émergence des meilleures solutions.
— TRANSMISSION & "EMPOWERMENT"
Faire en sorte que nos clients se passent de nous : c'est contre-intuitif mais vertueux pour accélérer le changement. Nous sommes des facilitateurs et n'hésitons jamais à transmettre, tant nos méthodologies que l'inspiration que nous collectons en continu, pour devenir meilleurs chaque jour, ensemble. Oh ! Nous sommes également organisme de formation.
NOS RÉFÉRENCES
Decathlon, OCDE, Saint-Gobain, Cofidis, Ligue Nationale contre le cancer, Sodexo, Volkswagen Financial Services, Nike, CCFD Terre Solidaire, Iperia l'institut…
"WORK HARD. PLAY HARD. AT THE SAME TIME."
Le playgrnd s'oblige à réinventer chaque jour de travail, pour offrir un terrain de jeu propice à l'épanouissement personnel et collectif, l'apprentissage, l'accès à la culture, le bien-être de chacun et la meilleure expérience pour nos players, partenaires et clients.
Visiter le profil
Rencontrez Erwan, Founder & CEO
Rencontrez Anaïs, Program manager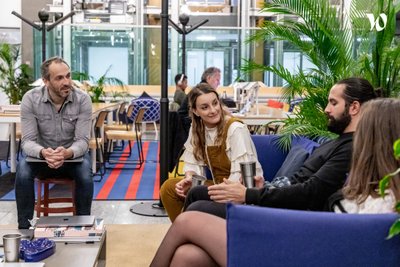 Rencontrez Anastasia, Project manager & consultante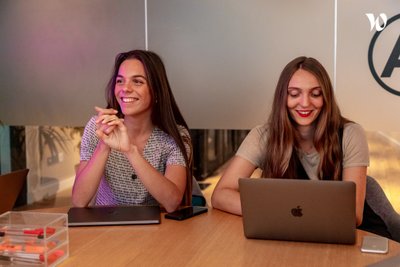 Descriptif du poste
About you, actually?
Did you start a club dedicated to paper recycling when you were at elementary school? Vous passez vos soirées sur Medium.com ? Are you always trying to find out how Spotify could spread new amazing songs more efficiently? Do you dream of building a probe (from recycling materials) able to trace your carbon footprint automatically? Vous vous endormez avec des podcasts qui parlent de l'avenir des civilisations ? Were you involved in your school cafeteria or in a bar (and you were the one suggesting solutions in order to optimize the waiting time for people grabbing a beer or a coffee, and systems to limit waste)? Avez-vous déjà rêvé de rencontrer Sigmund Freud ou Pierre Bourdieu ? Do (did) you organize special dinners with your friends in order to run shadow "customer research"? Do you give feedback to the Slack Support Team in order to optimize their product? Do you always plan your vacations for months, using Google Drive spreadsheets, system maps, and datavizualisation, in order to choose the right destination? Vous aimez confronter votre point de vue sur le monde avec votre petit(e) ami(e) et vos parents ? Vous aimez la PNL (nous ne parlons pas du groupe de musique rap… hein) ? Did you try to convince Siri to do bad, bad things? Have you ever dreamt about being a rock star?
If you answered "yes" to one or more of these propositions, you might be the right person we are seeking in the playgrnd, as a Senior Consultant - Innovation & transformation.
Your next job: "Playing a role towards positive impact".
Within the Impulse League, a transversal team of multi disciplinary consultants, you will contribute to leverage positive impact across various sectors and clients, located in France or abroad, while:
supporting your clients designing and delivering the most genuine and impactful innovations,
using relevant consulting skills to make it happen,
driving the change and empowering your clients,
playing with the best dream-team (consultants, service designers, system designers, product designers, dedicated experts…),
bringing happiness to your clients and team,
managing your projects in the best quality ever, always on time.
In details, your everyday role could look like this:
STRATEGY
Operate a strategic watch (sustainable innovation, service design, transformation, change manangement)
Run market studies, benchmark, analyzing best practices
Seize trends, strong & weak signals, Contribute to prospective research
CONSULTING
Perform on/off site immersion and ad-hoc desk researches, analyze provided documentation
Run diagnostics, detect and understand the real problem to solve
Format genuine methodologies & intervention models
Leverage systemic design - SEEDS Methodology, created by playgrnd
Foster purpose led ecosystems
Provide appropriate deliverables (eg : audit, strategic roadmap, system map, innovation scenarii, value proposition, prioritization matrix, change management plan, business cases, backlog…)
Client relationship management
FACILITATION
Facilitate collective intelligence (IRL or remote), with plural stakeholders, and creativity methods
Design ad'hoc workshops
Organize systemic design sprints
Your will also contribute to the development of the playgrnd.
BUSINESS DEVELOPMENT
Responsible for your clients satisfaction
Detect opportunities (upselling / cross selling / new business)
Contribute to new deals answers
COACHING
After a few months, you may have to coach one or more consultants
PLAYGRND'S ENHANCEMENT
Empower other team members to your core skills
Contribute to future hirings and ecosystem development
Contribute to Crews (internal missions)
Contribute to rise quality standards
Articles writing on your specific expertises would be great
When can you start?
ASAP :)
—
You will be part of a real adventure.
We aim to be the design & consulting ecosystem dedicated to the future of economy with positive impact.
We are keen to follow our values: Resilience, Humility, Positivism, Unity, Fulfillment.
We have designed an open and genuine organization promoting teamwork, collective intelligence, and continuous learning, while considering individuals' singularity.
We work everyday to offer a better workplace, listening to our players and experimenting new ways of working: for now, we have flexible remote working rules, and you will have an open access to all Wework coworking spaces in France and abroad. We also love to get together quarterly during our "remote offices'' (offsite, all together). We obviously do several team building events in Paris over the year (afterworks, drinks, gaming time, sport, culture, etc.).
Let's play!
Profil recherché
For this position, we require an experience of 5-8+ years in a similar role (consulting company, innovation studio…).
To become part of the dream-team in the playgrnd:
you are eager to make the most of your skills and energy to positive impact
you must be open-minded, curious, empathic, passionate, proactive, detailed focus, result oriented, always willing to learn new things
you have awesome soft skills
you have a relevant track record on these topics
you have a strong interest in humans, planet & Society
you would be very happy to share your knowledge to the team
you speak a very good english (mandatory, since we work with international clients) et aussi un très bon français (à l'écrit comme à l'oral)
experiences in mobility, public sector, sustainability could also be great
The playgrnd will welcome people with deep energy and willingness, ready to be part of an adventure.
To become part of the dream-team in the playgrnd:
——
This offer is related to a full time position, both based in Paris (WeWork) & remote.
This job may require (low carbon) travels in France and Europe, if the missions require it.
Déroulement des entretiens
WANT TO BE PART OF IT?
Send your wishes through "Welcome to the Jungle" Platform
Have a like on our Instagram profile - http://www.instagram.com/playgrnd
We'll review your application and get back to you very soon, hopefully:
If your profile matches the offer requirements, we'll contact you for a first remote interview (15min)
A second interview (1h) will be done with the short-list
A case study will be done with the finalists
Thanks and have a great day!
playgrnd
Máte záujem o túto ponuku?
Questions et réponses sur l'offre
Zdieľať na LinkedIn

Zdieľať na Facebooku

Zdieľať na Twitteri