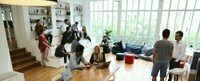 Kpler
Big Data

Paris, Brussels, Dubai, Houston, London, New York, Singapore
The international is part of Kpler's DNA. Individuals from 50 nationalities, across age groups and backgrounds, work from a dozen hubs worldwide. Each of them is motivated by the company's mission, and shares a common set of values:
Humility: Always place the interests of the collective before your own
Respect and Care for People: Make every person feel comfortable in their own beliefs, decisions, and perspectives
Taking Responsibility: Always take ownership of your actions
Acting with Integrity: Be honest and transparent in all your dealings
Be Bold: Push the boundaries in order to improve and grow
Engineering & Data Science

30%

Sales, Partnerships and BD

20%

Market Data Operations

12%

Kpler's mission is to facilitate sustainable and efficient trade to meet the changing needs of our world. As an engineering group, we facilitate our customers through our market-leading software solutions that are robust, reliable, and scalable. Our core values are autonomy, mastery, and purpose.
As an engineering organization, we promote the "build it, you run it" model for service ownership to ensure teams are fully autonomous and self-contained. We believe in using the best tools for the job, and our stack includes Kafka, Kubernetes, Python, Typescript, Postgres, and a range of AWS services.
"

Happiness is when what you think, what you say, and what you do are in harmony" - Gandhi At Kpler the way our engineers think, the way they work together, and the tools we use are in harmony with modern practices! It is what makes engineers happy !

"

The product team is in charge of understanding the customer's needs and working with the engineering, data operations, and data science team to transform those needs into value products. By scoping key workflows, features and designing those products. The team also works closely with commercial teams, to make sure we deliver the highest value and customer/user experience to our customers. The product team is expert in the various business lines we operate in, we are bold but humble, we challenge ourselves and are extremely collaborative and focus on our users.
"

The best products are products that enable people to tell stories. The best stories are based on facts and trustworthy data. The combination of both, a great product and the best data enables people to make better decisions faster with greater impact. This is the mantra of the product team at Kpler, we build amazing products based on unique and trustworthy data.

"

The New Business team has a primary role of acquiring new clients for Kpler. Each team member would bring on average 25 new logos a year which is supporting Kpler's organic growth. The major areas of expertise for a New Business salesperson is not only being a strong negotiator, but they are also putting a commercial strategy for their territory while working closely with Marketing, SDR's and Business Development teams to identify new opportunities for Kpler.
Our core values in the New Business team are being ambitious by going to new markets for Kpler, being respectful of each other but also externally when we deal with our prospects. And finally, being a team player. In the NB team, everyone has a different experience in terms of sales but also industry background, so everybody is sharing their knowledge and network in order to grow our business in the most efficient manner.

Customer Success is a client-facing team spread across 7 locations globally that helps users understand how to get the most out of the Kpler data and applications.With a holistic approach and lots of teamwork, CS engages with clients from the very early stages of the commercial relationship.
Given the width and depth of what Kpler offers today, CSMs are never alone when it comes to making clients successful: we're quick to understand which resources are best suited to help clients and no day goes by without liaising with our colleagues in Product, Commercial, Support, and other teams. Cooperation, empathy and ownership are some of the qualities shared by Kplerian CSMs.
Some of the tasks we're responsible for are client onboardings & trainings, feeding back client needs to Product, ensuring new features are adopted, and more generally, ensuring all clients see value in Kpler.
"

We do whatever it takes to make sure clients see value in our data and tools. In the morning you might be on-boarding new users, later you might review your engagement plans with a top account jointly with the sales team, and in the afternoon you're liaising with the product team to find out more about the impact of a new release for your accounts.

"

Marc Amaya, VP Customer Success