AXA Climate
Flood modeling expert
Zmluva na dobu neurčitú

 

Dátum nástupu:

 

Paris

Možnosť pracovať čiastočne na diaľku

PhD

> 5 rokov
Spoločnosť
AXA Climate
Stratégia, SaaS / Cloudové služby, EdTech

Od 50 do 250 zamestnancov
Pracovná ponuka
Flood modeling expert
Zmluva na dobu neurčitú

 

Dátum nástupu:

 

Paris

Možnosť pracovať čiastočne na diaľku

PhD

> 5 rokov
Táto pozícia bola obsadená!
Who are they?
AXA Climate's Purpose is to help planet Earth become a true stakeholder for all businesses.
AXA Climate's mission is climate and environmental adaptation. To serve this mission, 4 different business lines!
Training : via digital and scientific content to get all employees moving, giving them the skills and tools.
Consulting : to have an impact at the local level, through concrete adaptation actions.
Insurance and financing : to secure those who adapt and have an impact.
🛰️ Science is at the heart of our Business Value Proposal!
In the Science team we model the expected financial losses from various types of harards (extreme and chronic) and various type of assets (infrastructures, real estate, industrial clients, agro industry, supply chain). We harness our inhouse scientific expertise to:
Share state of the art knowledge on climate and natural risks within the team and with customers.
Model the probability of occurrence of extreme climate hazards and provide analysis.
Quantify assets vulnerabilities to various hazards, relying on internal and external sources of information.
Maintaining the most advanced methods and data for value at risk assessments.
✅ Results so far:
We work with over 20 research centers worldwide on state of the art modeling techniques and data
We develop our own climate risk indicators based on the best available research
We have a great team of experts on climate change and variability, hydrology and hydraulics, geology and agronomy and specific fields like health, renewable energy, and even biodiversity.
➡️ Discover the AXA Climate Scientific Blog here
Visit the profile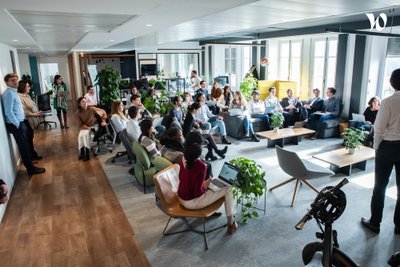 Rencontrez Rafaëlla, Financial Services Consulting Manager
Rencontrez Nerea, Insurance Underwritter
Job description
✨ Your job as Flood Modeling Expert
Develop riverine and pluvial flood risk assessments methods, using hydrological and hydraulic modeling at difference scale (local site, cities, regions). The risk assessment covers present and future climate scenarios. It also includes cost benefit analysis of adaptation measures.
Main responsibilities of the role include:
Development of pluvial and fluvial flood hazard models, specially in urban areas. It includes rainfall-runoff modelling (hydrology) and flood propagation models (hydraulics). Generation of inland flood hazard maps at regional scale.
Assessment of the feasibility of different flood mitigation alternatives, by means of quantitative methods such as Cost Benefit Analysis.
Support consulting missions by providing local flood risk assessments that combine flood hazard, exposure and vulnerability analysis, for different infrastructure types (rail, road, dams, etc.) and assets.
Support our training activity by collaborating with academia and developing training materials.
This role will work hand-in-hand with the Lead Hydraulic Engineer at AXA Climate to help in boosting science as a strong differentiating factor for our business.
🎆 What you can expect
Build a top-tier Environmental brand
Evolve in a high-growth environment
Work for a global Sustainable goal who will have a positive impact on our planet
Be part of a fun & caring team
Preferred experience
Experience: 5+ years of experience in flood risk modeling, production of pluvial and fluvial risk maps
Qualification: PhD in in the field of flooding (hydrology and hydraulics)
Deep climate expertise: Strong climate knowledge and talented in science communication
Great customer understanding
Time Management skills: Rigor and capacity to plan and align with science team goals
Highly collaborative: Strong in networking with academic experts and team work
Strong language skills: French and English
You have the following hard skills:
- Hydrology and hydraulic modeling (i.e. hydrodynamic modelling)
- Probability and statistical analysis of extreme events
- Experience with high performance computing
- GIS experience using software such as QGIS
Recruitment process
We will reply to your application within 2 days. The process entails a first call to get to know each other. Then 3 to 4 interviews are organise to assess hard and soft skills that are in line with the position. You will usually recieve a final answer within 2 weeks.
AXA Climate
Máte záujem o túto ponuku?
Questions and answers about the offer
Zdieľať na LinkedIn

Zdieľať na Facebooku

Zdieľať na Twitteri