WITH
China Digital & E-Commerce Project Manager
CDI

 

Début :

 

Paris

Bac +5 / Master

> 3 ans
L'entreprise
WITH
Digital Marketing / Data Marketing, Stratégie, AdTech / MarTech

Entre 50 et 250 salariés
Le poste
China Digital & E-Commerce Project Manager
CDI

 

Début :

 

Paris

Bac +5 / Master

> 3 ans
Who are they?
WITH is a digital partner of a new kind, launched in 2015 in Paris, 2017 in Madrid and now in Geneva. They already count more than 80 talents after 7 years in business, and were proud to finish 2020 with a 30% growth and 25 new long-term hires, despite COVID.
WITH Paris is focused on marketing consultancy and implants around 4 intertwined verticals, counting amidst the hottest topics in the current marketing revolution: China, eCommerce & Amazon, Social Marketing and Science & Innovation.
The WITH Paris teams follow a unique model, as their talents comprise consultants, called "client partners", but also "implants", experts they hire and place amongst their clients' teams.
WITH Madrid's focus is on innovation and technology, offering their combination of engineers, data analysts, UX/UI & PMO/PO in order to audit, create, build and manage complex digital projects.
Their main clients include: Danone group, L'Oréal, Coty, LVMH (incl. Parfums Christian Dior), Bacardi Martini, Pierre Fabre, Crédit Agricole Payment Services, Cartier and Total amongst others.
Visit the profile
Rencontrez Geoffroy, General Manager With Madrid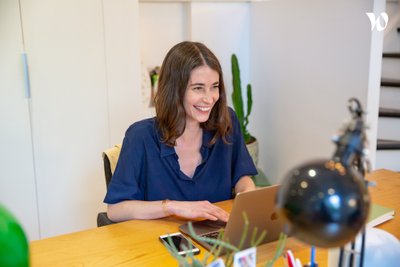 Rencontrez Branislav, Co-founder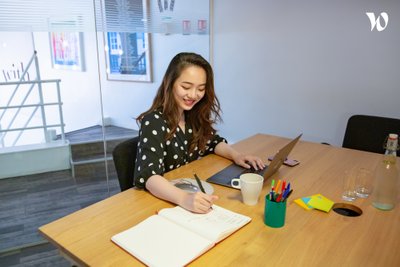 Rencontrez Chloé Chun, Junior Client Partner China Marketing, WITH Paris
Job description
Within the global digital team and in liaison with the local market and brand team, you will be in charge of animating the presence of one fine fragrance brand in the Chinese Market, which is related to a fashion house and luxury brand.
The brand is already available through selective distribution and will be launching its official presence in China in the second semester of 2022 through e-commerce focusing mainly on the Tmall ecosystem. In parallel with the e-commerce opening, the brand will be investing its social footprint with creative, localized and relevant content across different platforms - Weibo, WeChat, RED - as well as building a strong media strategy and influencer program with Chinese celebrities, bloggers, live-streamers, KOCs…
In this position, the WITH implant will help the brand into different roles as detailed below:
E-commerce coordination
Support the local team in building a brand relevant and impactful plan to be presented to the Tmall Management team for launch and animation during the whole year - across marketing drivers to leverage, storytelling angles, key moments to animate with relevant products, ways to engage & retain customers.
2- Validate the e-merchandising strategy with the local team and TP, and coordinate the production of assets for the fine fragrances.
3- Follow the creative process with the brand team to deliver the relevant assets to animate the brand flagship store. Facilitate the understanding of the platforms needs, provide benchmarks, do's and don'ts to ease the asset conceptions.
4- Also provide guidelines for localization & control the customer experience (brand page, product pages, …) and interactions on the platforms (pushed through brandzone animation and pull through before & after sales) handled by TP.
5- Provide guidance on the marketing investments on the platforms, validate touchpoint ventilation and monitor the performance to propose quick adjustments if needed. Monitor the execution of such investments to ensure the best reach.
6- Analyze thoroughly the data of the e-commerce operations and provide recommendations around investments, festivals to tackle, content directions, merchandising opportunities…
7- Support the development of a CRM program for Tmall, working closely with Global and Local CRM teams
Marketing and 360° project coordination
1- Organization and coordination: coordinate between the Group and brand Global and Local Marketing, Digital, Influencer marketing, Media, Trade teams, but also with the Fashion house Global and Local teams.
2- Coordinate & align the marketing strategy and calendar on the Chinese market to localize concepts, contents, touchpoints to reach relevant tribes. Follow with local teams and agencies/partners to produce relevant storytelling and formats fitting to each platform's needs.
3- Assist the Marketing and Digital marketing team to produce all content and animations.
Follow the creative process with the brand team to deliver the relevant assets to animate the brand social media. Facilitate the understanding of the platforms needs, provide benchmarks, do's and don'ts to ease the asset conceptions.
4- Support IM and Media teams with agile, advanced influencer marketing program and to create brand awareness across Chinese platforms:
strong personality influencers, matching the brand DNA - with different pools: Celebrities, KOLs, KOCS building and implementing the right media strategies for each tribe.
You will report to the Global Digital Leader of the brand.
Preferred experience
Master's degree required 3 to 5 years of experience in digital marketing in China / managing China-related projects
Have a good understanding of Alibaba marketing ecosystem, both in/out site. And know well about the trendy Alibaba marketing approaches, like live streaming, seeding, fans operation, etc. And have a successful case to demonstrate the experience. Need to have an "esthetic eye", as the project manager will need to help adapt to the promotional needs on Tmall while staying true to the brand's visual territory and artistic direction.
Experienced in online especially Alibaba campaign marketing area and influencer programs, related beauty brand or agency working experience is preferred. Excellent soft skills to manage trilateral relationships, drive all cross functional teams at the same pace to deliver business results.
Strong presentation skills and the ability to communicate confidently with senior-level leaders Ability to balance between a robust analytical capability and an interest in the creative process
Passion for the role and beauty brands Awareness and interest in sustainability is important
Fluent in English and Mandarin Proficient in Microsoft Office applications
WITH
Cette offre vous tente ?
Questions and answers about the offer
Ajouter aux favoris

Partager sur Twitter

Partager sur Facebook

Partager sur Linkedin
D'autres offres de Digital
Ces offres peuvent vous intéresser !
Work4

CDI

Télétravail partiel possible

Work4

CDI

Télétravail partiel possible

Work4

CDI

Télétravail partiel possible

Work4

CDI

Télétravail partiel possible

Work4

CDI

Télétravail partiel possible

Work4

CDI

Télétravail total possible
Voir toutes les offres