WITH
Business Lead
CDI

 

Paris

Bac +5 / Master

> 10 ans
L'entreprise
WITH
Digital Marketing / Data Marketing, Stratégie, AdTech / MarTech

Entre 50 et 250 salariés
Le poste
Business Lead
CDI

 

Paris

Bac +5 / Master

> 10 ans
Qui sont-ils ?
Created in 2015, WITH is a full-funnel digital marketing transformation partner with a unique approach of designing projects in both Western & Eastern worlds. We help our clients surf the waves of change and fight the lurking obsolescence (in career and business)
Our signature relies on:
. Our fast evolving expertises from Content, Social, Media & Influence, Commerce, Loyalty & Data
. Our niche industries from Beauty, Fashion, Travel Retail, Science, Food & Beverage, Wine & Spirit
. Our craft methodologies from Upskilling, Auditing, Ideation, Framing, Planning & Orchestrating
Today, our teams represent 90 talents with multicultural backgrounds.
WITH Paris belongs to a Group network, including Paris, Geneva & Madrid - and probably more to come in the future as we aim at strengthening our international footprint.
WITH Paris is set to sustain growth in the future around 3 dimensions:
. accelerate on East (as competition is limited on the European market)
. consolidate on Orchestration through Implant (as market craves for more inhoused experts)
. boost on Commerce (as covid revamped consumer path to purchase)
We are at a cornerstone in our journey, aiming to set the stage to enable and scale up a bigger WITH.
OUR VALUES
Our company culture relies on:
1- Hiring and developing curious minds: as we always go where 'the paint is fresh', we believe that knowledge always gives the edge
2- Relying on collaboration & partnerships: WITH represents the sum of us, with our clients. We believe that collaboration trumps the best individual wisdom
3- Creating bounds & networks with people and partners: WITH is a combination of bright futures, connected together. We believe that the range of benefits of our network of people is yet to be discovered
4- Developing through qualitative work & word-of-mouth: WITH equals our reputation as a company. We believe that the ultra-connected world values a good reputation based on high quality standards
Visiter le profil
Rencontrez Suzanne, HR Director, WITH Group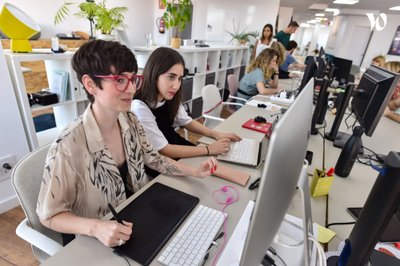 Rencontrez Branislav, Co-founder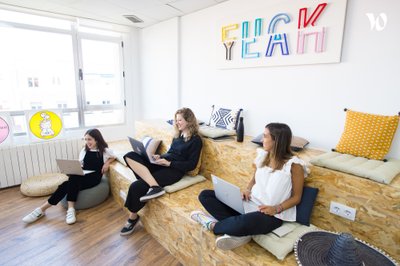 Rencontrez Geoffroy, General Manager With Madrid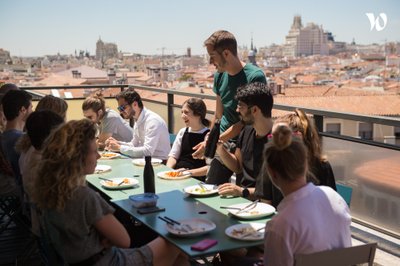 Descriptif du poste
There are two Business Leads in the Paris office, one for EAST and one for WEST. The Business Lead will evolve:
Under the supervision of the board of directors - Group Managing Directors, Group HR Director & Paris Associate Director Direct reporting line to Paris Associate Director
Direct supervision of the Senior Client Partners & Client Partners Coaching of the Senior Implants within Client teams
DIMENSIONS OF YOUR ROLE
1- DEVELOPING & NURTURING CLIENT LOYALTY
Based on a current client portfolio in the WEST team, including leading Beauty & Luxury groups, Food & Beverage and Wines & Spirits international companies, etc:
Listen, understand and support to unlock the business strategy our clients
Anticipate and follow-up on clients needs by re-framing their sow and backuping WITH through contracts
Monitor overall client satisfaction & come up with suggestions for improvement to be shared with teams and above
Manage cross-sell & upsell opportunities within the WEST team to unlock business
Create triggers & discussions for EAST team or new offers and offices (ie. Geneva)
Financial & business follow up and reporting to other directors to provide visibility
Share best practices with other strategic developers to level up our operational standards
2- HACKING ON NEW PROSPECTS
Based on a current lead pool in the WEST team, including existing clients & new identified hot prospects:
Handle a client portfolio based on projects already sold or in the pipeline
Strategize the cost & revenue structure to increase it by minimum 1.5M each year
Be accountable for costs & revenues on a quarterly basis for existing clients and taking care of the commercial development with appropriate growth of the cost structure
Come up with suggestions (new offers, new com toolkits, new partnership) to unlock discussion entries
3- CONTRIBUTING TO WITH VISIBILITY
With the support of our Comms managers, contribute to become the official entry door of the WEST offer and:
Participate in the comms strategy of WITH internally and externally (articles, podcasts, webinars…)
Create a community of clients and prospects and animate them through events, diners, invitations, gifting for special moments
Be the go-to person to create bonds with our tech & partner ecosystem, create a pool & identify co-branding opportunities
4- TEAMS LEAD & DEVELOPMENT
With the support of the current Client Partner teams:
Be the go-to person for the team to build up the annual strategy of the clients
Management of a team of 10+, including career management policies and actions - raise, bonus, mobility, and so on
Management of the recruitment process for the whole team with the HR director
Accountable for a positive & collaborative workplace
Coach & mentor senior implants, animate communities around clients
Profil recherché
More than 10 years of experience in digital marketing in agencies, consultancies, brands Track record of managing and developing a business with more than 1 million turnover
Proven track record of recruiting, coaching and mentoring talents at a senior level, genuine care for helping out and nurturing talent development paths and programs Strong leadership skills & operational drive, people-oriented and results-driven
Highly resourceful, flexible and creative in solving problems and strong sense of urgency to prioritize and orchestrate tasks, namely as a manager within a team, and deliver on time while ensuring the highest quality standards Strong attention to details and technicalities, excellence-driven
Business acumen and keen interest for the beauty, luxury, food & beverage industries Proven success working with all levels of management
_ Excellent interpersonal and communication skill sets
WITH
Cette offre vous tente ?
Questions et réponses sur l'offre
Ajouter aux favoris

Partager sur Linkedin

Partager sur Facebook

Partager sur Twitter
D'autres offres de Account Management
Ces offres peuvent vous intéresser !
BRIGAD

CDI

Télétravail partiel possible

BRIGAD

CDI

Télétravail partiel possible

BRIGAD

CDI

Télétravail partiel possible

BRIGAD

CDI

Télétravail partiel possible

Wezen

CDI

Télétravail partiel possible
Voir toutes les offres