Wazo
Executive C-suite Junior Chief of staff (VIE)
VIE

 

Télétravail total possible
L'entreprise
Wazo
Logiciels, SaaS / Cloud Services, Electronique / Télécommunications

Entre 15 et 50 salariés
Le poste
Executive C-suite Junior Chief of staff (VIE)
VIE

 

Télétravail total possible
Who are they?
Who is Wazo?
Wazo is a software editor of an API-first Unified Communication Platform that provides to its customers (telco operators, service providers, integrators):

An all-in-one application suite to support IP telephony, collaboration and customer relationship needs;

A strong solution that can be deployed in any infrastructure and managed through a cloud administration interface;

A set of application programming interfaces (APIs) to build new communication services and integrate Wazo into the core of their information systems;

A native open source platform which provides security and freedom to our customers.
Wazo believes that Unified Communication users should have more control over their communication tools and that businesses should be able to integrate innovative communication features into their business workflows. Wazo's ambitions is to take a significant part of the UCaaS market that is expected to generate over USD 260 billion of revenues by 2028.
Since launching its solution in Europe in 2018, Wazo has successfully gained a foothold in this very competitive market thanks to its unique positioning and innovative IT approach: Wazo has already attracted more than 35,000 users and more than 50 Telecommunication Companies, Value-Added Resellers and Managed Services Providers.
Wazo is VC-backed.
Visit the profile
Rencontrez Mathias, Sr Architecte Télécom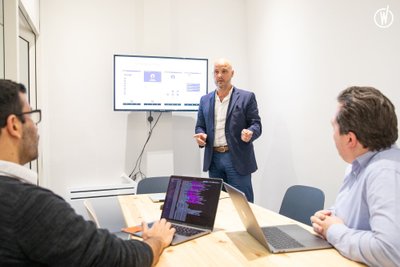 Rencontrez Sylvain, Co Fondateur & CTO
Rencontrez Julien, Directeur Commercial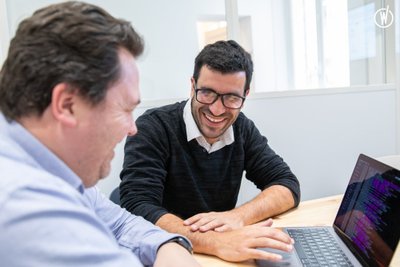 Job description
What's the role?
As Wazo's Chief of Staff, you will be a strategic partner to create immediate impact on the company's productivity (incl. the deployment of IT productivity tools and processes), streamlining strategic initiatives, overseeing program management, and communicating objectives between departments.
As Chief of Staff, you will work with the C-suite and report directly to the COO, relaying messages and ideas from other senior executive leaders to improve Wazo's internal functions and processes.
You will have extensive understanding of the company's business protocols, and have strong problem-solving skills in order to facilitate important conversations that will contribute to the organization's growth. More than anything else you feel an intrinsic sense of urgency to move fast but can also take a step back and see the bigger picture.
What You'll Do? :
Improve current processes and coordinate organizational procedures for optimized efficiency and productivity, incl. benchmarking and selecting IT company tools, creating and maintaining systems and processes to streamline operations;

Build and run cadence for leadership meetings, all hands meetings, including structuring and helping to deliver other company-wide communication;

Implement cross-functional strategic initiatives, facilitate special projects, and ensure action items are executed on behalf of the C-suite;

Responsible for collecting, managing and analyzing OKRs across all departments in order to help the C-suite make data driven decisions;

Proactively follow up with the leaders if and when goals are not being achieved to determine why objectives are not being met;

Provide analysis, recommendations, and options to the C-suite regarding high impact decisions;
Maintain accurate confidential files and data records.
Why Should You Apply to Wazo?
✅ Our mission is to provide the best open source communication platform to allow anyone to build any communication use cases anywhere;
✅ We invest in our employees through career development & opportunities, social events, and competitive benefits;
✅ You get to collaborate with and learn from smart and creative people around the globe;
✅ Team spirit is not a motto: it is a reality.
To keep our employees happy and motivated, we are always assessing the benefits/perks we offer to ensure we are competitive. Here are some we'd like to highlight:
This position is hired under the VIE status;
Virtual onboarding, Hackathon on a global basis! You have the opportunity to interact with our global colleagues;
Fun culture with a big opportunity to make an impact on our growing global team.
If you want to know more about us, please connect to :
http://www.wazo.io/
https://www.welcometothejungle.com/fr/companies/wazo
https://www.linkedin.com/company/wazo-inc
We welcome everyone to apply to our positions. Wazo is an equal opportunity employer. Qualified applicants will receive consideration for employment without regard to sex, gender identity, sexual orientation, race, color, religion, national origin, disability, protected veteran status, age, or any other characteristic protected by law.
Preferred experience
What You'll Need to Succeed?
Driven by the mission to increase productivity and reduce bias thru the adoption of day to day development tools;

Being able to fluently communicate in a cross-cultural environment;Willingness and desire to learn;

Analytical and self-driven thinker;

Willingness to work in a dynamic, fast paced and changing environment;

Willingness to go above and beyond;

Proactive and self-starter;

Creative problem solver;

A real passion for IT tools and how to use them to simplify everyone's life.
What Experience and Skills are Required?
Strong project management skills, with a focus on interdepartmental communication;

Proven experience organizing and directing multiple teams and departments;

Excellent written and spoken English and French;

Ability to thrive in ambiguous and fast paced environments;

Experience in networking and managing external vendors and service providers;

Strong problem solving skills in the face of challenges

Strong knowledge of Google Workspace and typical Business IT Tools (CRM, ERP, …)
Wazo
Cette offre vous tente ?
Questions and answers about the offer
Ajouter aux favoris

Partager sur Twitter

Partager sur Facebook

Partager sur Linkedin
D'autres offres de Stratégie
Ces offres peuvent vous intéresser !
Wazo

VIE

Télétravail total possible