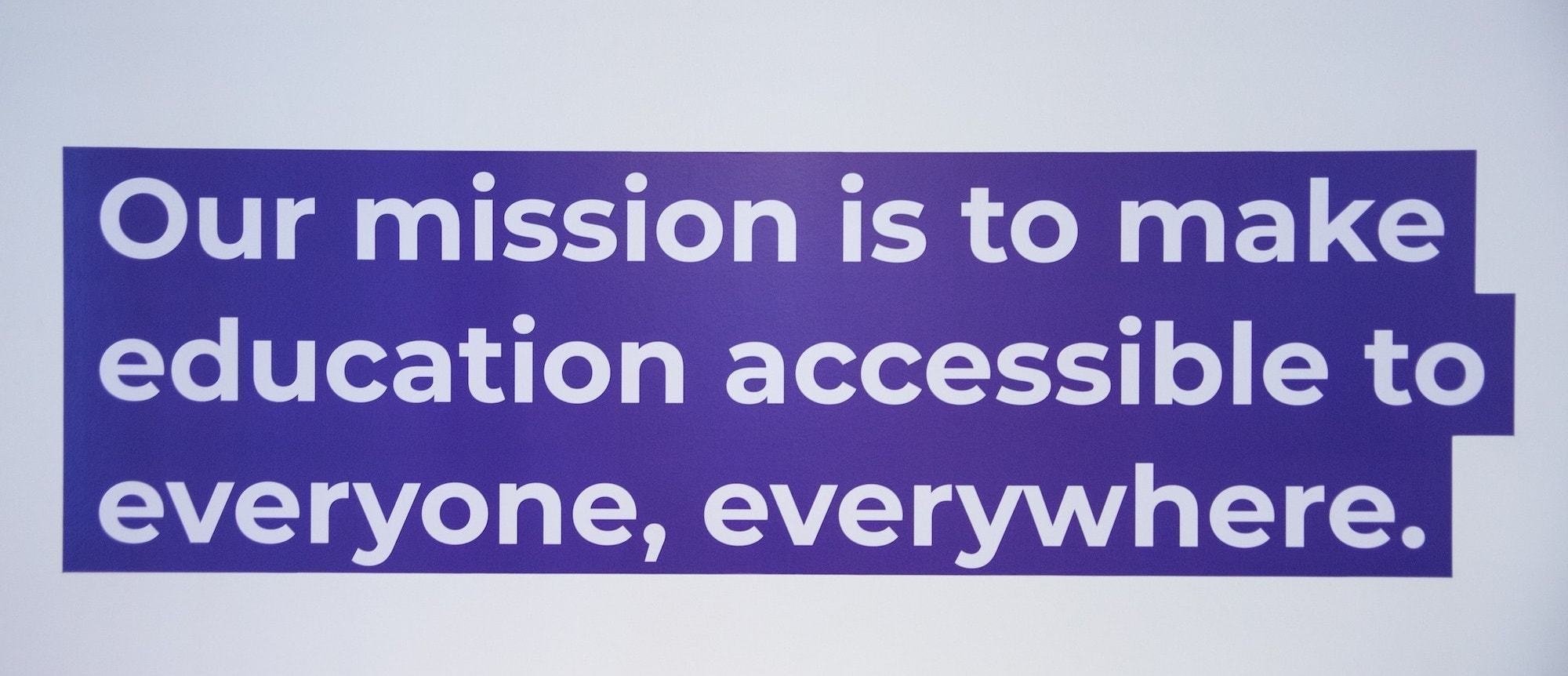 OpenClassrooms
Learning Product Manager - Business & Marketing Content H/F/X
La tribu
OpenClassrooms
Le poste
Learning Product Manager - Business & Marketing Content H/F/X
About
OpenClassrooms est l'une des plus importantes plateformes d'éducation en ligne d'Europe ; OpenClassrooms forme les professionnels de demain aux métiers du numérique. Grâce à un modèle pédagogique unique, l'entreprise conduit chaque étudiant vers un diplôme reconnu et un emploi garanti.
Fondée en 2013, nous sommes la première plateforme d'éducation en ligne en Europe et en Afrique, proposant des diplômes en ligne accrédités et formant aux compétences du futur. Chaque mois, pas moins de 300 000 étudiants du monde entier se connectent librement à notre plateforme, alors que nous comptons actuellement plus de 10 000 étudiants inscrits sur un parcours payant. OpenClassrooms est une entreprise à mission : "Rendre l'éducation accessible", la mission de l'entreprise, est inscrite dans ses statuts.
OpenClassrooms bâtit son développement sur une culture profondément ancrée, autour de quatre principes d'action : we dare, we persist, we care et we tell it as it is.
L'entreprise travaille en étroite collaboration avec tous les acteurs de l'éducation, depuis les partenaires académiques jusqu'aux entreprises en passant par les institutions. OpenClassrooms recrute régulièrement.
L'entreprise est passée de 50 collaborateurs à la mi-2017 à 150 à la fin 2018, après une levée de fonds de soixante millions de dollars opérée au mois de mai de cette dernière année.
Job description
As a Learning Technology company, our Product organization brings Content and Technology under the same leadership. As a Senior Learning Product Manager in the Content team (also known as Learning), you will own and develop a specific category of the content catalogue. Your mission will be to ensure the product/market fit so that the studio only produces content that learners love and the labour market really needs. This eLearning studio brings together a vibrant and creative team of product leaders (like you), video directors, project managers, instructional, graphic & motions designers as well as a growing network of subject matter experts to try and craft world-class online learning experiences.
RESPONSIBILITIES
Your role will span across 3 main areas of responsibility:
Product Strategy: As the owner of a section of the content catalogue you will be responsible for defining a strategic roadmap, and maximizing the business and career outcomes of your product portfolio. In other words, you will be expected to translate the company's mission and overall strategy into a compelling product vision.
Production Management: Together with the relevant team members, you will also be responsible for turning your vision into tangible learning products that customers can enjoy. In order to do that, you will lead small production teams throughout content delivery by kicking off production with clear requirements, managing scope, growing a pool of high-profile SMEs, and alleviating roadblocks when needed. Your goal here will be for content to be released on time, meeting requirements and without exceeding budget or the team production capacity.
Revenue Enablement: Working hand-in-hand with Product Marketing and Sales Ops you will define the best go-to-market strategies, and support Account Executives in bringing your products to customers. As a result, you will be expected to regularly meet directly with clients in high-stake situations to pitch our solutions and by doing so gather customer insights to feedback into your content strategy and specifications.
JOB REQUIREMENTS
Role-specific skills :
Subject-matter expertise:

Digital Transformation
or Leadership and Management

Proficient in multi-project management
Competent in (and hyper-passionate about) content production
Competent in cross-disciplinary teamwork
Very strong product culture

Outcome > process
Leadership > management
Team > function
Customer > everything
Transversal skills :
Intrapersonal: highly organized, ability to see the big picture while remaining detail-oriented
Interpersonal: convincing communicator and dedicated team-player
Problem-solving: ability to think critically, make and keep up with decisions in a fast-paced environment
Language skills: professional fluency in French and in English.
DESIRED EDUCATION & EXPERIENCE
At least 2 years of experience in Educational Product Management, or 2 years in Product Management and 2 years in Learning design.
Previous experience in Digital Learning or Physical Bootcamp is a strong plus
REPORTING LINE
Reports to Laure-Anne Chiche, Head of Business Content
HIRING PROCESS
The journey starts with an HR phone interview and a meeting with the Hiring Manager.
Then we plan face to face meetings with:
Director of Learning Products,
Learning Product Managers (peers),
Director of Multimedia Learning,
VP Learning
And a few other people from teams across the organization.
You will be asked to provide us with professional references contact details.
Feel free to get the gist of who we are: https://openclassrooms.com/courses/how-do-we-work-at-openclassrooms
WHAT WE OFFER
Pass Navigo paid by OpenClassrooms
Health insurance for free ("Mutuelle" monthly fee entirely paid by OpenClassrooms)
Meal vouchers (Employer contribution at the max authorized by law)
Access to the gym for free (Gymlib paid by OpenClassrooms)
Unlimited days off and a 1.000€ premium once a year for 15+ days off taken
Access to remote working
A company MacBook
A work environment and a strong culture built on agility, openness, respect and high quality
👉 OpenClassrooms is a French hyper-growth company eligible for the French Tech Visa program. That means, for foreign candidates, benefiting from the accelerated procedure to apply for a "Talent Passport" residence permit. There is also a simplified "accompanying family" procedure available for spouses and dependent minor children.
More information here: https://visa.lafrenchtech.com/4/french-tech-visa-for-employees
👉 We value diversity and welcome everyone who wants to join us and make education accessible. We are at an exciting moment and we deeply believe that various backgrounds and experiences will lead to a better product for our students.
👉 Working at OpenClassrooms means joining a dynamic and stimulating team, take up challenges, meet awesome people every week, and change the world, a little bit, every day! 🌎
Meet the team
This content is blocked
Youtube cookies are required to show you this content
Questions and answers about the offer
Ajouter aux favoris

Partager sur Twitter

Partager sur Facebook

Partager sur Linkedin