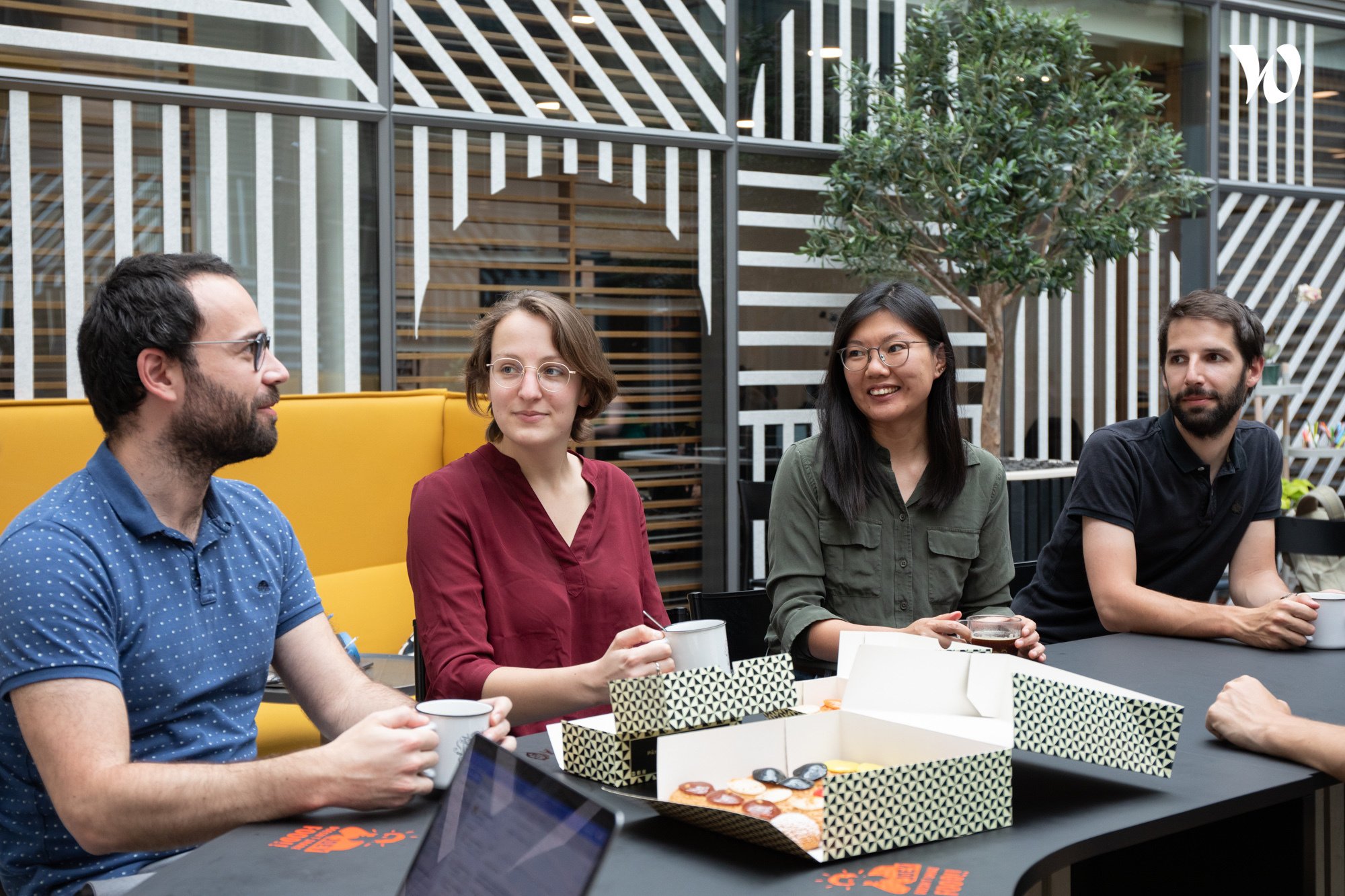 Owkin
Global Talent Partner - 0412W12
La empresa
Owkin
La oferta
Global Talent Partner - 0412W12
About
Owkin exists to find the right treatment for every patient. Our focus is to use artificial intelligence to discover and develop better treatments for unmet medical needs, starting with the fight against cancer.
In November, Owkin became a 'unicorn' – a startup worth more than $1 billion – through a $180 million investment from pharmaceutical company Sanofi. As a result, we are now looking for the brightest and best Talent Partners in Paris, France to help us to go even further in achieving our mission.
Owkin is seeking a Global Talent Partner to join our fast-growing and dynamic team in Paris, France.
Job description
As a Global Talent Partner you will have the opportunity to help us build out a world class set of talents across our business.
You will be at the heart of setting our teams up for success by ensuring that we are adequately resourced with the best talent in the industry ensuring we are a great and diverse place to work.
You'll work directly with the Global Head of Talent on driving our recruitment and talent attraction strategy.
Main Missions :
Take responsibility for shaping and driving the talent attraction program to attract the very best talent into the business.
Partner with senior business leaders within the organisation to drive the end to end recruitment process.
Help scale the talent function by partnering with the Global Head of Talent by creating and implementing new and optimising existing processes.
Partner with Global Head of Talent to define and roll out the global strategy for talent attraction.
Implement and championing the talent attraction function and delivering optimal candidate experience.
Work within the P&L for talent and ensure budget compliance.
Work in collaboration with HR partners and business leaders to define talent planning and succession strategy to ensure our recruitment plan builds out a healthy pipeline of candidates to guarantee business sustainability.
Implement reporting on data insights and recruitment success metrics.
Train hiring managers to champion and ensure an excellent candidate experience.
Partner with the Employer Branding team to build Owkin's reputation as an employer of choice.
Build out proactive research-based recruitment campaigns.
Generate cost efficiencies through effective management of internal resources, building and managing key partnerships with vendors.
Partner with people partners for successful onboarding of candidates.
Preferred experience
About you :
We are looking for someone with:
Strategic thinking: able to build holistic recruitment solutions that meet current and anticipated needs.
Experience in delivering full life cycle recruitment services in a fast paced and dynamic environment.
Stakeholder management and relationship building skills.
Experience in identifying and securing passive candidates via various channels including: social media, networking, market mapping, careers fairs, industry events, referrals etc.
The ability to work autonomously, partnering effectively with Senior Leadership to solve regional and/or functional recruitment needs
A good level of IT skill, including Microsoft office, spreadsheets, databases and producing management reports.
Great communication, presentation and project management skills.
Demonstrated persuading, influencing, negotiating and consultation skills.
Considerable experience working within a talent function ideally within the biotech or pharmaceutical industry.
What we offer :
Competitive salary and benefits
Opportunity to work with an international team with high technical and scientific backgrounds;
Friendly and informal working environment;
Flexible work organization and access to remote work;
Beautiful and well positioned offices in Paris (Petites Ecuries), London (Holborn), Nantes (historic Center) and NYC (Union Square) with numerous and various team activities and events.
Recruitment process
Please attach a cover letter and a CV.
Owkin is an Equal Opportunity Employer. All qualified applicants will receive consideration for employment without regard to race, sex, gender, sexual orientation, age, color, religion, national origin, protected veteran status or on the basis of disability.
Owkin is a great place to work. Unfortunately, being a coveted workplace means we are vulnerable to recruitment phishing scams. We urge all job seekers and candidates to be wary of potential scams. Most of these have individuals posing as representatives of prominent companies, including Owkin, with the aim of obtaining personal, sensitive, or financial information from applicants. These scams prey upon an individual's desire to obtain a job and can sometimes "feel" like a genuine recruitment process. Some red flags are identified below. Should you encounter a recruitment process that claims to be for Owkin but is not consistent with the below, please do not provide any personal or financial information:
Legitimate Owkin recruitment processes include communication with candidates through recognized professional networks, such as LinkedIn. However, further communication is always through an official Owkin email address (from the @owkin.com domain), over the phone or though Recruitment platforms (WelcomeKit, talent.io, hidden.market, Fifty Talent or Hiresweet);
Legitimate Owkin recruiters will not solicit personal data from candidates during the application phase including, but not limited to, date of birth, social security numbers, or bank account information;
Legitimate Owkin interviews may be conducted over the phone, in person, or via an approved enterprise videoconferencing service (such as Google Meets or Highfive). They will never occur via Signal, Telegram or Messenger
Legitimate Owkin offers of employment are based on merit and only extended once a candidate has interviewed with members of the hiring team. Offers will be extended both verbally and in written format. Owkin may request some personal information to initiate the hiring process, but this will be through protected means.
If you think that you have been a victim of fraud,
Check the identity of recruiters on LinkedIn and the website https://owkin.com/team/
Check the existence of the position on our website https://owkin.welcomekit.co/
Notify Owkin's recruitment unit at this address hiring@owkin.com
contact the following authorities:
[FR] https://www.internet-signalement.gouv.fr/
[UK] https://www.actionfraud.police.uk/reporting-fraud-and-cyber-crime
[US] https://www.ftccomplaintassistant.gov/#crnt&panel1-1
Meet the team
This content is blocked
Youtube cookies are required to show you this content
Questions and answers about the offer
Añadir a favoritos

Compartir en Twitter

Compartir en Facebook

Compartir en LinkedIn