CAMPINGS.COM
DevOps Junior
Indefinido

 

Fecha de inicio:

 

Paris

Teletrabajo a tiempo partial

> 3 años
La empresa
CAMPINGS.COM
Aplicaciones móviles, Turismo, Comercio electrónico

Entre 50 y 250 empleados
La oferta
DevOps Junior
Indefinido

 

Fecha de inicio:

 

Paris

Teletrabajo a tiempo partial

> 3 años
¡El puesto ya ha sido cubierto!
Qui sont-ils ?
Campings.com est le leader européen de la réservation d'hébergements de plein air (HPA) sur internet. Le groupe référence plus de 3500 campings partenaires, du non classé au complexe 5*, indépendants ou membres d'un réseau, dans une dizaine de destinations en Europe.
Chaque année, la plateforme de réservation enregistre plus de 15 millions de visites et plus d'un million de vacanciers nous ont fait confiance en 2021 ! Notre modèle de distribution multicanal nous permet de nous adresser à la fois aux particuliers mais également aux comités d'entreprise et aux agences de voyages.
Les ambitions de croissance de Campings.com sont orientées vers l'amélioration continue de la plateforme et le développement à l'international. Pour cela, nous avons ouvert une nouvelle filiale à Londres qui sera notre hub international pour adresser de nouveaux marchés à la fois côté demande et côté offre. Campings.com compte plus d'une centaine d'employés répartis sur trois sites : Paris, Le Mans et Londres.
Campings.com a été certifiée Great Place To Work® France. Entreprise de plus en plus engagée, elle met également en place de nombreuses initiatives en faveur de la RSE.
Visiter le profil
Rencontrez Maria, Responsable Sourcing & Supply
Rencontrez Daiana, Directrice de la communication et de la marque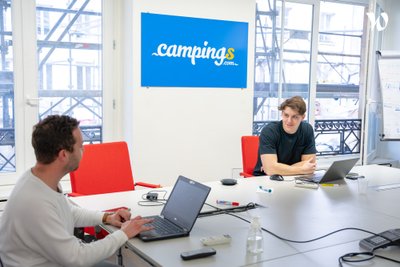 Rencontrez Daniel, Chief Data Officer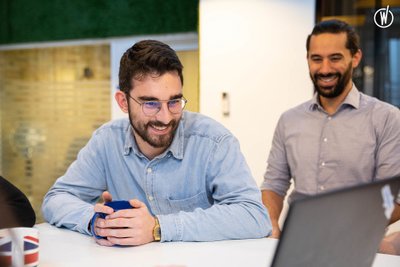 Descriptif du poste
Context and Missions
Campings.com IT is organized in 3 tribes addressing 3 business scopes. These 3 tribes are supported by the DevOps & Infra team that is charged to promote the DevOps Culture in the FT.
Already in Continuous Integration and Continuous Deployment, we continue to increase our DevOps & IAC culture by regularly training teams and improving our tools required by the different feature teams of the tribes.
In this context your missions will be
Improve the processes that make it easy to quickly test and deploy the new
versions of our features and / or applications: multiple deployments in acceptance
environments, automated End2End testing, continuous integration, etc…
Maintain infrastructure components, its required monitoring and provide
support to Feature Teams in case of issues in production…
Be aware of infrastructure challenges: scalability, stability, costs, resilience, security
and monitoring
Collaborate with feature teams and ensure that the applications developed are
efficient, perfectly monitored, automatically scalable and comply with our security
rules
Support the urbanization approach based on the micro-services models allowing to
decouple activities of the different feature teams
Set up documentation that facilitates the maintainability and evolution of the
infrastructure and tools
Your first 6 months challenges
Learn the tools we use: Ansible, Terraform, Kubernetes, Prometheus, GCP products (Computes,
Firewall, IAM, Buckets, Registry, CloudSQL …), Docker, and Gitlab & Github
Become comfortable with Bash and the PHP ecosystems supporting our Domains
(backend services)
Integrate components, today manually build and deployed, in our CI chain
Understand teams needs and work with them
Understand the different applications, their main features, and how they interact with
each other during key processes
Build up knowledge of the Campings.com overall stack
Profil recherché
Your skills and experience
Around 3~5 years of experience as a developer
Basic knowledge on PHP/Bash
Working knowledge of SQL databases, Elasticsearch, RabbitMQ and Linux systems
Good knowledge on docker, Kubernetes is a plus
Awareness of DevOps culture and Agile principles
Known the main practices on CI processes and systems security measures
Know Google Cloud Platform is a plus
Our principles and the values that drive our team
Agility (Scrum or Kanban)
Autonomy and responsibility
Teamwork and ability to be challenged by peers
Transparency, commitment and kindness
The love of wedding playlists (Claude François, La compagnie Créole etc …) or Hip
Hop (Kendrick Lamar, The Weekend etc …)
CAMPINGS.COM
¿Te interesa esta oferta?
Questions et réponses sur l'offre
Compartir en LinkedIn

Compartir en Facebook

Compartir en Twitter