BCG Platinion
Senior Software Engineer (H/F)
Indefinido

 

Paris

Licenciatura / Máster

> 4 años
La empresa
BCG Platinion
TI/Digital

Entre 50 y 250 empleados
La oferta
Senior Software Engineer (H/F)
Indefinido

 

Paris

Licenciatura / Máster

> 4 años
Who are they?
WHO WE ARE :
As a seamlessly integrated part of the BCG network, we provide consulting services focused on the development and implementation of business-critical IT architecture and digital solutions. We create technology platforms and deliver exceptionally customized solutions of the future for our clients, from data strategies to next-generation customer journey solutions and transformational business models. We solve the most daunting challenges that companies face today and envision for tomorrow. Our style is entrepreneurial – nimble and innovative, with multifaceted, cross-functional teams and completely vendor-independent. Our unique selling proposition is technology expertise and delivery excellence.
Platinion was founded in 2000. Since then, we have grown continuously and successfully. Today we have offices in Europe, North and South America, Asia Pacific and Africa.
At BCG Platinion we're keen to engage with experienced, passionate and creative Software Engineers who will help us unlock our client's digital potential and ignite change. Meaningful work is at the core of everything we do. We build unique solutions to the complexities our clients face, while providing our people with opportunities to explore and grow. A community of leading experts, BCG Platinion team members have a natural springboard for professional growth and deeper opportunities to excel.
Visit the profile
Meet Wendy, IT Consultant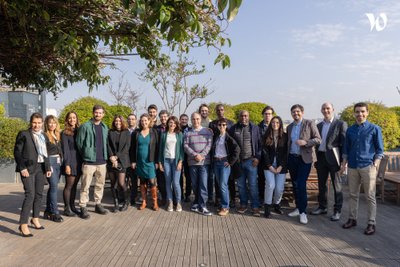 Meet Hartley, Product Lead
Meet Lena, Senior Strategic Designer
Job description
WHAT YOU'LL DO :
We need you - a talented Software Engineer across several disciplines – to join us in building transformative digital solutions for our clients using the latest emerging technology. You'll lead the design, development, and implementation of Minimum Viable Products (MVPs), data pipelines, and full-stack customer journeys.
As a Software Engineer, you will work closely with case team members to assess and coach our clients' digital teams, define technical strategies, architecture & engineering solutions and apply your technical know-how and understanding of business contexts. You will build digital apps, APIs and data solutions to drive digital transformation projects. As you acquire experience, you will be responsible for owning the delivery of specific software modules and help architect technical solutions.
As part of our BCG Platinion consulting team, you will work on a variety of technology topics, applying your engineering consulting skills to strategic technology challenges. You'll be supported by an extensive training curriculum (the same programme as all BCG consultants), plus technology-specific training and mentoring to build your skills.
The Boston Consulting Group is an Equal Opportunity Employer. All qualified applicants will receive consideration for employment without regard to race, colour, age, religion, sex, sexual orientation, gender identity / expression, national origin, disability, protected veteran status, or any other characteristic protected under federal, state or local law
Preferred experience
WHAT YOU'LL BRING :
4-6 years' experience in software development, ideally in digital delivery or technology consulting.
A combination of consulting experience, solutions architecture, and core engineering experience
Experience with software engineering standards, unit testing, code reviews and design documentation
Full stack experience in creating solutions for mobile and desktop
Development skills in front-end or back-end programming languages (e.g. Java, PHP, Python, Golang, JavaScript, CSS, HTML)
Experience working in an Agile development environment
Ability to deliver on user stories, fix bugs and reuse code and platforms
Consistent record of evaluating and designing scalable improvements to web, API and Windows Services
Solid understanding of how web applications work including security and best practices
Adequat knowledge of database systems and programming patterns & standards - especially related to web development
Strong collaboration skills across small and large project teams (QA, outside vendors, project managers, business sponsors) as well as strong verbal and written communication skills
Demonstrated personal ownership of tasks and tenacious approach to finding and fixing the root cause of issues
Experience in shaping an engineering community focused on sharing and growing knowledge
Experienced working working closely with DevOps engineers
Ability to bring unique tech perspectives from outside the consulting industry into BCG's typical engagements, requiring:
Highly desirable consulting experience
Strategic mindset (hypothesis driven, 80:20 mindset, iterative approach, activist stance)
Self-management
Leadership potential to transform the consulting industry around interaction with designers, architects and product owners
Progressing thought leadership in deep tech
New (but proven) methodologies or ways of working
Experience working with both technical and non-technical colleagues in a cross-functional, interdisciplinary environment, including strong written and verbal communication skills
University degree with above-average academic performance in a mathematical-scientific field, information technology, or business administration
Passion and interest in researching new technologies and developing prototypes, POCs, and MVPs
• Fluent in English and French
Recruitment process
Generally, your recruitment process is the following :
• First call with your recruiter
• Two technical interviews with the team
• Two interviews with the BCG Platinion Leadership
BCG Platinion
¿Te interesa esta oferta?
Enviar candidatura
Questions and answers about the offer
Compartir en LinkedIn

Compartir en Facebook

Compartir en Twitter