Batch
Head Of Marketing
Indefinido

 

Paris

Teletrabajo a tiempo partial

Licenciatura / Máster

> 7 años
La empresa
Batch
Aplicaciones móviles, SaaS/Servicios en la nube, AdTech/MarTech

Entre 50 y 250 empleados
La oferta
Head Of Marketing
Indefinido

 

Paris

Teletrabajo a tiempo partial

Licenciatura / Máster

> 7 años
¡El puesto ya ha sido cubierto!
Qui sont-ils ?
Connue pour ses « notifications push » 📲, Batch développe la plateforme CRM de nouvelle génération qui aide les entreprises du monde entier à mieux communiquer avec leurs clients et vise à révolutionner le gigantesque marché du « Cloud Marketing ».
Ses clients sont les grands comptes et les « scale-ups » comme Back Market, Le Monde, BNP, OUI.sncf, E.Leclerc, Mano Mano, Radio France, LVMH, le Pass Culture, Sézane, Cityscoot ou encore La Redoute.
En chiffres c'est 120 collaborateurs, 300 clients dans 15 pays, 400 milliards de push envoyés par an à 500 millions de visiteurs uniques par mois, une moyenne d'âge de 30 ans, une parité bientôt atteinte (60/40%), des engagements fort sur la culture et la formation et une première levée de fonds de 20M€ en 2021, après 6 années d'auto-financement 🔥🔥
La genèse du projet remonte aux débuts du mobile : avant Batch, les fondateurs avaient créé AppGratis, une des plus grandes applications mobile au monde, mais dé-référencée par Apple en 2013. La team avait vécu ce traumatisme de plein fouet avec l'obligation de passer de 100 à moins de 10 personnes en quelques mois, avant de se relancer l'année d'après.
Cette histoire atypique, très fréquemment relayée par les médias et incarnée par l'équipe de Batch, c'est ce qui a permis de forger une culture unique centrée sur les valeurs de collaboration, d'excellence & de ténacité. Une culture qui place la confiance au coeur de tout 🤗, et promeut l'impact et la sécurité psychologique à tous les étages pour permettre aux Batchers de développer leurs talents, de faire progresser leurs carrières et de s'inscrire dans la durée.
Visiter le profil
Rencontrez Maeva, Business Developer Representative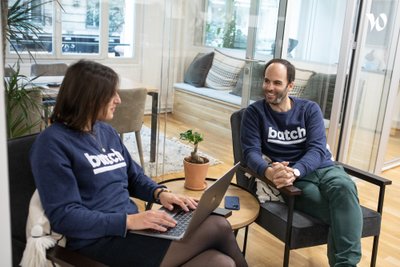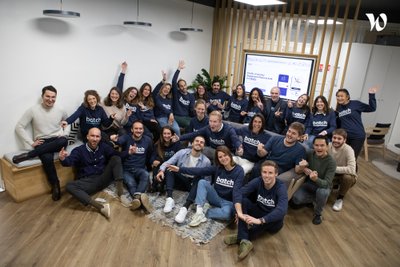 Rencontrez Evan, Lead Product Designer
Descriptif du poste
It's truly a great time to join Batch!
We're still small but growing fast and in a unique position to revolutionize the massive cloud marketing market while building the future of CRM for modern marketers.
As of Q1 2022, we're nearing 10M€ ARR with 95+ people, 300 customers across Europe and a first-ever 20M€ round of funding under our belt.
The specifics of our history & vision, and how we plan to invest this new money into our unique culture, product and international expansion are detailed on our blog.
The Head of Marketing reports directly to the CMO.
The role has strong growth potential as it can evolve into an EMEA Marketing Director up to VP Marketing based on track record and performance trajectory.
Goals
Specify & Orchestrate
Build the marketing roadmap with the CMO, hire & manage the team, orchestrate delivery
Ensure impactful execution by the team and proper alignment with the CRO (Sales & Ops)
Work cross-functionally with Ops & Data to specify the right tools and KPIs that will allow all marketing functions to work properly and in sync.
Hire, Train & Lead
Work cross-functionally with HR to identify and hire the best talent
Train, empower and lead ; promote our marketing culture of humility, reliability and efficiency ; ensure personal growth/happiness and collective performance
Work cross-functionally with the CRO to optimize processes & knowledge, track performance and make sure our marketing playbook is used but also adapted to local specifics
Track & Align
Work cross-functionally with Ops & Data to make sure all marketing initiatives are properly tracked and attributed inside our internal tools (Salesforce, Salesloft, Hubspot & Metabase)
Ensure alignment with other go-to-market functions such as Sales, Customer Success, Solution Engineering, Product, Ops
Act as the internal « voice of marketing » with Batch stakeholders to align everyone with marketing initiatives
Profil recherché
Minimum of 5/7+ years marketing experience—ideally in an Enterprise B2B SaaS company (but could also come from Agency, Fintech, Gaming, Marketplaces, FAANG et al.)
At least 2+ years working overseas in English-speaking countries.
Outstanding oral and written communication in both French and English.
Demonstrated management experience, excellent hirer and trainer.
Autonomous, organized, driven and fast-learner with a natural growth mindset.
Highly collaborative person and low ego.
Highly analytical with a passion for numbers.
Déroulement des entretiens
Batch follows the same procedure for all its interviews with 4 simple and clear steps for each candidate:
1 - Initial call and introduction (15 to 30 minutes).
2 - Face-to-face interview with HR and the relevant Team Leader (45 minutes).
3 - Conduct and complete a case study, in person or remotely, presenting to 4 or 5 Batch employees.
4 - Meeting with one of the Batch founders (30 to 45 minutes).
At the end of this 4-step process, Batch will make a job offer to the successful candidate.
Batch
¿Te interesa esta oferta?
Questions et réponses sur l'offre
Añadir a favoritos

Compartir en Twitter

Compartir en Facebook

Compartir en LinkedIn