La empresa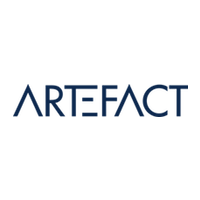 Artefact
Inteligencia artificial/Aprendizaje automático, Marketing digital/Marketing de datos

Entre 250 y 2000 empleados
La oferta
Corporate recruiter
Who are they?
Artefact is a consulting firm specialized in AI and Data. We are convinced that marketing cannot be optimized without engineering and technology, that's why we identify as "marketing engineers". In order to improve the performance and impact of brands, and consumers' experience, we assemble lots of different talents: data application engineers, data scientists, creatives and designers, advertising strategists and consultants. In only four years, Artefact has become one of the international references for Data and IA expertise. The society counts today more than 1000 collaborators worldwide, in 17 countries and gathers 3 complementary offers: Data Consulting, Digital Marketing expertise and the Deployment of Technologies (Big Data and Artificial Intelligence).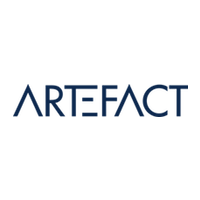 Visit the profile
Rencontrez Natacha, VP Digital Marketing
Rencontrez Gabrielle, Senior Data Engineer
Rencontrez Charlotte, Campus manager
Job description
Are you a curious coockie that loves to get our new talent on board? Do you thrive in an environment that is fast-paced? Are you structured and quick on your feet? Then you might be the talent recruiter we are looking for!
Job Summary
In order to support the growth of our office we are looking to strengthen the HR team with a corporate recruiter to support our talent acquisition. You'll be joining a small HR team that works closely with the business and is characterized by high energy and an agile mindset. We are looking for an in-house Recruiter who is passionate about finding and hiring the best profiles in the digital industry for our teams.
As our Corporate Recruiter, you'll be responsible for the full-cycle recruitment of positions throughout our organization. You'll be in charge of sourcing, pre-screening, interviewing and referring qualified candidates to hiring departments. Typical candidates you will source and interview stretch across several job families to include Data Science, Data Engineering, Analysts, Consulting roles, as well as digital marketing roles such as SEA consultant, SEO consultant, Paid Social consultant, Display consultant and other related roles. It will be your primary task to find the candidate for the signature on the contract - and ensure that we continuously attract, build and maintain a pool of suitable candidates who can be hired as needed for our Utrecht office. You will guide the hiring teams through the recruitment process, having a clear overview and making sure follow-ups are done in a timely manner. 
You will be involved in projects related to Talent Acquisition such as employer branding, campus recruitment and office culture. 
Key responsibilities
Reporting directly to the the HR Director Benelux, working closely with the Managing Team Benelux and global HR team, your role will be:
Talent recruiting
You are the recruitment manager; chasing the hiring managers to get their tasks within the recruitment process done;

Having the total overview of which candidate is where in the process and ensure quick follow-ups

Actively source, screen and interview candidates from sources for general competence, applicable background and skills

Draft/create job descriptions, analyze resumes, and determine appropriate matches for vacancies

Together with the HR Director create a top notch recruitment strategy

Ensure recruiting strategy, methodology, and processes are aligned with business needs, talent strategy and desired employee capabilities/skills

Use talent networks (e.g. LinkedIn) to look for qualified candidates for hard-to-fill international roles

Owns the referral system and activates colleagues in this
Employer Branding
Together the our Marketing Management team; research and recommend new sources for active and passive candidate recruiting

Create a campus recruitment strategy and give followup to this

Experiment and be creative in ways to enhance our employer brand
Onboarding
Providing a soft and excellent transfer for candidates to being employed

Collaborating and being an active part with the HR team on tasks to prepare for new joiners to start

Checking in with the candidate after they've started working at Artefact
What we are looking for 
At least 2 year of experience as a Sourcing Specialist, Talent Acquisition, Recruiter or similar. Ideally in a consulting firm or a marketing digital agency.

Recruiting experience in

consulting firms

(

Tier 1 Consulting firms) and Digital industry

preferred

Have experience with managing the entire recruitment process, including posting the position, headhunting, screening, arranging job interviews, negotiation and onboarding.

Excellent communication and persuasion abilities, particularly when making cold calls and sending recruiting emails

Has experience using social media to look for, find, attract and contact potential candidates.

Fluent in English. Dutch is an advantage

Passion for recruiting and is always looking for new and innovative ways in which we can improve the recruitment process and thus meet our growing business demands

Flexibility, accuracy and team attitude is key
Why you should join us
Artefact is the place to be:

you'll receive an excellent benefits package (salary, good tech, NS business card, pension, in-house massages). We're working hybrid, got a define lunch, a centrally located office, plenty of team activities and great learning opportunities.

Progress:

every day offers new challenges and new opportunities to learn.

Culture:

join the best team you could ever imagine. Think young, diverse, international, kind, ambitious and authentic. We are driven by our core values; action, innovation and collaboration.
Who we are
Artefact is a new generation of a data service provider, specialising in data consulting and data-driven digital marketing, dedicated to transforming data into business impact across the entire value chain of organisations. We are proud to say we're enjoying skyrocketing growth.
Our broad range of data-driven solutions in data consulting and digital marketing are designed to meet our clients' specific needs, always conceived with a business-centric approach and delivered with tangible results. Our data-driven services are built upon the deep AI expertise we've acquired with our 1000+ client base around the globe.
We have 1000 employees across 20 offices who are focused on accelerating digital transformation. Thanks to a unique mix of company assets: State of the art data technologies, lean, AI, agile methodologies for fast delivery, and cohesive teams of the finest business consultants, data analysts, data scientists, data engineers, and digital experts, all dedicated to bringing extra value to every client.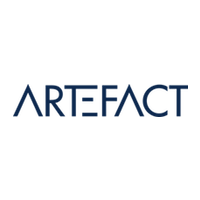 Artefact
¿Te interesa esta oferta?
Enviar candidatura
Questions and answers about the offer
Compartir en LinkedIn

Compartir en Facebook

Compartir en Twitter